The evolution of Takeuchi excavators
Smaller job sites inspire equipment innovation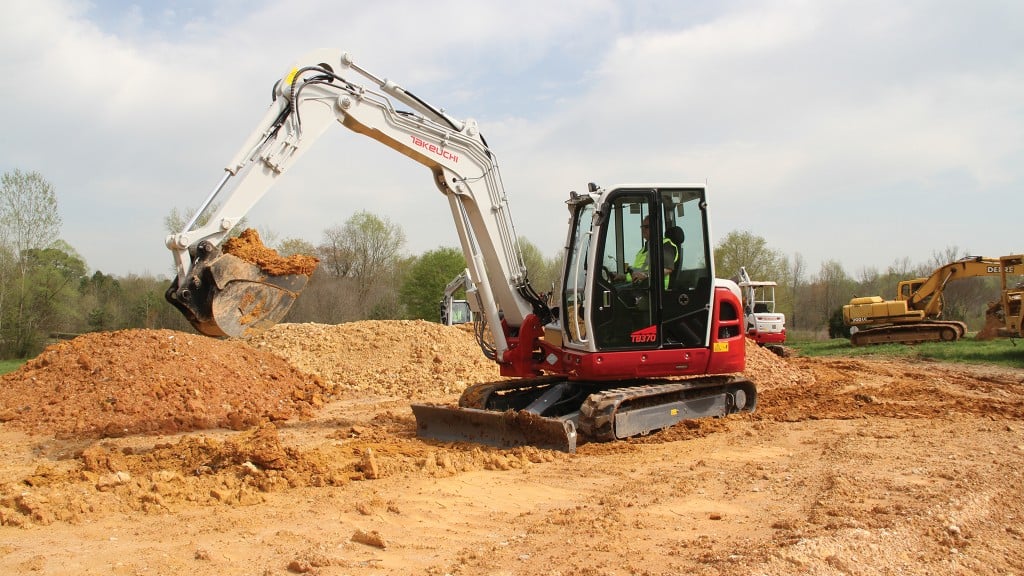 Over the past few decades, as urban job sites have become smaller and more restricted, the market for compact excavators has grown by leaps and bounds. From repairing a water line near a busy city street to grading a residential backyard, a compact excavator can make quick work of numerous tasks that contractors used to perform by hand or with a less efficient machine.
Perhaps no one saw the need for a better alternative more than Takeuchi founder, Akio Takeuchi. When he launched the company back in 1963, it only produced parts and components for other equipment manufacturers; Takeuchi did not manufacture any actual machines of its own. However, that all changed in the early 1970s when Takeuchi saw a real need for a smaller excavator that could fit in constricted spaces.

"Back in 1970, a friend of Akio Takeuchi's was building a new home," says Jeff Stewart, president of Takeuchi-US. "His friend was using pickaxes and shovels to dig the footers, an obviously labour-intensive, time-consuming and difficult process. Akio's friend knew about his mechanical abilities, and he asked if Akio could build a machine that would eliminate the need for all this manual labour."

Akio Takeuchi worked on a design for about a year, and in 1971, his company introduced the world's first 360-degree, full-turn mini excavator. Civil engineers and contractors quickly discovered how much the new machine could increase productivity and reduce the time required to complete various projects. The mini excavator found its way to North America when Takeuchi-US opened in Atlanta, Georgia, in 1979. Still, the machine had to overcome some obstacles before it became an essential part of equipment fleets across the U.S. and Canada.

"The market for Takeuchi's original mini excavator was fairly small in the beginning," Stewart says. "People saw it as a niche machine with limited use. It took years of product development and enhancements before the rental industry embraced the mini excavator and its market began to really expand."
Compact excavators deliver versatility and productivity
More than 40 years later, mini and compact excavators have evolved from simple digging machines to tool carriers that are useful for loading, land management, utility work and much, much more. That's thanks in large part to the machines' enhanced versatility and capabilities that help business owners overcome tight budgets and an ongoing labour shortage. That versatility stems in large part from features like multiple hydraulic circuits that make it possible for compact excavators to use a wide range of attachments.

"Having multiple hydraulic circuits, including high-flow, really takes compact excavators to a whole new level when it comes to productivity," says Keith Kramlich, national product and training manager for Takeuchi-US. "Our excavators from 5.5 tons and above feature first, second and third auxiliary circuits as standard equipment, permitting operators to run attachments like mulchers, mowers, augers and breakers. The second circuit can serve as a dedicated thumb circuit or provide an additional function like rotation for a tilt-rotator coupler. Finally, the third auxiliary circuit lets operators easily integrate a hydraulic pin-grabber coupler, allowing them to switch out attachments from the safety and comfort of their cabs."

Speaking of cabs, operators who are comfortable in theirs can stay at the controls longer, experience less fatigue, use the machine more safely and remain highly productive throughout their shifts. Considering how difficult it's become to find and keep good employees, increasing employee comfort and satisfaction is perhaps more important than ever before. As a result, Takeuchi is outfitting its compact excavators with spacious cabs that integrate large, multifunction colour monitors for an enhanced operator experience.

"These monitors not only allow operators to see their machine's health but simply do more without having to exit the cab," Kramlich says. "Depending on the machine model, operators can now set up multiple attachment presets, adjust flow rates – and in some cases, pressure settings – without leaving their seats."
Takeuchi introduces three new machines in 2020
While 2020 was certainly a challenging year, Takeuchi continued to roll out new machines, thanks to steady demand for both mini and compact excavators, even during a global pandemic. All in all, three new compact excavators – the TB225, TB257FR and TB370 – joined the Takeuchi family following a significant investment in time and resources.

"It's critical that we have our finger on the pulse of our customers and the entire equipment industry before we launch any new machine," Kramlich says. "Before introducing these three new excavators, we talked to end users and Takeuchi dealers and reviewed the state of the market as a whole. From the many great ideas we heard in the field, we were able to narrow our priority features down to a select few, focusing primarily on what changes would bring the biggest benefits to our customers."

The most significant changes that Takeuchi made when designing its newest machines include the aforementioned implementation of multiple hydraulic circuits, the addition of advanced hydraulic systems (on the TB370 and TB290), more comfortable cabs and a telematics system that allows customers to manage their machine assets remotely.

As the smallest of Takeuchi's three new machines at just 4,993 pounds, the TB225 is targeted at utility contractors, plumbers, septic system companies and general contractors. Its compact dimensions and retractable undercarriage – from 59 inches down to 43.3 inches – allow this compact excavator to make it into the tight spaces in which these professionals work. The TB225 sets itself apart by combining features from smaller excavators, such as a hydraulically retractable undercarriage, with features from larger excavators, such as an electronic throttle control and electronic proportional auxiliary control. A long arm with an integrated thumb mount with a primary auxiliary circuit plumbed to mid-arm makes it easy to use multiple attachments to increase the TB225's versatility. Load-sensing two-speed travel with automatic stepdown saves on fuel.

With an operating weight of just under 13,000 pounds, the new TB257FR is designed for general contractors, pool contractors, demolition, municipal use, landscaping and road/bridge work. The "FR" in the machine's name stands for "front and rear" or "full rotation" capability, which means the TB257FR can almost rotate within the width of its track frame with the boom fully stowed for an exceptionally small footprint. It can also work within areas where there's just one way in and out, like a fenced yard or an alley. A side-to-side (STS) offset boom coupled with a tight tail swing offers excellent visibility to the work equipment and enables it to rotate fully with very little overhang. The TB257FR features three auxiliary circuits and a boom-holding valve with an overload alarm.

Finally, the largest new Takeuchi machine, the TB370, can handle whatever a general contractor, pool contractor, landscaper or demolition contractor needs in a compact excavator. It's the first model of Takeuchi's new generation lineup, which has been upgraded with state-of-the-art technology and a completely redesigned automotive styled interior with intuitive user operation. It also includes three auxiliary circuits, as well as a closed centre load sensing hydraulic system that's ideal for running hydraulically driven attachments. The tilt-forward cabin has been totally redesigned with an 8-inch colour LCD multifunction touchscreen display, jog dial and one-touch controls, as well as a larger floor area for enhanced operator comfort.
Looking to the future
There's no doubt that COVID-19 will have lasting economic and sociological impacts on the world, and it will certainly have an effect on how manufacturers approach product introductions in 2021 and beyond. Those manufacturers who are open-minded and willing to look at their customers through a new lens are more likely to succeed.

"I think we're seeing many years' worth of machine advancements being implemented more quickly to make up for a smaller labour pool that's become even smaller due to COVID," Kramlich says. "Owner/operators are looking for more uptime, more versatile machines that are easier to monitor and product support they can depend on. Every second and every penny counts."

Takeuchi's Stewart says he feels that customers want to be able to do more with smaller, more compact machines like those his company manufactures. As a result, Takeuchi is developing better tool carriers for the growing compact equipment market due to increased demand, as well as "greener," more environmentally friendly machines, like those that use battery power instead of fuel.

"Takeuchi has always been a product-focused company specializing in a specific type of machine," Stewart says. "That fact allows us to more closely interact with our customer base and incorporate features that they find most important. We want to continue to be known for our quality and support, and we'll continue funding initiatives that keep us at the forefront in those areas."
Lynette Von Minden is a senior public relations specialist with Swanson Russell.

Company info
Related products
Related Articles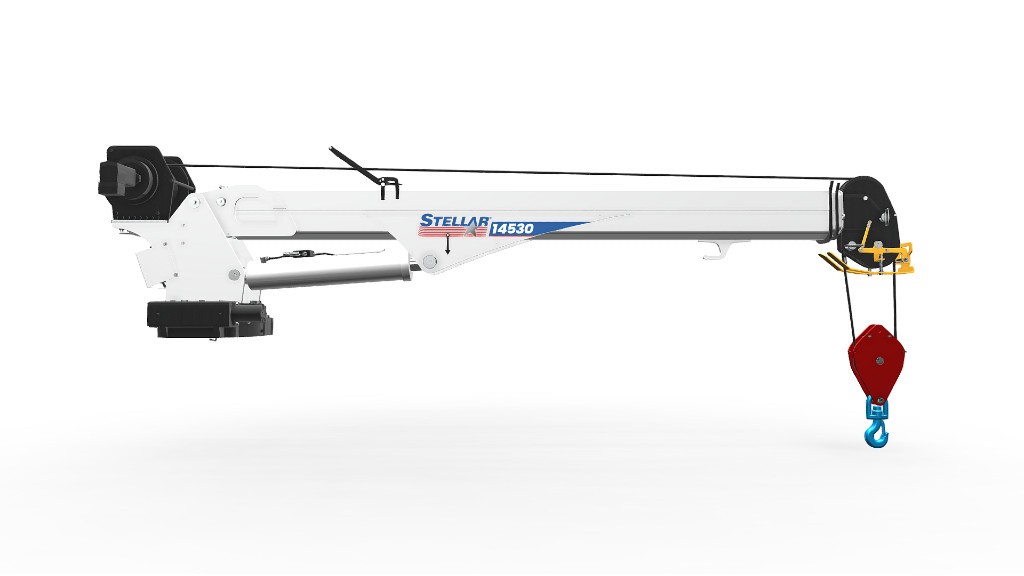 Redesigned Stellar hydraulic service crane features reduced weight, lift planning system