New backhoe lineup focuses on functionality and technology
Popular size range gets additional boost with lessons from larger machines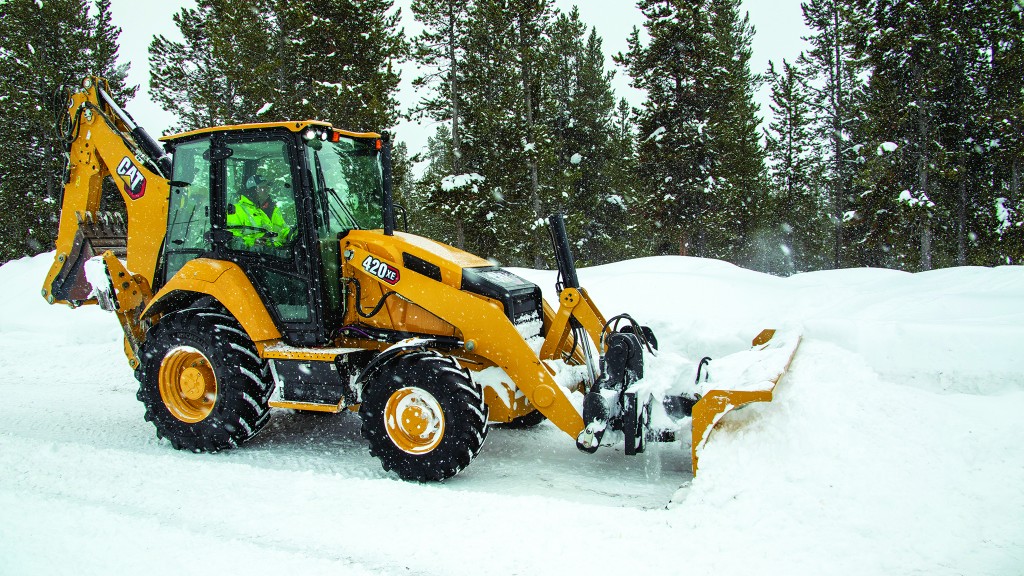 When Caterpillar launched its 440 and 450 backhoes in 2019, it was the start of a new approach for the company's popular multi-purpose machines. That approach continued at CONEXPO 2020, where Cat introduced an entirely updated line of backhoe loaders, incorporating designs that provide commonality among components, new technologies and more, adding greater functionality for users.
The backhoe line, which includes the 415, 416, 420 and 430 as well as the 420 XE, are designed to be more comfortable, efficient and versatile in a variety of uses and, according to product application specialist Dustin Adams, the 2019 introduction of the 440 and 450 were key to learning just what the backhoe market was looking for at this time.
"We pushed the envelope of technology and advanced features with the introduction of the 440 and 450," Adams described. "That 2019 introduction afforded us the opportunity to gather customer feedback and market acceptance to confidently incorporate similar updates as it relates to our most popular and successful model, the 420."

At the same time as Cat was gathering feedback to design the new machines, it was also keeping in mind the needs of the global market, Adams noted. As backhoe loaders are sold worldwide, Cat needed to keep in mind changing emissions standards in Europe with the advent of Stage V regulations.

"We faced increasing emissions standards in Europe and determined it would be beneficial to adopt the Cat C3.6 for backhoe models produced for European and North American territories," Adams described. "This new engine platform would not only exceed Tier 4 Final emission requirements, but provide a significant fuel savings without compromising performance and horsepower."
Improved fuel economy from previous models
The new C3.6 brings up to 10 percent better fuel economy compared to the F2 engine that previously powered the backhoe loader line. Most of the line uses a service-free Selective Catalytic Reduction (SCR) emission solution that uses diesel exhaust fluid (DEF) and diesel particulate filter (DPF) to meet Tier 4 Final needs; the 415 requires only the DPF to meet emissions needs.

Adams said several models – the 420 through 450 – use Selectable Power Management to improve efficiency. The feature "allows operators to run Cat backhoe loaders at lower engine RPMs while maintaining full implement speeds and full hydraulic power. Operating at these lower engine RPMs can reduce fuel consumption by 5 to 15 percent," Adams said.

In addition, the C3.6 engine in the 415 through the 430 can boost fuel efficiency by another 10 percent over previous editions of the machine. Pairing that engine with a powershift transmission – an option on the 416 and standard on the 420 and 430 – can easily improve operations.

"The powershift transmission simplifies shifting gears manually by removing the stick shift and allowing the operator to control gear selection by twisting the powershuttle lever," Adams described. "Powershift transmissions can also easily be upgraded to Autoshift in the field, typically in less than an hour for added convenience and performance."

The new models all offer adjustable auxiliary hydraulic flow to the backhoe, allowing the system to be fine-tuned for operation of things like hammers, thumbs and other attachments. Buyers can have the machine factory-equipped with an optional Integrated Tool Carrier loader coupler for fast attachment changes.
420 XE brings in technology from larger backhoes
For the 420 XE, Cat brought even more of the technology introduced with the 440 and 450 to the smaller machine. Notably, Adams said, the 420 XE features seat-mounted controls.
"Loader/backhoe control joysticks are located on the seat and rotate with the operator/seat when maneuvering from the loader to backhoe. Seat-mounted controls increase floor space in the rear of the cab, and reduce operator control adjustments, making machine operation more efficient," he said. "The Dual Mode feature enabled by seat-mounted controls allows operators to run their machines with their seat positioned at an offset angle for better visibility, in addition to allowing them to control implements to the rear of them for easy machine repositioning."

New boom cylinders on both the 420 and 420 XE offer up to 15 percent improved boom lift performance. The 420 XE has been built with single-tilt loader arms, and uses electronic loader controls that allow the operator to select operations like parallel lift, programmable return to dig, and programmable loader lift kickouts, Adams said.

"Operators can pre-program loader kickout heights and return to dig bucket angles, taking the guesswork out of machine operation and increasing operating accuracy," he said. "Parallel lift allows the machine to do the work keeping loaders level or controlling full rack angles, thus increasing material retention."

Operator control modes are also included on the 420 XE, allowing the operator to adjust machine joystick responses and hydraulic modulation, Adams said. "This provides the operator the ability to tune the machine to their operating preferences or to a sensitive job application."
Added technology updates
In the cab, the new backhoes feature a newly redesigned operator display, which incorporates machine gauges with a colour LCD information display that is soft-key controlled for easier navigation. A variety of settings can be accessed through the display; informational icon pop-ups make it easy to navigate between operating modes, while troubleshooting and maintenance are simplified with text diagnostic descriptions.
A new security system locks down the engine, transmission and hydraulic system unless the operator provides a valid passcode through the control screen or a Bluetooth key specific to the machine is detected.

Pilot controls are standard on the 420 and 430, and optional on the 415 and 416. New seat controls and touchscreen LCD operator display are standard on the 420 XE.

Cat Product Link is standard on the new machines, and customers can benefit from remote data monitoring through VisionLink to help expand machine uptime. Owners can customize the data that is shared, such as fuel usage, service reminders and fault alerts depending on their own specific fleet needs.
More from Earthmoving
A bottleneck of haulers waiting to be loaded is inefficient. Idle machines burn unnecessary fuel, increase maintenance costs and decrease resale values when you're ready to trade them in.
When you pair the new Volvo EC950F crawler excavator and A60H articulated hauler, you can load trucks faster. The EC950F can utilize a 10-yard bucket to fill a 60-ton capacity A60H in only four passes — reducing passes lowers fuel consumption and drastically speeds up cycle times to keep your haulers moving. See how the massive EC950F and A60H improve cycle times and more to boost your profitability.