Three options to stretch out with long-reach excavators
Adding reach to an excavator can be done from the factory or with a custom approach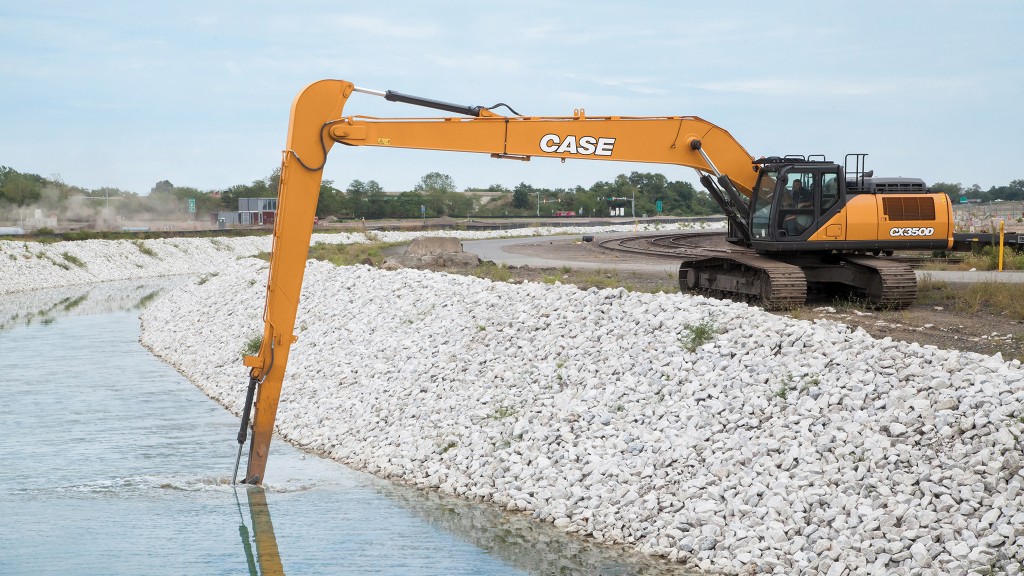 Versatility is part of the makeup of an excavator; it can move dirt, load trucks, cut trenches, carry various tools and handle a wide variety of jobs. On many of today's jobsites, though, excavators are being asked to reach farther and dig deeper, and that's where specialty long-reach machines come into play.
There are a number of different approaches to consider when looking at adding a long-reach excavator to the fleet: for example, purchasing a factory-ready unit, aftermarket addition of a long-reach boom and stick, or attachments that can expand the digging range of the machine.
Factory-fresh dedicated machines
Long-reach machines have a wide range of uses, both for deep digging and other roles that require the ability to reach out farther than standard excavators. Nathaniel Waldschmidt, product manager with CASE Construction Equipment, said these machines are frequently found along waterways.
"Long-reach excavators are used in various applications – predominantly along riversides, dykes and trenches for pulling material upwards. Long-reach excavators can also be used in demolition applications to extend reach both upwards and outwards," Waldschmidt described. "Although long-reach machines are most often used for deep excavation, these machines are utilized just as often to provide increased operating performance for sloping, demolition, dredging, digging in sand or gravel pits, or any other application that requires long distance bucket reach, power and precision."

Obviously, the major difference between a standard excavator and long reach machines is the extended arm that provides additional reach, both in distance and depth, but Waldschmidt said they also often bear an added counterweight to offset the arm, as well as an extended undercarriage that brings enhanced stability to the unit.

Those changes to the machine can change the way in which it operates, as well, thanks to weight and leverage moving when compared to conventional machines. Leverage especially is a challenge because it affects the capacity of any attachments the machine might be paired with, Waldschmidt noted. A variety of bucket sizes are available for long-reach excavators, depending on the size and capacity of the machine, but other attachments that are becoming more popular include mulching heads and clearing heads for vegetation management.

One key for long-reach machines is the ability to adjust for different situations, Waldschmidt said.

"Adjustability is huge when it comes to long-reach excavators and the different applications they get put in. At Case, we offer adjustability through our auto mode, H mode and SP mode; this allows the operator to dial in the hydraulic/engine performance for their specific application."

These machines also benefit from machine control, perhaps even more than other excavators, because often the bucket is working in a space that the operator can not see, Waldschmidt noted. Machine control is also scalable depending on the needs of the owner, from basic grade control up to full 3D systems as needs change.

Because long-reach excavators are already very application-specific, buyers need to keep in mind the job that machine is going to do when purchasing.

"If their machine is going into one application for its entire life cycle, then match the weight and capacity and all options to that application. If the machine is going into multiple applications, the buyer should consider a machine that can match those applications while remaining as productive as possible," Waldschmidt advised.
Considering conversions
If buying a new long-reach machine isn't in the cards, some contractors have taken advantage of companies offering specialty attachment services to add the reach they needed to their excavators.

Brandt Equipment Solutions, a division of the Brandt Group of Companies, has built John Deere-optimized attachments since 2006, covering a broad range of products available in Canada and around the world.

"We work closely with Deere's engineering team on machine information and model updates," said Brandt Industries Senior Vice President, Sales – Manufactured Products Neil Marcotte. "It helps us to ensure that our attachments and conversions augment the machine's performance and ensures Deere warranty compliance for all of our products."

Long-reach front conversions for Deere machines have been part of the Brandt catalogue in recent years. One recent example was a request from Midwest Pipelines Inc., which needed a 60-foot custom spec unit for a Deere 350G excavator. Well-known in the Canadian pipeline industry, Midwest needed a machine for canal work, dredging and laying bedding.

"Long-stick excavators are a must-have in our business – we have a couple of them in our fleet at all times," noted Midwest Equipment Manager Jim Harvey. "Brandt immediately understood our requirements and had the engineering and production capacity to create a custom application that does a really great job for us."

Due to the torsional and bending forces involved versus the strength-to-weight characteristics of various grades of steel, a hybrid solution was required if reach envelope and bucket volume targets were to be met.

Once capacity calculations were complete, a full Finite Element Analysis was performed on 3D models of both boom and stick to analyze operational force considerations and ensure structural integrity. The resulting solution employed a combination of high- and medium-strength steels and delivered significantly improved strength-to-weight ratios and overall performance.

To take advantage of the performance boost, Equipment Solutions reconfigured the JD 350G with machined pin bores for precise fit and longevity of components and added a robust custom stick and tool cylinder along with factory-spec main-boom cylinders.

Brandt then tailored a custom long-reach-front-specific bucket for Midwest's application to ensure that the machine would perform to its full potential and work within its safe working limits. An under-mount rear counterweight was included with the package, engineered to match the machine, the bucket and the desired reach for maximum efficiency.

To ensure safety and ease of maintenance, a centralized grease bank, located at base of boom allows operators to grease all components from one location. Hose routings, clean and protected up the length of the boom and stick, ensure that these crucial components are held tight to eliminate the risk of costly snags and damage during operation.

"We are really passionate about this business," said Marcotte. "Any time we can work with one of our customers to create a new way for them to succeed with their operation, it's a good day here at Brandt."
Alternate attachments
There are a broad range of other attachments available for contractors who are digging at depth. When working on foundations in today's urban environments, telescopic attachments are becoming more popular, allowing the operator to excavate deep within the pit.
Italian company Cosben, for example, has sent a number of its telescoping clamshell attachments to Canada for work on urban jobsites. Attached in the place of the excavator stick, these attachments are designed to improve productivity on challenging excavation projects.

The arm is designed using a combination of rope and hydraulic cylinders, allowing it to telescope out and then retract with a full load smoothly and quickly, according to Cosben. An additional counterweight, placed between the machine and original counterweight, helps to balance off the heavier front without changing the appearance of the excavator.

Multiple wire ropes help keep the arm in place in the case of a rope break, boosting safety near the machine. Alarms including buzzers and indicator lights keep the operator advised of potential issues, such as a rope break or overextension, or excessive pressure on the extension once the clamshell has reached ground.

Cosben explained that visibility is another key safety factor, and that it offers a camera solution that lets the operator see what's happening at the bottom of the attachment.

Whether it's an attachment, a conversion or a factory purchase, adding reach to an excavator can be an important way for contractors to expand their offerings – or meet very specific needs with a versatile and productive machine.
Company info
Hwy #1 East, Box 3856
Regina, SK
CA, S4P 3R8

Website:
brandt.ca
Phone number:
1-888-227-2638
Read more