Gehl introduces a new website for North America
Responsive, modern and easy to navigate layout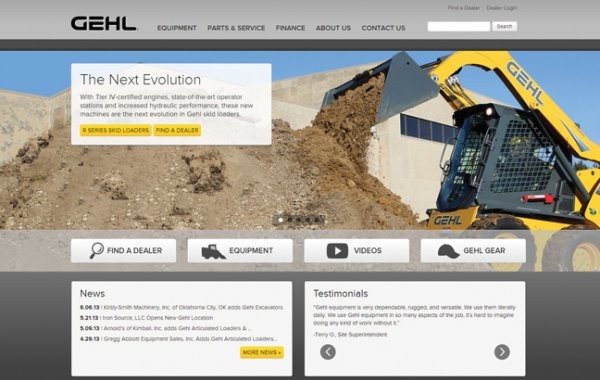 The gehl.com website was redesigned to provide the ultimate user-friendly experience with improved navigation and functionality. Responsive design allows for optimal viewing, whether users are visiting from a computer, tablet or cell phone.
The new site is based on a responsive platform, which allows visitors to view pages on any device without loss of data. "A change was needed to keep with technology trends," says Lori Heidecker, Director of Marketing for the Americas. "The new site will integrate with smart phones, tablets and computers. So, no matter where the visitor is physically located, they can easily gain access to the site and the valuable information they need about Gehl products."
In addition to the responsive design, the new website offers a variety of value-added tools and features to help visitors get the information they need fast. The modern layout, intuitive navigation and smart organization make it simple to find Gehl product and brand information.
Plus, the enhanced dealer locator tool makes it simple for web visitors to locate Gehl dealerships and distributors in their area.
An entire page is dedicated to each Gehl compact equipment model, providing in-depth product information. Downloadable support documentation, such as operator's manuals, parts manuals, product comparison charts and full-line product literature is now easily accessible. The site is highly visual, incorporating dynamic and detailed product photography, diagrams and video to further enhance the customers' experience.