C&D processing operation relies on Liebherr fleet
Ecowaste is transforming its business steadily thanks to half-a-dozen Liebherr machines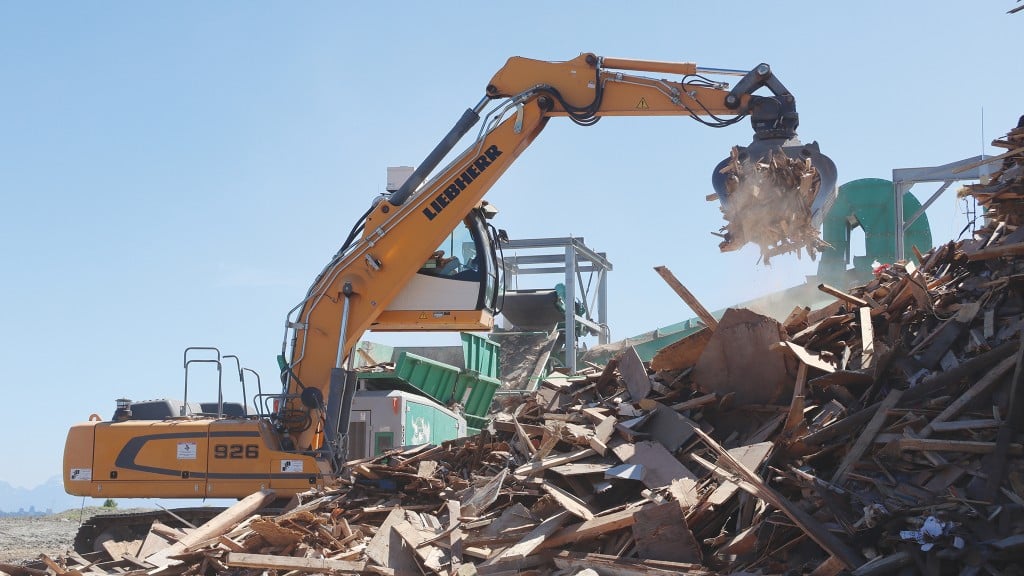 Construction growth, both residential and industrial, has led to a growth in the need for construction and demolition recycling. Sorting the many materials that are part of the C&D process is meticulous, and much of it ends up landfilled. However, there's a drive toward more recovery of those materials, and landfills are being replaced by materials recovery facilities (MRFs). That's a challenge that, with the right heavy equipment tailored to the job at hand, one Richmond, B.C., company is tackling head-on.
Ecowaste is a privately owned, family-run operation that has been in the C&D landfill business for 50 years. The company currently operates on 330 acres in Richmond, with a small transfer station in nearby New Westminster. According to Christian Dietrich, GM of the company's waste management division, one of the current goals is to transform from a company that is landfilling the bulk of the incoming mixed construction and demolition waste stream to one that landfills only about 20 percent.

Ecowaste collects the majority of its mixed demolition waste, consisting mainly of waste wood, via incoming trucks from privately run transfer stations in and around Vancouver, along with about 40 percent from construction site or residential remodelling bins. They don't accept drywall, but they do process concrete and asphalt using a Keestrack mobile crushing plant. Crushed materials are used mainly for internal road and infrastructure construction. Waste wood is turned into biofuel for various local businesses.

Dietrich says that Ecowaste is currently in the permitting process for construction of an on-site C&D MRF with capacity for 250,000 tons of wood, metals and other valuable material from construction and demolition sources yearly, diverting 70–80 percent of that material from landfill. He expects this facility to be in place by 2023. A wood processing line using a large, slow-speed shredder, operating at the Richmond site, constitutes the beginning of this part of the business. The line produces biomass for waste-to-energy end markets and consists of about 20 percent of the total infrastructure planned for a fully equipped C&D MRF.
Comparing the options to find a single-source supplier
Since 2019, Ecowaste has brought online six Liebherr machines, including a bulldozer, two wheel loaders, two excavators and a dedicated material handler. When Dietrich came to Ecowaste in 2018, there was a replacement schedule for equipment; from the start, as the one in charge of equipment purchases, he was intent on using one supplier for all of Ecowaste's heavy equipment.
"I wanted to package everything together, not only for a potential discount, but when I first came here we had Cat, we had Kobelco, we had Kawasaki, Deere, we had just about everybody who made heavy equipment. I wanted to narrow it down to one, or maybe just a couple of different suppliers, so that when we had any problems, we could get the quick service we would need.

"I really had a need for four or five pieces of equipment. I needed a couple loading shovels [wheel loaders], a couple excavators and material handlers, and I also needed a bulldozer."

Dietrich and his colleagues at Ecowaste came up with a weighted scoring system to compare all potential machines, factoring in price, operating costs, technical specifications, after sales support, supplier experience, health and safety features, warranty and ergonomics.

"It wasn't any one thing that stood out, or one aspect that we were looking at like fuel efficiency. We also scored suppliers on how many technicians they had available for servicing, and on spare parts availability. For equipment specific things, we looked at both fuel efficiency and overall weight."
When Dietrich was pricing out wheel loaders, excavators and bulldozers, he had already internally narrowed the options down to a couple of different companies, noting that there are only a few different manufacturers that could offer the full range of machines he was looking for.

"For the material handler, there was only two other manufacturers, and for me it was fairly simple on who we were going to go with, due to my experience with Liebherr machines in Europe," he says. "But I had to keep in mind that we also needed bulldozers and front loaders, an excavator and the whole package."

He recalls that there was only one unknown with Liebherr during their decision-making process. While Ecowaste has been around for a while, the company was not very familiar with Liebherr machines, even though Dietrich was. "The one thing that we didn't really have with Liebherr was that [prior] experience to be able to score them for serviceability and aftersales support."

With this in mind, after they took everything into account, and based on their scoring system results, they chose to go with Liebherr as a total package supplier. "It wasn't actually even that close to be honest," says Dietrich.

Ecowaste got its first Liebherr machine, a used 566 wheel loader in May 2019. The company then ordered a new LH 22 material handler, a second wheel loader (model 556), as well as a PR 736 bulldozer with a landfill package and a pair of excavators – an R926 LC (with a custom rising cab) and an R924, both fitted with waste grab attachments.

Now that Ecowaste is running Liebherr equipment, Dietrich says they've had a great experience with respect to serviceability and after purchase support. "They're doing really well," he says. "I've talked to their service managers who were great, and their technicians that come out are great and super professional." He continues, "Sometimes you get a guy in the area, and it feels like they're learning on the job at our expense. They're a bit rough around the corners, whereas [the guys] that come out to service us from Liebherr, I get the feeling from them that they see this as their career, and they're quite professional when they come out. It's been a great experience so far."
Looking forward to telehandlers
In addition to bringing in another material handler, Dietrich is looking forward to acquiring a Liebherr telehandler. In 2020, Liebherr introduced its first telehandler models in Canada. This will allow Dietrich to stick with his goal of buying all his heavy equipment from one supplier.
"In 12 to 24 months, I'd like to get one," he says. "It would be used in our public drop-off area or our tipping areas where we're just pushing material around, and where pedestrian safety is really important, because you can see a lot better in those machines and they are more compact than with a wheel loader. It's just a smaller footprint. You get into areas that big loaders can't." He adds that in Europe, community recycling depots use telehandlers with great success.

"If [the Liebherr telehandler] was available for us last year, I probably would have bought one instead of a second wheel loader because it ticks more of the boxes that are important to us: a lower price point, more pedestrian-safe and lower running costs.

"There's a lot of room for growth of material handlers and telehandlers in waste handling."
Related Articles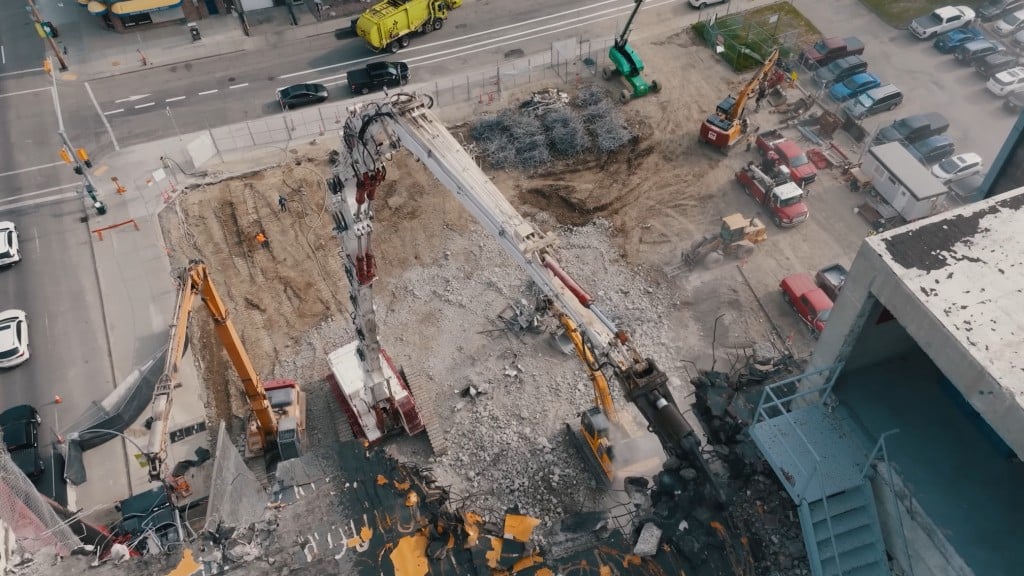 (VIDEO) Priestly Demolition takes down 10-storey Calgary building with colossal KOBELCO excavator