Cooper Equipment seizes electric excavator rental opportunity
Electric offerings in the rental space are expected to grow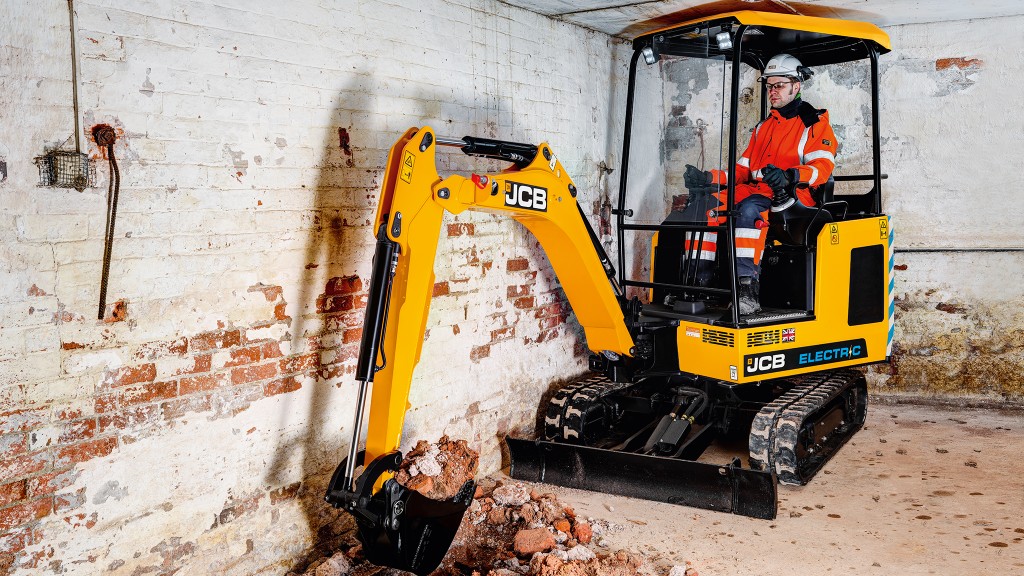 When Rod Lentino, rental fleet manager at Cooper Equipment Rentals, first saw the JCB 19C-1E electric excavator at The Rental Show in February 2019, he knew he had to have the first one in North America. This was an opportunity to broaden the company's product offering and capture new business by addressing customer pain points that didn't have easy or cost-effective solutions.
Cooper Equipment Rentals received North America's first two JCB electric excavators in summer 2019. One was put to work in the Greater Toronto Area (GTA), where the company has the largest coverage of branches and there is lots of opportunity for these machines to be used in renovation and interior work, and the other went to Vancouver.

"We tend to get asked by our customers for unique solutions in these areas, and it's usually a good testbed for those," said Lentino.

Cooper Equipment Rentals now has six JCB electric models in its rental fleet: two in the GTA, two in Vancouver and two in northern Ontario.

According to Lentino, one of the things that they liked about the JCB excavator is that it is approved for underground use and passes safety requirements to meet Canadian standards. This has enabled Cooper Equipment Rentals to work with mining companies in northern Ontario where the JCB machine is used with breakers to recover ore from more delicate parts of older mines, such as pillars. The electric excavators are also ideal for carrying out minor cleanup of debris underground.

In Vancouver, one of the first applications for the machine was installing moving sidewalks in the Vancouver International Airport. The JCB machine, along with a battery-powered wheelbarrow, was used to break up the concrete, install the mechanism and then redo the surface.
What to know before renting
According to Lentino, range anxiety is the main concern of anyone renting an electric machine. They want to know how long it can work.
"We've turned to the manufacturers for that because they've done a lot of studies, they've done a lot of the cycle work, and they've compared the duty cycle."

According to JCB, the equivalent 2-ton diesel-powered excavator typically works half of the time of a normal work day, so if a day is eight hours, the excavator is working for four hours. The rest of the time is spent idling or turned off, therefore the electric excavator needs to be able to run for four hours. If a customer needs the machine to run for longer, it can be plugged in during off time, such as during a lunch break.

There is also a learning curve to operating one of these machines, Lentino noted. An operator used to working on a diesel machine will turn the key and expect to hear the machine start up. "We've had a call or two related to that," he said.
New technology leads to new opportunities
The latest technology always comes with a premium price tag, and electric excavators are no different. They cost roughly double the diesel-equivalent machine to purchase and command a higher rental rate than a diesel machine. However, Lentino noted several advantages that make the investment worthwhile for Cooper Equipment Rentals and its customers.

The first advantage is that Cooper Equipment Rentals can rent out these machines year-round in Canada's colder areas. Once the ground freezes, there isn't much work for diesel machines. During the winter months the electric machines can keep working indoors, increasing their utilization.

The second advantage is that these machines solve customer pain points – whether it's reducing labour costs, a job that needs to be done indoors or underground, or winning a bid with environmental impact requirements.

"We see in these excavators an area where customers cannot do the same job. If you take into account the savings in fuel where customers have to pay for diesel fuel, they have to potentially pay for more manpower, because they may have to do the same job with two or three workers by hand, and it may take them longer than to do it with one operator in a shorter period of time," said Lentino. "It's more of a solution-based selling with these products."
Electric presence in the rental space expected to grow
Lentino sees utilization of electric equipment in the rental space only increasing and noted that investment at Cooper Equipment Rentals is ongoing for several types of electric-powered equipment, including smaller tools, stand-on skid steers and forklifts. He is also watching further development in the battery-powered earthmoving equipment space.

"The whole goal of the battery-powered offering by Cooper Equipment is to open up opportunities and have customers with pain points that haven't been addressed come to us and say, 'Hey, you guys have battery-powered excavators. What other kind of battery-powered stuff do you have? I have this application and I haven't been able to find a solution.' So we are trying to offer a broader product offering to be able to capture some of that unknown," said Lentino.

"We see this as the future, as battery technology improves and runtime improves. Cooper Equipment wants to position itself as a leader in this area and to demonstrate that we can give them smarter equipment solutions than what was previously in the space."