Big power, big production: an in-depth report on production-class excavators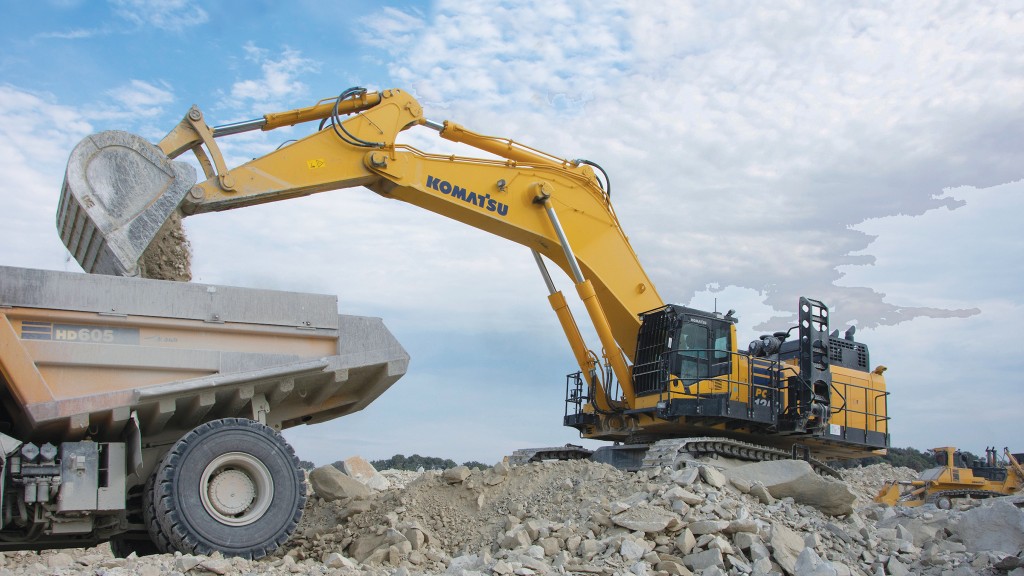 When it comes to machines that can move a lot of rock or dirt in a hurry, the production-class excavator stands out for its versatility. Excavators in this class – which is difficult to define with precision, but generally falls in the over-50-ton range – are designed to provide high productivity whether working in an aggregates operation, shifting overburden for mines and infrastructure projects, or engaged in large construction. Heavy Equipment Guide asked industry experts to share their thoughts on how these big excavators have been updated and improved for efficiency and productivity.
Emissions and robust hydraulics
As with many machine types, emissions control and improved efficiency have been a big driver of engine development on large excavators. Cory Brant, solutions marketing manager with John Deere, said that the goal for production-class excavators has been to develop systems that allow the machine to keep operating with minimal maintenance or downtime.

"The John Deere 470GLC uses a proven aftertreatment system designed based on a building block approach, combining a DPF and SCR system. This provides worry-free operation," Brant described. "On the John Deere 670GLC and 870GLC the engines meet Tier 4 Final emissions without a diesel particulate filter (DPF); this means. . . there is no reason to worry about the DPF, enabling the machine to meet rigorous operating demands, day after day."

Deere's large machines also benefit from electronic engine controls, which enable features such as auto-shutdown, auto-idle and multiple power settings, allowing the machine to balance production with fuel efficiency, Brant added.

The need to clean or maintain a DPF is a recurring theme with other manufacturers as well; LBX, for example, offers Isuzu engines in its machines, related Rob Dulaney, product marketing specialist. "With Isuzu, we do not have to utilize a DPF, so there are no service intervals to deal with, or downtime associated with emissions filters," he said.

Liebherr has also taken a similar approach with its machines, reports David Reid, Ontario earthmoving sales manager for Liebherr Canada. "Liebherr has put great work into a Tier 4 Final system that does not have a diesel oxidation catalyst (DOC), DPF or exhaust gas recirculation (EGR)," Reid noted. "This makes for a very reliable system that requires less maintenance for the owner and provides more uptime for the machine."

Engine control is another way in which manufacturers are improving efficiency on large machines. Komatsu has focused its engine efforts on meeting the needs of emissions while also keeping in mind what operators need to get their work done, according to Kurt Moncini, senior product manager.
"We have improved combustion efficiency with modern electronics and Tier 4 Final controls; we have faster processing in there to collect multiple data inputs from the engine and the hydraulics. We make the engine and the hydraulic system talk together more efficiently, so we can match the engine performance to the required flows and pressures to do what the operator needs," he said. "Our strategy now is running the engines slightly slower and using larger displacement hydraulic pumps, which addresses the fuel efficiency situation. . . so we gain an advantage on fuel without making any sacrifices on hydraulic flow."
Caterpillar's efforts have also focused on reduced speed as well as larger pumps, according to Ryan Neal, product application specialist. "We have found that lowering engine RPM and having larger-cc hydraulic pumps has helped to increase fuel efficiency, as well as maintaining productivity – and increasing it, in some cases."

For Doosan, Smart Power Control (SPC), a feature that combines two systems – variable speed control and pump torque control – is used to improve efficiency and maintain productivity, according to dealer and product marketing manager Aaron Kleingartner.

"Variable speed control reduces engine RPMs during low workload requirements, like during the swing portion of a dig cycle. This reduces the energy used to perform a task and improves the excavator's fuel efficiency by up to five percent," Kleingartner said. "The pump torque control efficiently matches hydraulic pump torque and engine response to the task, preventing engine overload."

Engines and hydraulic systems are designed to complement and enhance one another, said Volvo product manager Sejong Ko. Volvo's largest excavators, the EC480E, EC750E and EC950F, feature fully electrohydraulic systems that control on-demand flow and reduce internal losses in the hydraulic circuit, Ko noted. Benefits include controllability, shortened cycle times and better fuel efficiency.

"The hydraulic systems and engines in today's excavators can complement and enhance each other; for example, the hydraulics in the EC750E and EC950F work in combination with the high power and torque from the Volvo D16 engine to offer faster cycle times," Ko said. The EC950F also features a boom swing priority valve, which improves truck loading cycle times.

"There have been incredible advances in diesel engine technology over recent years, but it's important for manufacturers to always approach machine design in a holistic way. Each system has to integrate with every other system, so the engine, the hydraulics and the electronics systems all have to work in sync to get the most out of all of these technological advances," said Nathaniel Waldschmidt, product manager with CASE Construction Equipment. "As an example, CASE D Series excavators are able to provide faster cycle times as a result of an electronically controlled pump, a larger control valve and multiple sensors. These features combine with the CASE Intelligent Hydraulic System to make the best use of the machine's hydraulic power and momentum, resulting in added strength and improved fuel efficiency as compared to previous generations."

Komatsu has also worked to improve its machines through combined control of engines and hydraulic systems as well as better controllability overall, Moncini said.

"We look in particular at lines, sizes, flow restrictions and other factors, trying to make the oil flow as efficiently, and with the least amount of non-productive energy loss, as possible," he said. Komatsu used a pilot system on its PC1250LC-11 to allow for added precision and controllability; the machine has speed when it's needed, but in challenging digging conditions or when handling objects, precise movements are automatically there.
Kleingartner noted that Doosan's D-ECOPower feature, currently available on smaller machines, will soon be moving up to its larger excavators. "A pressure-controlled pump, closed-centre main control valve and various sensors in the excavator electronically detect and control the precise amount of hydraulic oil required to perform a task," he said. "The hydraulic system output requirements are optimized with engine horsepower. Improved feedback through the controls results in smoother machine control and enhanced operator comfort."

Deere's hydraulic approach benefits from the use of electronically controlled pumps for a pilot-operated hydraulic system, allowing the pump flow to be controlled more quickly and precisely, Brant said.

"The electronic pump control and pilot hydraulic system allow us to improve production without losing the 'feel' that operators desire," he said.
Improved electronics add efficiency
With electronics taking on more work in today's machines, manufacturers are focused on ensuring that their systems can handle the load, while adding new control options and benefits for operators at the same time.
"Electronics have been integrated to work together with the engine and hydraulic system with a focus on customization for efficiency and application," said Reid. "For example, the stick and boom have individual settings for speed and precision work. This allows greater versatility on the jobsite. Additionally, technologies such as stick and boom limitation allow for greater safety on the jobsite, particularly around areas with tight overhead conditions, like power lines or a bridge."

Integration makes it easier to ensure that every piece of the power puzzle is working together at its most efficient level, Moncini noted, allowing operators to get the greatest amount of performance from their machine.

"We make sure that the engine, hydraulic system and pump control are speaking and coordinating together so that we're at the right power band for what's required in term of output pressure and flow," he noted. "In the PC1250LC-11. . . we have a new power-plus mode and at the end of the day we see anywhere from 8 to 10 percent improvement in performance by allowing everything to coordinate better."

As with many other aspects of development in recent years, emissions regulations have driven improvement of electronics in excavators. Advances in electronic fuel systems mean companies like Deere can control engine torque curves more precisely, Brant said, to find the "sweet spot" between performance and economy.

"Because of the increased control over engine torque and our electronically controlled pumps we are able to match pump power and torque with engine power and torque, resulting in maximum hydraulic efficiency," he said. "These machines tend to be the workhorses that set the pace for all other operations on the jobsite. By using advanced electronics to dial in the many systems and components our customers are able to take full advantage of fast cycle rates, strong dig forces and precise controllability to help keep the project moving."

Volvo also takes advantage of added control to offer a variety of work modes on its machines. "The system controls the engine and hydraulic components; without compromising performance, this improves fuel efficiency, which in turn means lower operating costs," Ko said. "Utilizing intelligent technology, the system controls on-demand flow and reduces internal losses in the hydraulic circuit."
Cat's Next Generation excavators use an electric over hydraulic system for control, and Neal said the company's new main valves are also smarter, which improves longevity for component life.

While a lot of operators and mechanics would prefer to avoid expanding the amount of electronics on a machine, Dulaney noted, it's important to have the computing power that can fine-tune for efficiency across the board. Combining advanced electronics with telematics means operators can monitor everything from engine speeds and hydraulic temperatures to production rates on individual machines.

On CASE excavators, four control systems are integrated to improve performance, Waldschmidt noted. Boom Economy Control cuts RPMs by using gravity when the boom is lowering or swinging; Auto Economy Control reduces RPMs while idling and automatically shuts down the engine after a certain period of idle; Swing Relief Control reduces hydraulic power when a swing starts; and spool stroke control adjusts hydraulic pressure while digging.

"Using improvements to the Spool Stroke Control system, our D Series excavators re-use hydraulic fluid whenever possible to automatically increase cycle times and efficiency. The operator experiences a more productive machine without losing the precision of the machine's controls," he said.
Productivity enhancements from technology
Production-class machines are designed to move material – lots of it – and keeping track of what has been moved is important data for owners to collect and understand. At the same time, these machines are often tasked to dig deep – and sometimes out of sight. Fleet management software, telematics and grade control are all technologies that are finding homes on large excavators.

Working in deep trenches makes it difficult to know where the bucket might be. Digging blind is a key reason for grade control options to be used, according to Brant.

"John Deere offers a Grade Guidance system on the 470GLC that allows the operator to know exactly where the bucket is in relation to the desired grade by using a 2D benchmark or surface file through GPS," Brant said. "Grade Guidance provides operators the information they need while allowing them to operate at their own pace. In difficult digging situations this provides some big advantages; for example, when the operator may need to dig below grade to remove a boulder, or make other adjustments on the fly."

Deere's next steps for improved operator experience include efforts to develop upgradeable solutions, such as automatic boom control to allow for fast, smooth cycle rates, Brant added.

Good control is also important for Volvo, and the Dig Assist program is designed to help operators determine how to level out sites, dig trenches, take quick measurements or even create multi-dimensional site profiles, according to Ko.

"It is essentially a collection of apps that the operator can access from the in-cab display, putting the ability to increase their productivity literally at their fingertips," Ko said.
Operator awareness is another area that can be a challenge in larger machines. There are a lot of potential areas with limited or reduced visibility around big excavators, and Komatsu has made improved visibility a part of its efforts. An upgraded in-cab monitor gives operators a better view at gauges and other information, as well as the company's camera system
"We have a four-camera system; I now have the ability to see a bird's-eye view of the machine and surrounding area on the screen, or I can select particular camera views. I can pick any one of those four cameras. . . and still have my gauges and other information surrounding the view," Moncini said. "If I'm on a large sewer or water project in an urban area, I need to constantly be aware of people, trucks or structures around me. . . now I have those cameras all coordinating together, and it gives me significantly better operator awareness."

Payload measurement is an important area that Caterpillar has considered in its machines, Neal noted. "We have a standard Cat Payload system in our production-class-sized machines. This helps to prevent over- and under-loading the trucks, as well as help track productivity in terms of total tons moved in a day to how many trucks have been loaded. It also keeps track of tons per gallon and per hour to name a few of the features," he said.

Telematics are becoming more popular on a variety of machines, but according to Ko there are sometimes reservations among contractors to using these systems.

"Too many systems send countless fault codes that don't distinguish between critical machine issues versus what's more routine. They also require a big time commitment," Ko said. "Volvo ActiveCare Direct is an advanced telematics system that addresses this by analyzing the data for owners and sending them and their dealer a case alert with the probable cause, a recommended solution and the potential consequences of not acting."
Uptime, versatility also key for production-class excavators
At its root, production-class excavators to move material, fast and at a low cost, to make the owner money. Fuel efficiency is important for these machines, Kleingartner noted.
"It's important to note that crawler excavator fuel efficiency should not be rated as an amount per hour, but rather the amount of fuel consumption by yards of material moved," he said.

To that end, it needs to be up and running as much as possible.

"Imagine a quarry with 10 ADTs being loaded by a single excavator; if the excavator has issues, the customer has 11 pieces of equipment – and operators – sitting idle. The thought of it would likely make any site or project manager sick," Brant said. "Advancements in telematics such as JDLink are helping to keep equipment managers updated on the health of their fleet. This information is also providing feedback to the dealer network, opening the lines of communication and building a real partnership between the customer and dealer."

That data can be used for planning preventive maintenance before issues crop up, and allows for scheduling of service as needed, Brant added. Reid agreed, noting that Liebherr customers are embracing more integrated technology all the time, including fleet management software that aids in keeping production data at their fingertips.

Versatility of these large machines is another important factor, as they do take on other tasks beyond digging, Ko noted.

"Production-class excavators are not only used for digging, but also for demolition, material handling, forestry and more, so they can work at various jobsites and with different attachments," Ko said.
"Volvo's large excavators set an auxiliary hydraulic line of high pressure as standard, which works with a hammer, shear, processor and more for any application. Pressure and flow of the auxiliary line can be set up in the cabin, which is convenient for changing attachments in the field."
Ease of operation can be important in large machines, especially with the current labour shortage in heavy construction, Waldschmidt said.

"Manufacturers are continually developing technology that provides more comfortable, easy-to-use operator interfaces that appeal to both seasoned pros as well as less-experienced operators - control options, etc. On our D Series excavators, CASE offers a standard control pattern selector that allows operators to easily switch between ISO and SAE patterns based on their preference," he said.
One point to consider with production-class excavators is the type and size of trucks it will be loading, and ensuring that they match up well with the machine, Moncini advised.
"The industry rule of thumb is two minutes or under on load times, so it becomes important to take a look at hauling unit size – how do I match that excavator in particular to efficiently load that hauler," he said. "You need to make sure that you can load that truck efficiently and that you have a machine big enough so the truck isn't sitting there for minutes at a time being loaded."