2013 Blasting and Explosives Safety Training Seminar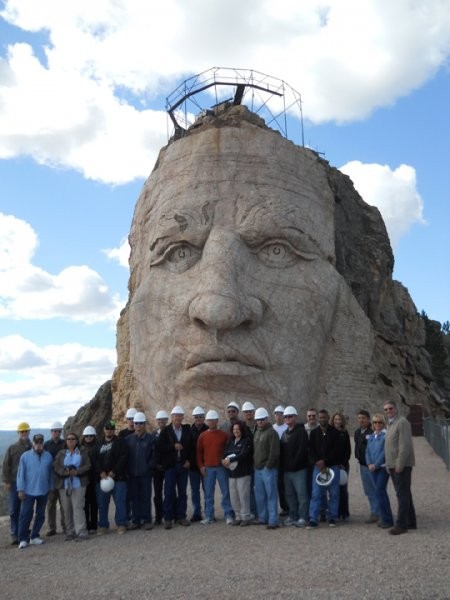 The annual fall Blasting and Explosives Safety Training (BEST) Seminar this year is a two-and-a-half day continuous education training session that will be held at the South Dakota School of Mines in Rapid City, S.D., September 4-6. The final day of the seminar will be capped by a special night blast at the Crazy Horse Memorial on September 6 for all attendees.
RAM, Inc.'s enhanced BEST Seminar is designed specifically for those industry professionals who work with explosives – explosives engineers, drillers, field crews, safety personnel and D&B engineers – and it helps attendees comply with state and federal regulations. Upon completion, each BEST Course attendee will receive a course certificate and a manual with valuable information that can be used in the field. All attendees will receive 20 Continuing Education (20 CE) hours. (Refer to page 2 for full seminar information for industry calendars.)
For 40 years, BEST seminars have advanced safe operating practices for more than a thousand attendees worldwide who work with explosives. Taught by instructors with decades of experience in their respective fields, the BEST course educates attendees on explosives safety and application, hazard recognition, accident prevention, and regulatory and new product updates. The training seminar includes extensive instruction covering:
• Comprehensive safety instructions for commercial explosives and blasting
• Updates on electronic blasting systems and supporting technologies
• Regulatory updates by specialists from the Bureau of Alcohol, Tobacco, Firearms and Explosives (BATFE), Mine Safety and Health Administration (MSHA) and U.S. Department of Transportation
• Tours of the Crazy Horse Memorial, Deadwood and Mt. Rushmore
Advanced course registration discount is available through July 31, 2013; see www.ramets.com for full course and registration fee details. Course topics have been selected to offer value to all professionals with varied experience levels, from individuals with decades of experience to those just entering the explosives industry.
BEST seminar highlights
Seminar Dates: September 4-6, 2013 – Fall Blasting & Explosives Safety Training (BEST)
Presented by: Robert A. McClure, Inc. (RAM, Inc.)
Location: South Dakota School of Mines, Rapid City, S.D., and the Crazy Horse Memorial
Registration: Discounted through July 31; full registration begins August 1
Hotel: Adoba Eco Hotel Rapid City/Mt. Rushmore – special seminar rates available
Registration/More Information: www.ramets.com