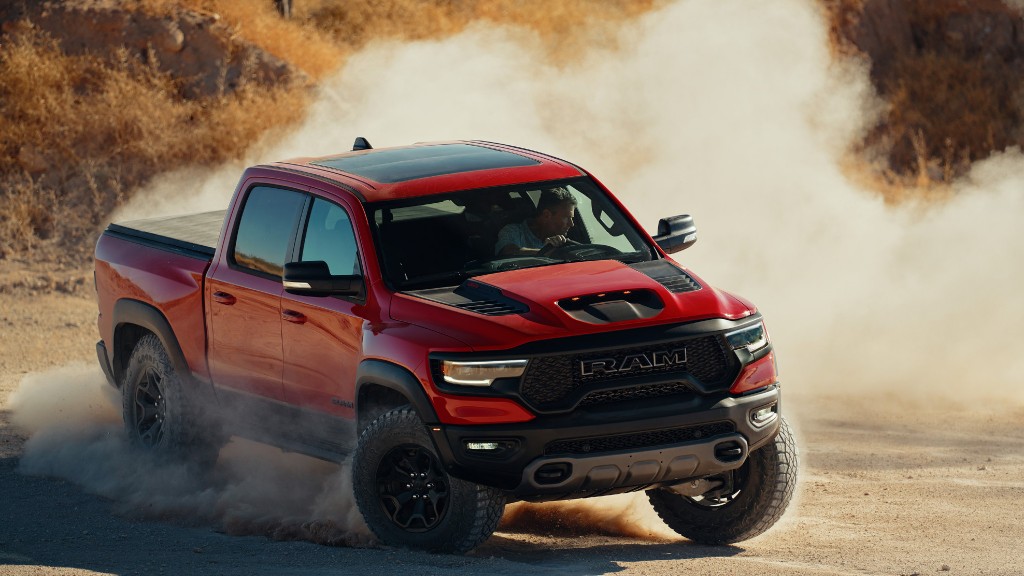 Performance truck buyers have something new to sink their teeth into - the newly introduced Ram 1500 TRX. The TRX takes the popular half-ton pickup and turns it into an off-road powerhouse with more than 700 horsepower and plenty of features to amplify its capabilities on the highway or in the dirt.
Built around a big Hemi motor and taking cues from desert racing trophy trucks, the TRX came out of the SRT shop that has built previous high-performance machines like the Dodge SRT-10 pickup. According to Ram head of brand Mike Koval, this new version will top competitive vehicles in a number of ways.
"TRX marries off-road capability to everything our SRT team has learned about performance," Koval described. "The all-new Ram 1500 TRX is by far the quickest, fastest and most powerful production truck in the world."
Design draws from popular models
On the outside, the 1500 TRX has taken cues from popular Ram models like the Power Wagon and Rebel, with distinctive updates to meet the hefty needs of the truck's powertrain. A big, bold and functional hood scoop is one part of the look, and behind it the truck's "hourglass" design flares out all around to handle big Goodyear Wrangler Territory all-terrain tires designed specifically for the TRX. Eight inches wider than the rest of the Ram 1500 line, the new truck sits up higher thanks to a 2.5-inch lift.
Unique grille, hood, skid plates and bumpers are designed to help the truck's overall performance off road, and are decorated with larger, more bold Ram logos. Customers can opt for full-length rock rails or stick with traditional powder-coated running boards.
Power under the hood
It's inside where the 1500 TRX really differs from other trucks in the Ram line. Under that big hood scoop is a 6.2-litre supercharged Hemi V-8 engine. Air is pushed in by a new dual-induction system, combining the scoop with an intake at the upper edge of the grille. A 29-litre air box filters out dirt, sand, debris and other materials before they can get into the engine; Ram designed a brand-new larger air filter to handle the intake needs of the Hemi.
Paired with a TorqueFlite eight-speed automatic transmission, the tried and tested Hemi engine generates 702 horsepower and grabs the ground with 650 lb.-ft. of torque. Testing has shown that the TRX can achieve a top speed of 118 mph, a 0-60 mph time of 4.5 seconds, and a quarter-mile time of 12.9 seconds at 108 mph. When it's being used for more sedate things like towing or hauling, it can manage a towed weight of 8,100 pounds and a max payload of 1,310 pounds.
Off-road ready
Putting all of that power to use off the beaten path means updates to design and components throughout the truck. A thick high-strength steel frame provides the base for the truck, and key components are protected by five different skid plates. Lightweight aluminum elsewhere in the truck helps to cut weight and improve fuel economy.
On the front end, a new independent sfront suspension takes advantage of active damping, while the rear suspension also uses active damping and a five-link coil system to improve ride characteristics and durability. A Dana 60 rear axle can travel up to 13 inches, compared to the standard 9 inch travel for other Ram 1500s. Bilstein Black Hawk e2 adaptive performance shocks help find an optimum balance between handling and off-road capability.
To set the truck up in different situations, the TRX uses software that can switch between five different dynamic modes - Auto, Sport, Tow, Snow and Custom - which adjust the four-wheel-drive, throttle, transmission, and other components to keep the ride safe and smooth. Dynamic off-road modes allow the driver to pick a setup that fits the surroundings, in three flavours: Mud/Sand, Rock and Baja.
Overall design and placement of components gives the TRX the capability to ford up to 32 inches of water without difficulty.

A variety of parts will be available from Mopar to kit out the TRX based on the driver's needs. Everything from off-road lights, a bed-mounted spare tire carrier, beadlock-capable wheel rings and more will be available.
Interior comfort and quality
Ram has offered three options for the TRX interior, but all feature premium textures, colours and materials, including available hand-wrapped leather instrument panels. An SRT-signature flat bottom steering wheel is available, and paddle shifters allow the driver to select the right gear with their fingertips. A performance floor shifter maximizes storage space and lends itself to what Ram describes as "spirited performance driving."
Technology is built in to the new truck in a variety of ways. At the heart is the Uconnect 12-inch touchscreen, which provides the ability to split-screen different applications; drivers can access a variety of tools, including Performance Pages, which offer snapshots of the vehicle's performance at any given time. Drivers can find timers, gauges, engine performance and other tools in this application. Off-road Pages give a look at ride height, transfer case information and more.
Additional available tools include various cameras such as a forward-facing trail cam to spot obstacles more easily and a digital rearview mirror.
The 2021 Ram 1500 TRX is available for order as of August 18, 2020.
Watch the 2021 Ram 1500 TRX launch video