Genesis Attachments expands demolition tool offerings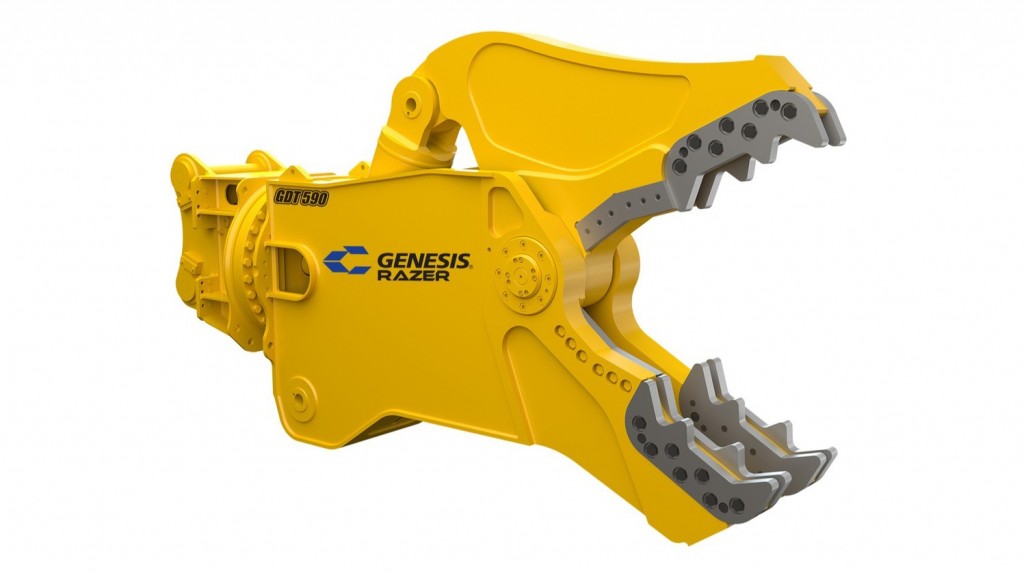 Genesis Attachments' new GDT 590, the largest Razer demolition tool in the line, is now available in four models.
Featuring a lighter-weight design, the GDT Razer is optimized to fit on standard and most high-reach excavators, and the GDT 590 extends the minimum excavator weight to 120,000 pounds, up from the 45,000, 66,000 and 90,000 pound minimum excavator weights of the GDT 190, 290 and 390 respectively.
The GDT 590 Razer also increases the line's versatility to meet customer demands in applications such as general and bridge demolition, concrete recycling and C&D processing with its 52-inch jaw opening, 46.5-inch jaw depth and over 12-foot reach.
To further enhance processing capability, the GDT's upper jaw passes through its lower jaw which has an open relief area that allows material to easily pass through and prevents jamming.
All GDT models feature a short, flat-top head with bolt-on bracket that simplifies installation and switching the Razer between excavators, customizable quantities and locations of crushing teeth, and interchangeable and front-to-back reversible bolt-on teeth for longer life and lower cost of operation.
Company info
Related products
More from Attachments
A bottleneck of haulers waiting to be loaded is inefficient. Idle machines burn unnecessary fuel, increase maintenance costs and decrease resale values when you're ready to trade them in.
When you pair the new Volvo EC950F crawler excavator and A60H articulated hauler, you can load trucks faster. The EC950F can utilize a 10-yard bucket to fill a 60-ton capacity A60H in only four passes — reducing passes lowers fuel consumption and drastically speeds up cycle times to keep your haulers moving. See how the massive EC950F and A60H improve cycle times and more to boost your profitability.