Connected machines drive productivity and performance
Telematics provide real-time visibility into machine health and construction operations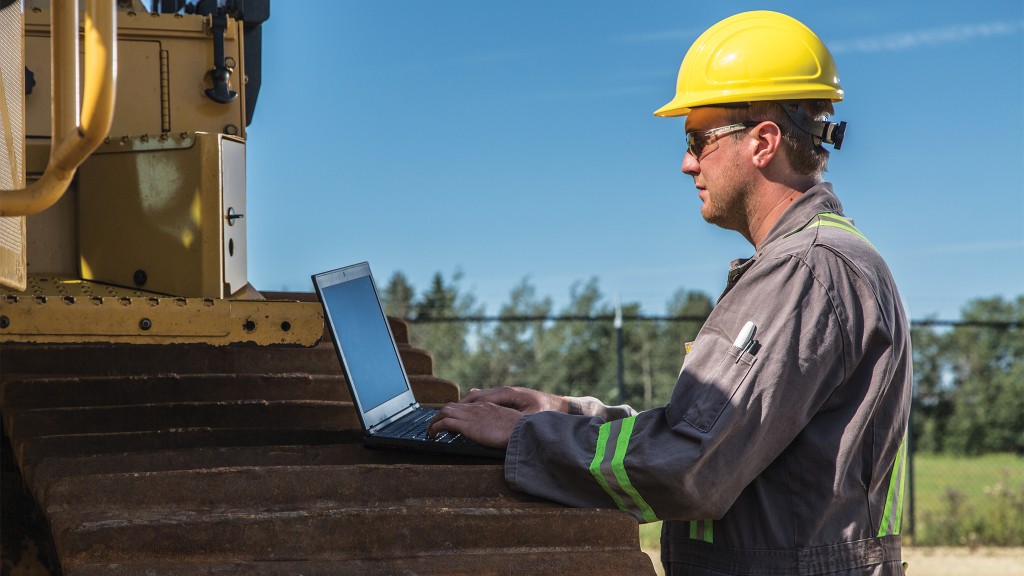 Construction companies using technology to drive performance are winning more bids and completing projects with greater insights, collaboration and efficiency. Telematics technology has also made huge inroads in the last decade, providing advancements in connectivity that allow companies to stay connected, train operators, manage projects and keep them moving forward, often remotely, safely and successfully.
Telematics, once reserved for larger equipment and primarily used to locate machines and alert operators of fault codes, now play a key role in monitoring and managing an entire fleet's movements and health, increasing efficiencies and keeping costs down.
Yet, for a large part of Canada's construction sector, we're just beginning to see the potential for telematics to revolutionize the way construction companies work - from back-office integration to onsite execution. This is a big opportunity but also a big challenge. Companies need to trust the technology will help them manage their businesses more effectively and allow operators to do their job better, safer and faster.
Connectivity the starting point
At the most basic level, telematics provide real-time intel into what is happening on the jobsite from machine hours and location to what equipment is operating. This all helps to effectively manage the fleet, but it's really just the beginning.
Connected machines pay off right from the start at the design phase of a project. Design files can be downloaded to the machine instantly via the cloud from anywhere, versus manually downloading files into the machine before work can begin. Not only does this save time, it also enables accurate planning, data capture and monitoring of the work.

Drones, now a standard means of site surveying, provide the ability to share data in real-time, accurately tracking the amount of material moved and providing oversight on the project progress and operator performance.

The data analytics captured help manage projects from planning through completion, from reduced maintenance and downtime through health monitoring to overall improved effectiveness and increased productivity at each stage of the project.

Access to technology is also becoming less of a barrier for companies of any size. Manufacturers are focused on making machines smarter with new models coming loaded with telematics technology straight from the factory.

Telematics integrated into the machine can simplify operations to ensure more operators are using the technology rather than avoiding it. Imagine an operator going from a 10,000-hour piece of equipment to a state-of-the-art 20-tonne excavator or track-type tractor with touchscreen monitors and semi-autonomous functions, which help get to grade with the push of a button. This change can be overwhelming. But increasing operator acceptance by making adoption as easy as possible is key to gaining the full benefits of the machine.
Dealers aid in telematics integration
Starting with connected machines, you can integrate telematics into all aspects of the business, using data-driven analytics as the foundation for planning and management of every aspect of your operations. Accuracy of your month-end billing and reporting is dependent on data pulled from the machines. Maintenance and scheduled parts and services are tied to analytics from the data and can be timed to prevent downtime, operators can be trained with the push of a button and site managers can identify productivity problems before they become costly mistakes. The right technology partner can help you integrate telematics into your operations to meet your specific business needs.

Telematics can also be a training tool, using the data as a benchmark for performance. This isn't limited to onsite training. Operators can train remotely with the support of their technology dealer who can log into the machine and go through every function and feature with the operator over the phone. Collaboration is crucial - monthly check-ins, constant data analysis and 24/7 equipment monitoring, which can be shared with operators, site managers and back office staff provides both confidence and peace of mind.

Onboard equipment telematics can help identify issues and solve problems remotely. When an operator has an issue with their machine, they can connect via telematics to their technology support team who can immediately assist via remote troubleshooting. The dealer can log into the machine and initiate a session, accessing live machine diagnostic information to remotely identify the problem. If a repair is needed, the dealer can then dispatch a technician with the correct parts and tools for the job, saving both time and money.

Telematics can also enable equipment updates without the machine ever leaving the jobsite. Operators receive a notice from their dealer that a software upgrade is available on their machine. Similar to a smartphone, the updates can be loaded instantly, removing any bugs or issues from equipment and reducing the time to do the updates by 50 percent.
Small equipment, big reward
Competition is greater and margins are increasingly tight - meaning unnecessary reworks, unscheduled repairs and maintenance or errors in site surveying can result in a huge loss in productivity and revenue. This can be even more intensified for small to mid-size contractors who are constantly working with limited time, money and resources.
Telematics provides a big opportunity for smaller contractors to adopt technology that goes beyond equipment tracking. Helping to alleviate pressure by providing real-time information into the daily operation, performance and efficiency of each piece of equipment, further reducing costs and finishing projects ahead of schedule.

Smaller machines offer better affordability and are now more readily accessible, giving operators access to technology once reserved for larger machines such as payload, 2D grade control and E-fence. Advancements in payload technologies now allow operators of smaller equipment to see how much they are lifting in every bucket load and when they have reached optimum haul capacity. Site managers can also easily track tonnage output - allowing for improved accuracy in billing and lower costs.

With E-fence, operators create invisible electronic boundaries over, under and around equipment, preventing machine breaches of these boundaries, protecting workers and property. And new factory-integrated grading technology helps operators improve accuracy by automating blade movements, reducing manual operator inputs and increasing productivity by as much as 50 percent.
Valuable operational insights
In a growing competitive industry like construction, staying ahead of the curve is critical and adapting technology and encouraging innovation is the best way to get there. Recognizing telematics as part of a bigger strategy for future growth is also important. However, demanding schedules can make it difficult for companies to find the time to devote to integrating technology that may have an immediate effect on their business. The key is to start small. Identify a technology champion within the business and task them with exploring and identifying new opportunities. Test it with a single project before rolling it out company wide. Ensure there is a plan to understand what success looks like and find the right partner to work with you on how to integrate the technology across your business.
Telematics is continuing to evolve and change the way construction companies operate. When used to its full potential it can have a big impact on the bottom line. The next level of adoption is about greater productivity, operator training, predictive maintenance and real-time, accurate data to help meet the operational and financial needs of both construction companies and their customers. Finding out how it can best serve your operation is a step in the right direction in ensuring the success of your business into the future.
Innovation leads to success for engineering firm
Engineering firm Integrated Sustainability was looking to lead their own construction on an industrial freshwater reservoir project for a major oil and gas company in Alberta. Finning was tasked with providing options for a pilot project. What started as a straight rental evolved into a full turn-key solution.

The project involved 19 pieces of equipment from dozers and excavators, to graders fully loaded with 3D grade control and VisionLink technology, as well as a project-dedicated technician to maintain the equipment and on-site fuelling by 4Refuel to maximize uptime.

Gary Smolik, manager of construction for Integrated Sustainability was tasked with overseeing the pilot project.

"I went to Finning because I like Caterpillar, and I know the product, service, and capability they can provide," says Smolik. "But when we found out what the technology offer was and what it had the capacity to do, combined with having our maintenance and cost concerns addressed, it was a winning combination."

Proof is in the results, and in this case, they speak volumes. "The 3D grade control gave us the capability to go to the final grade right out of the gate, allowing us to execute in a reduced time frame and accelerate our earthworks, completing the work in days versus weeks," says Smolik. "The software also allowed us to see data in the moment, cycle times, and payload and make real-time decisions with no loss in production. It allowed me to provide updates with actual, current production numbers; we were able to measure actual costs, so we knew we were on budget."

Integrated Sustainability used the online reporting data and remote fleet monitoring extensively which gave them another big advantage, as they could remotely manage the project. Not having to be on site also allowed them to work on multiple projects simultaneously; Finning took care of the on-site technical needs for maximum equipment performance.

According to Stuart Torr, president, Integrated Sustainability, "Because we were working on a lump sum price and using real-time data, every day we were looking for ways to improve and reduce costs. We were confident in the project, based on our previous experience, and we knew we could do it cheaper than market prices. We set ourselves some pretty bold goals and achieved them."

Technology was a huge enabler for this project, but the key was the collaborative effort that showed how much potential there is when you open the door to new possibilities.

Peter Gibbons is regional technology manager with Finning.
Company info
16901 - 109 Avenue
Edmonton, AB
CA, T5P 4P6

Website:
finning.com
Phone number:
888-346-6464
Read more
Related Articles
Searching for the best-performing excavator? Your search ends here. We tested the Volvo EC350E and EC380E against a leading competitor in three different tests: trenching, truck loading and lifting capacity at reach. The results show a 20% difference in cost-per-ton, a 15% difference in tons-per-hour and a 12% difference in both operating costs and lifting capacity. See the results and put an end to your search for the best excavator.