AUSA launches reversible and articulated site dumpers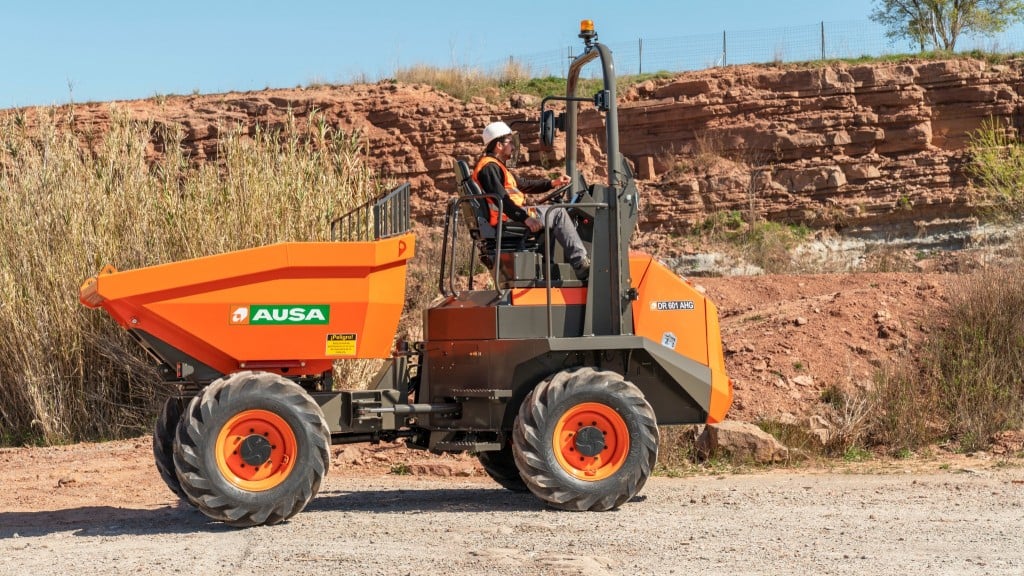 AUSA has publicly launched all of the vehicles that were expected to be on show at the various international trade fairs that were cancelled due to the global pandemic.
The new DR601AHG reversible dumper has a 13,200 lb payload and comfortable hydrostatic transmission. Due to the reversible design, the seat can rotate 180 degrees and all components are instantly adjusted to suit the driver's new position. The driver can also comfortably and safely get on and off both sides of the dumper, so speed and flexibility are significantly increased.
In terms of technology, various systems have been included to make it a more efficient dumper. ECO Mode function automatically controls the engine speed to ensure lower fuel consumption and CO2 emissions, while the Hill Holder system provides a start-assist and safety system that engages the dumper's brake when the operator takes their foot off the accelerator at zero speed. This significantly increases safety, especially when operating on slopes.
Meanwhile, the D300AHG is an articulated dumper with a 6,600 lb payload, a side-tipping skip and hydrostatic transmission. One of the main strengths of the D300AHG model is that its design is based on the 9,900 lb dumper. The same chassis, hydrostatic transmission and engine cooling is all installed on a dumper with a lower payload to achieve reliability and durability.
The skip's shape also ensures maximum frontal visibility and it can optionally be fitted with the Full Visibility System, consisting of cameras and proximity sensors.
More from Earthmoving
A bottleneck of haulers waiting to be loaded is inefficient. Idle machines burn unnecessary fuel, increase maintenance costs and decrease resale values when you're ready to trade them in.
When you pair the new Volvo EC950F crawler excavator and A60H articulated hauler, you can load trucks faster. The EC950F can utilize a 10-yard bucket to fill a 60-ton capacity A60H in only four passes — reducing passes lowers fuel consumption and drastically speeds up cycle times to keep your haulers moving. See how the massive EC950F and A60H improve cycle times and more to boost your profitability.