Exoskeleton offers construction workers support for shoulder-height and overhead tasks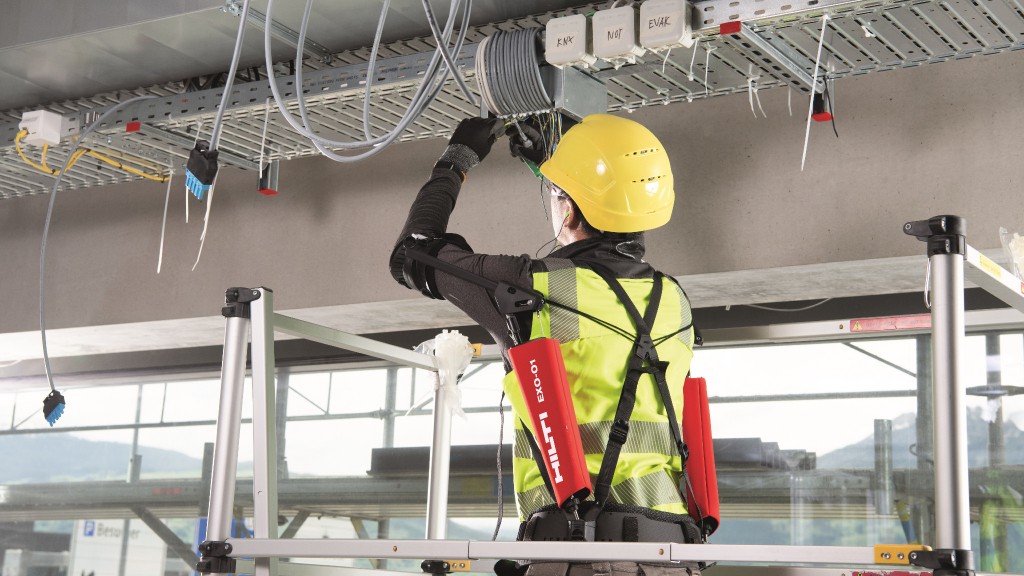 Construction workers who frequently use tools at a shoulder height or higher will be able to get a boost from an innovative exoskeleton system currently in testing by Hilti.
The EXO-01 wearable exoskeleton was one of several new items released by Hilti during a virtual product launch, and the company indicated that further robotics-related releases will be coming in the near future.
"We see this as a way to help people to work safer on jobsites - to protect shoulders, reduce rotator cuff injuries," said Ed Selz, Hilti business unit manager. "It supports the user in those above-shoulder jobs which are very demanding."
The EXO-01 is based on a cable-pull system that takes the strain off the wearer's arms, shoulders and joints, reducing strain and fatigue for both experienced and novice workers in a variety of jobs that require work at the shoulder or above. It will not replace the user's muscular system in the process of doing work, but provide a level of support to allow work to be performed with greater ease.
With generational change progressing in the construction industry much like in other sectors, the exoskeleton is expected to help in expanding the labour pool.
"We're excited about this innovation - it will bring some new techie-ness to the construction industry, which is often looked at as a slower-moving industry," said Rafael Garcia, senior vice president and CMO of Hilti North America. "I think this will help us bring more people into this industry that might otherwise choose another industry."
The EXO-01 is a partnership with Ottobock, a manufacturer of prosthetics, orthotics and exoskeletons that aid people in keeping and increasing their physical independence.
A passive system, the exoskeleton is not powered and relies entirely on mechanical operation. Hilti currently has the EXO-01 in jobsite testing, with the goal of bringing it to market in 2021. The company says it will also offer implementation, training and support services for customers.
Hilti has done extensive work in new technologies over recent years, including working with companies like Boston Dynamics and Trimble, with focuses on ergonomics, workflow automation and more. Garcia said automation and robotics will continue to play into Hilti's product development moving forward.
"Our continued advancement in jobsite innovation will include but not be limited to robotics technology," he said. "Robotics have unlimited opportunities in jobsite work... they have the opportunity to take on dangerous tasks as well as the mundane."