SANY America introduces new equipment models to customers and dealers at open house event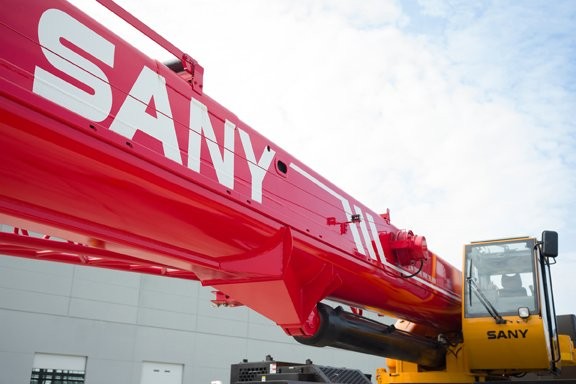 SANY America recently hosted customers and dealers at its first 2013 open house event at the company's North American headquarters in Peachtree City, Georgia. On display were the first SANY SCC8150 crawler crane and the first SRC885 rough-terrain crane to arrive at SANY America's headquarters, as well as other recently introduced SANY cranes and excavators.
Prospects and customers from Mexico to Ontario and dealers from California to Quebec were on hand for the event, where they had the opportunity to operate the new cranes and put them through their basic functions. They could also participate in product walk-arounds with SANY sales and service technicians.
"Operators were able to get a feel for machine function and the smoothness and simplicity of operation with SANY machines," said Kirk Erlinger, director of sales and dealer development for the Lifting Group at SANY America. "At the same time, owners and fleet managers were able to see firsthand our commitment to warehousing and stocking parts from North America."
Four SANY cranes sold at open house
Erlinger pointed out that all of the equipment displayed at the event has been sold. "A customer representing a mining operation in Quebec purchased the largest of the crawler cranes on display at the event, the 330-ton SCC8300," he said. The SCC8150, SRC865XL and SRC885 also sold.
"We brought four customers to the SANY America open house, and we all had a great time," said Bill Hankins, crane sales specialist, Lyle Machinery, Richland, Miss. "It was a first-class event that demonstrated SANY's commitment to the U.S. market. We're very impressed with SANY's investment in product development and support. This gives customers and dealers a lot of confidence in the company's future here."
Adding to SANY America's growing dealer network, the company recently welcomed its first dealer in Alaska, Totem Equipment & Supply, based in Anchorage. In business for more than 50 years, the family-owned business is one of Alaska's leading equipment distributors and full-service rental companies. SANY America now has 16 excavator dealers across North America and Central America.
"We are in growth mode, so these events help us show customers, dealers and prospective dealers the commitment SANY has to their local markets," said Eric Teague, vice president of earthmoving for SANY America. "Open houses give them a chance to see our world-class headquarters and factory, and to see the machines up close."
SANY America's crane offerings include five crawler crane models from 110 to 550 U.S. tons (SCC8100, SCC8150, SCC8200, SCC8300 and the SCC8500) and four rough-terrain cranes from 40 to 85 U.S. tons (SRC840, SRC865, SRC865XL and the SRC885). SANY cranes are known for innovative features, smart operation, reliability and operator comfort. New crane models will also be introduced in the near future.
The company's excavator offerings include the 7.5-ton SY75C, the 13.5-ton SY135C, the 21.5-ton SY215C and the 23.5-ton SY235C. Additional excavator models will be introduced in North America in the coming year. SANY excavators feature low overall owner operating costs, ease of operation, low operating noise and solid excavator performance.