Telematics for towable scrapers optimizes earthmoving operations, load counts and payload capacity
The system is available for retrofit and in testing for new machines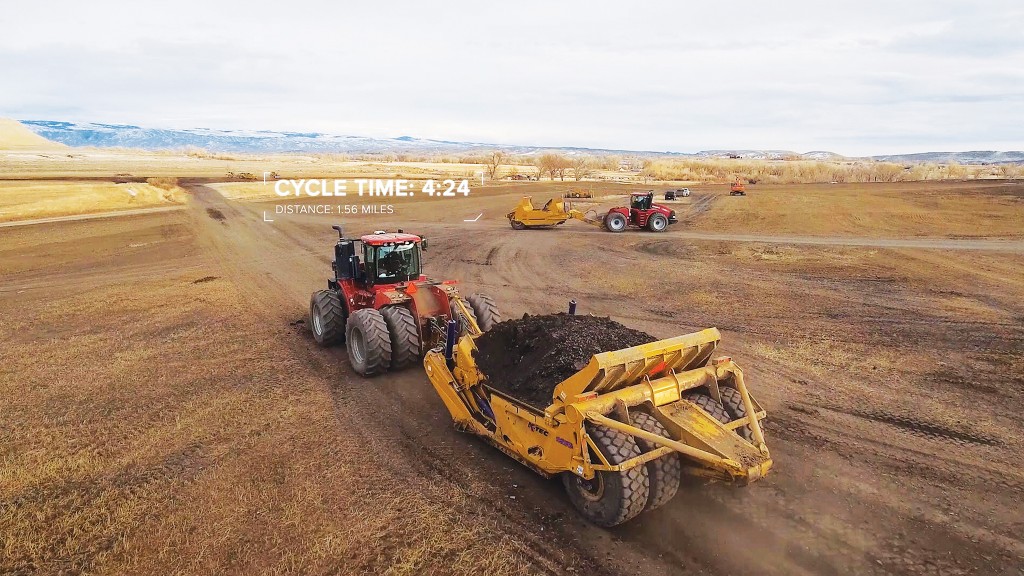 Scrapers have been a reliable and easy to use earthmover for many years. These machines, usually towed by another machine, are easy to put to work - they pick up dirt and carry it to another spot as part of bulk material moving duties. Telematics aren't usually the first thing that a scraper owner might associate with their machine, but as technology expands that is changing.
K-Tec Earthmovers has focused on making its scrapers smarter for some time now, and a new telematics system is intended to improve scraper operations, add efficiency and increase productivity on pull-pan machines.
"Traditionally, the pull-pan scraper has been a utilitarian towed-unit attachment. . . K-Tec has spent years of research and development in refining the optimal earthmoving scraper," said Shane Kroeker, K-Tec director of strategic initiatives.

Cloud-based telematics
Over several years K-Tec has worked on developing and testing the telematics system on its scrapers, Kroeker said. The cloud-based system beams information from the jobsite to a software dashboard that allows owners to assess data and make better business decisions.

"In addition to the proprietary software developed, a hardware kit is also integrated with K-Tec's scraper and onboard computer and monitor display equipment," Kroeker described. The hardware kit includes a "black box" transmitting via cellular networks, a shark-fin antenna for telecommunications and a wiring package to connect hardware to the cab. Available in both direct-mount scrapers and those designed for use with ADTs, the company is preparing a retrofit kit for older models.

Once installed, K-Tec scraper telematics offer benefits to everyone from the operator to service technicians and the back office. Operators receive real-time feedback on an in-cab display to help them optimize load count and payload capacity, while on the service side mobile message notifications can alert technicians when maintenance needs to be done, or when there are fault codes reported. Reminders pop up to ensure that scheduled maintenance like greasing, tire pressure checks and cutting edge inspection is done at the proper intervals.

"Site supervisors may view jobsite cycle time and load time performance, with average hauling speed and distances, on a tablet in the comfort of their pickup as one benefit to ensure a smooth and productive operation," Kroeker said. "Business owners can benefit by calculating their cost of moving material from the office, while protecting their investment with anti-theft GPS tracking on scrapers across various jobsites."

Scaling on the move
Developing a system that integrates into the company's pull-pan scrapers has proven a challenge for K-Tec, and there have been plenty of adjustments along the way. One area that got a second look along the way thanks to feedback from customers was the ability to scale on the move, Kroeker said.

"We recognized that it was critical to have scaling-on-the-go functionality, instead of having the operator stop their machine to get a scale value for the load," Kroeker described. "In order to get simple and accurate dynamic scaling outputs we had to develop a complex algorithm in reading and analyzing the hydraulic pressure of the machine and calculate it against a specific correction factor for each model of scraper we manufacture. This resulted in a substantial amount of field trials and data cross-checking analysis to ensure that our accuracy is acceptable for the contractors' requirements."

Since the system was introduced at CONEXPO 2020, there has been a steady stream of interest in beta testing of the system, as well as in the retrofit kit, Kroeker said. The growth of telematics in construction use is such that K-Tec expects it to be top of mind for contractors buying earthmoving equipment in the near future, Kroeker said.

"K-Tec is convinced that this telematics system will be a game changer for earthmoving operations in regards to daily productivity and efficiency, as operators will be competitively motivated to become the top fleet performer," he said. "Furthermore, with the user-friendliness of the service alerts, preventive maintenance will maximize machine uptime to protect the investment in the equipment."