Allmand announces mobile light tower placement app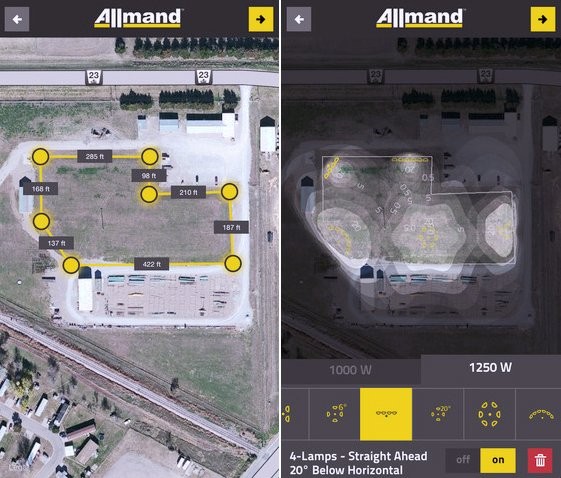 Responding to a growing need for assistance in determining the number and placement of portable light towers on a given worksite, Allmand is pleased to announce that they have created an iPad/iPhone application to aid in worksite light tower setup. It is available free through the Apple App Store.
Although the app is developed and offered by Allmand, it can be used as the basis for setting up 1000-watt or 1250-watt metal halide light towers from almost any manufacturer. The mobile application is designed for those who need to illuminate large areas for construction, special events, mining, energy production or any number of situations where portable lighting is required for safety, convenience or productivity.
To use this app, simply locate the area to be lit on the satellite image using either the general ZIP Code, the name of a city, or the specific street address of the site. Touch the screen to define the boundaries of the actual area to be illuminated and virtually set up and aim the portable light towers to determine the placement and quantity of the towers as well as the light configuration that most efficiently lights the worksite to the desired level of illumination, which is measured in foot-candles (fc). A number of typical lamp configurations may be selected (i.e. four 1000-watt lamps aimed straight ahead, six 1250-watt lamps aimed 45 degrees apart, etc.) to best determine the most efficient lighting setup.
After determining the number of towers needed, sales, rental or other specific information may be requested through the app if desired. Additionally, the Allmand website with full specs, sales literature and parts/operators manuals may be accessed directly from the app as well. The iPhone version of the app even includes a "hidden" flashlight mode on the initial screen to help light your way in the dark
The Allmand app is available for iPhones and iPads in the Apple App Store. Search "Allmand" in the App Store, or go to (https://itunes.apple.com/us/app/allmand/id650594866?mt=8) to download and begin using the Allmand app on any supported iOS device.