World debut of Chrysler Group's nine-speed automatic transmission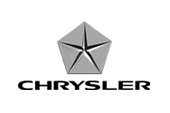 Chrysler's advanced-technology gearbox enables aggressive launches, smooth power delivery at highway speeds and greater fuel efficiency than a six-speed automatic transmission. Its ratios are:
1st – 4.71
2nd – 2.84
3rd – 1.91
4th – 1.38
5th – 1.00
6th – 0.81
7th – 0.70
8th – 0.58
9th – 0.48
The wide ratio spread delivers outstanding low-end performance while small gear-ratio steps contribute to smooth transitions. Four overdrive ratios benefit highway fuel economy and reduce overall noise, vibration and harshness (NVH) levels.
The all-new, fully electronic nine-speed automatic features on-the-fly shift map changing with manual-shifting capability via Electronic Range Select. More than 40 shift maps correspond to specific conditions to optimize shift quality and shift points for improved fuel economy, performance and drivability.
To determine the appropriate shift mode, the sophisticated software accounts for variables such as engine torque gradients, kick-down events, longitudinal and lateral acceleration and grade changes. For improved driving comfort and refinement, additional parameters integrated into the transmission control strategy include: temperature, speed and electronic stability control. The result is automatic shifting attuned to the performance requirements of almost any driving situation.
Internally the transmission has four gear sets and six shift elements – multi-disc clutches, dog clutches and brakes. Only two friction-plate clutches are open in every gear, minimizing power loss.
Other new transmissions are the AS66RC six-speed automatic featured in 2014 Ram chassis cab models, and the M40 six-speed automated manual in the all-new Ram ProMaster full-size commercial van.
Sourced from Aisin, the AS66RC allows for optional 45HP and 250 lb.-ft. left- or right-side PTO. Paired with the HEMI, efficiency is improved with Fuel Saver cylinder deactivation operation while in PTO mode.
The new M40 automated manual is mated to the 3.0-litre EcoDiesel I-4 in the ProMaster. The unique gearbox delivers the efficiency of a manual transmission with the functionality of an automatic. At its core, it is a manual, but gearshifts and clutch functions are accomplished with an electro-hydraulic actuation system.
However, the driver can opt for manual shift-lever inputs when desired. But the driver needn't do all the work. Shift logic is adjusted according to grade steepness so the gearbox responds intuitively to driving conditions.