How Doosan is going big for aggregate operations
New trio add to top end of machine ranges with rugged production and power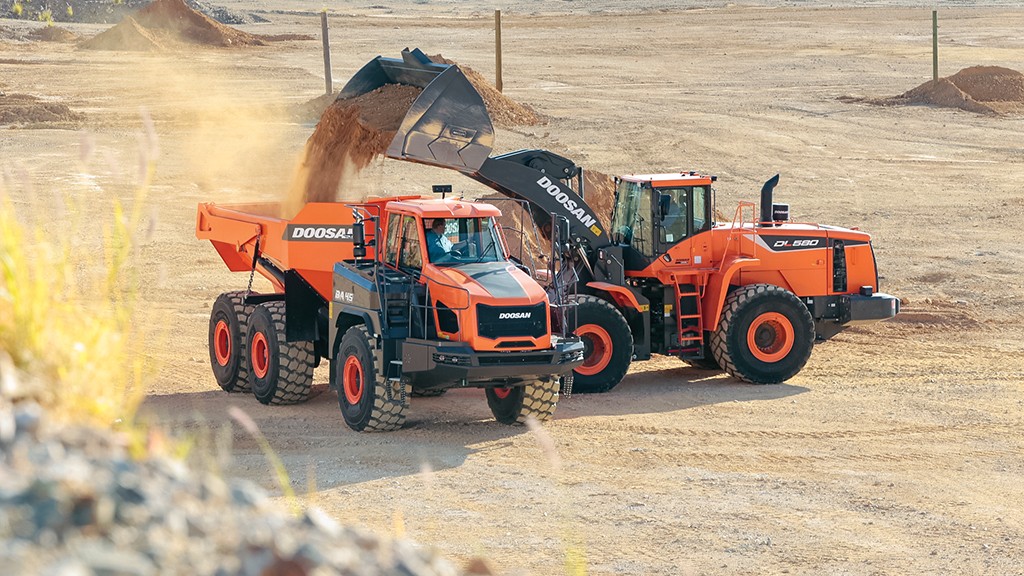 Aggregate production operations are driven by production - the more product moved in the quarry, the better for the bottom line. Large machines that can stand up to the rigours of mining while moving material in large quantities are in high demand.
For Doosan Infracore North America, those aggregates market needs have been top of mind as the company launches a series of machines at the upper end of the size range. Those machines - the company's largest wheel loader, excavator and articulated dump truck to date - are intended to give aggregates and mining operators more production along with solid uptime and operator comfort.
"These are the results over time of customer requests in specific applications that, in the past, may have been niche markets. The need has grown into the ability for us to support development of a product for those needs," explained Aaron Kleingartner, Doosan product and dealer marketing manager.

Specific aggregates needs
Doosan's machines are well-established for the construction market, but aggregates operations have some differing needs that must be considered, Kleingartner said.

"One of the use cases that may be a little different than a traditional construction machine is the repetitive application - loading trucks, for example, with a wheel loader or excavator in an aggregate facility, or in the mining space performing overburden removal, where the machine is staying in a relatively confined area moving a large amount of material into trucks," he said. "That repetitive nature of constantly loading trucks or performing similar tasks changes the way customers look at productivity, whether it's material moved per hour or day, material moved per amount of fuel burned per machine. These metrics are a little different from a traditional construction application."

The newly introduced DL580-5 wheel loader is a good example of Doosan's approach to aggregates operation needs while still providing benefits for heavy-duty construction tasks as well. Larger than the previous, and still available, DL550-5, the new machine provides two-pass loading for 24-ton trucks thanks to a variety of updates.

"The machine is a little heavier and the lift arm is more robust. The kinematics of the hydraulic system in the front has been altered a little to handle those heavier loads that these machines are asked to lift day in and day out, which allows us to put a bigger bucket on the machine," Kleingartner said.

Easier control for repetitive operations
Repetitive operations like loading trucks all day can be tiring for the operator, something that Doosan has taken into consideration on the DL580-5, which features electric steering as standard. That helps in situations where the operator is making the same motions throughout their shift.

The new DA45-5 ADT also offers aggregate producers productivity with a 45-ton capacity, up from Doosan's previous 40-ton truck, along with its own features for operator comfort and safety. A new self-levelling front suspension allows for a better ride, especially when running empty. Inside, the cab is focused on providing the operator a good place to spend the work day.

Doosan's newest and largest excavator, the DX800LC-7, comes with features that are targeted to the aggregates and mining market targeting power and efficiency.

"The DX800 is an 80-ton excavator, the largest in our lineup in North America, and we're bringing it to the aggregates and mining for customer to efficiently load and move material quickly," Kleingartner described. "We have a much larger standard bucket than any of our other machines."
Mass excavation configuration
The DX800LC-7 launched at CONEXPO 2020, and customers were shown a new mass excavation configuration to the boom and arm.

"The mass excavation boom and arm configuration makes it easier to load trucks more efficiently, as well as be more efficient with the breakout forces available in the hydraulic system for jobs like overburden removal," Kleingartner said. "There are some tweaks that were made based on the boom and arm size, the bucket size and others that make the machine more impactful in aggregates use."

Standard features in Doosan machines like rear and side view cameras for safety and telematics that allow fleet managers to track their equipment and respond quickly to maintenance issues also benefit aggregates operators, Kleingartner added.

"That particular machine has a number of improvements inside the cab that include a new touch display which will allow the operator to write on the display, change a number of configurations within the machine like the power or work mode they're working with," he said.