Hit grade on the first try with factory-installed excavator control integration
Hitachi's Solution Linkage Integrated Grade Control system uses Topcon technology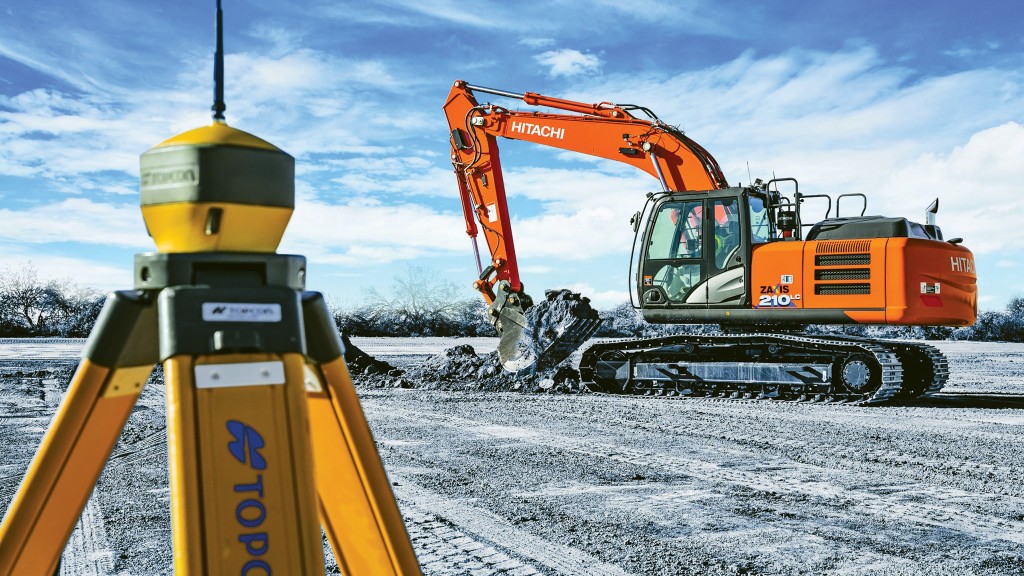 The growth of grade control options has brought more efficiency and ease to excavation in recent years. Its evolution has steadily increased the amount of automation that operators can benefit from, and the trend has continued to improve the precision of excavators with each new addition.
That precision is at the heart of a new offering from Hitachi that will integrate grade control into its Dash-6 excavators, allowing operators to set the grade they need and keep their machine there. Solution Linkage Integrated Grade Control, with Topcon technology, is aimed at improving efficiency and lowering daily operating costs for owners.
Response to needs of changing workforce
Introduced at CONEXPO 2020 on a ZX350LC-6 excavator, the new system is a response to the needs of a changing workforce while leveraging constantly developing technology. Jonny Spendlove, Hitachi product marketing manager, excavators, explained that the demand has expanded as new operators take over where those with experience step away from their machines into retirement.

"Operators are getting older and closer to retirement, and you have new folks coming in, younger people getting into the operation role. As the workforce changes, closing productivity gaps is really a function of technology," explained Spendlove during a walk-through of the system at CONEXPO.

Hitachi has offered systems with indicators as a reference system, which provides visual cues to the operator related to the position relative to grade. While that system continues to be popular and provides a more efficient grade control option, the new offering takes that to a new level.

Components integrated onto the excavator right from the factory provide precise control of the bucket and boom of the machine while the operator controls the stick. The system then manages the location of the bucket tip as the grade nears, making for a more precise last few passes to reach the desired dig depth.

The system continues to rely on the operator for control, Spendlove noted.

"We really want to focus on enhancing the way the operator digs. Our pilot control system allows the operator to enjoy the same controllability, the same functionality that they've always enjoyed on their Hitachi excavators," he said. "Then, as they get down to that final pass, the grade control is really going to lock into place and it will keep the bucket tip at grade. . . that's always been the challenging part for the operator - making sure you're at that grade, not below."

Hitting grade on the first try cuts down on additional time and cost for backfill, he added. "The additional aggregate you are going to put in there is just going to add up, and that's going to take away from your profit."
Large, easy-to-read monitor
In the cab of the ZX350LC-6 on display at CONEXPO, the Solution Linkage Integrated Grade Control includes a large, easy to read monitor that is well placed to give the operator all the information needed to hit their grade with ease. The system is scalable, as well, offering owners 2D and 3D options.

"If you have a contractor who really isn't in the grade technology game yet he can start with a 2D guidance system and a rotating laser; you have a laser catcher on the arm and you can get the grade checker out of the hole," he said. "Then as he gets more comfortable with grade technology you can upgrade to 3D guidance. . . we think there's a lot of interest in the ability to upgrade, to dip a toe in and get more into grade technology more as they go along."

Other offerings from the new system include such things as virtual fencing, in which a perimeter can be set that keeps the machine inside a specific frame - that means the machine can work under obstacles like power lines without the worry of making contact, as well as setting a floor the machine can not dig beneath. There is also a payload weighing system that allows the operator to keep track of how much material is being moved. Wireless data transfer and remote display access are also available.
More from Earthmoving
The all-new CASE TR340B compact track loader — operating at 90 horsepower with a 3,400-pound rated operating capacity — is the most powerful radial-lift CTL in the CASE lineup. Its all-new 8-inch LCD display improves on industry-leading CASE visibility with a new backup camera that is viewable in both forward and reverse operation. The display also showcases critical operating information and "trip" details. All-new electro-hydraulic controls, managed through the display, make it easier than ever for operators to dial CASE CTLs into specific application demands. All new cab controls and joysticks make the new TR340B easy to own and operate.
Industries such as construction, mining, energy, utilities and forestry, face many challenges when it comes to tracking assets and employees. Equipment often has to be transferred between locations, or monitored while it is dormant during off seasons. Lone workers may have to travel long distances or visit multiple sites during the course of their activities. And, all of this is further complicated today with shifting supply chains and economic realities putting further strain on the bottom line.