Terex names Barda Equipment as top performing distributor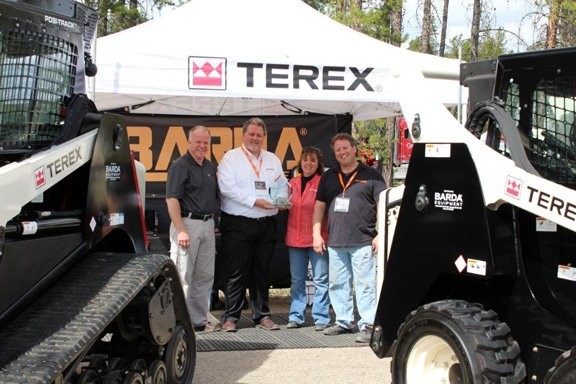 Terex Construction Americas congratulates Barda Equipment, with sales, parts and service branches in Edmonton, Grande Prairie and High River, Alberta, as well as the Peace Region of British Columbia, for being its Top Performing Distributor in 2012. Barda Equipment was selected for its accomplishments as a full-line Terex compact construction equipment distributor with the most unit sales and year-over-year growth within the January-December 2012 period. The Top Distributor Award was recently presented to Barda Equipment at the Peace River Petroleum Show.
"It is an absolute honour to work with a dedicated distributor like Barda Equipment," said Ken Doan, sales director, Compact, Terex Construction Americas. "With their broad reach throughout Alberta and British Columbia, Barda Equipment has done an outstanding job with the Terex compact equipment product line since taking it on in 2009. With a reputation for providing exceptional customer service and quality equipment, the Terex line has created many opportunities for Barda Equipment to better serve its customers' unique equipment needs. We are so pleased to present Penny (Batt) and Barry (Fenton) with this award, and we're looking forward to more great things to come from Barda Equipment."
Penny Batt, general manager, Barda Equipment, shared Doan's excitement, "Our success in 2012 was due in large part to the availability of product, our fantastic team members within Barda Equipment and our customers' response to the Terex compact track loaders (CTLs) and skid steer loaders. We recognize that our business and customer success depends on providing quality products, including the Terex compact equipment line. We have continued to gain customer loyalty throughout the years by providing well-known, well-respected equipment, as well as a complete range of equipment sales, as well as full service, parts and warranty capabilities."
With more than 45 unique product models, the Terex compact equipment line offers one of the widest ranges of compact equipment available from a single manufacturer, giving Barda Equipment customers numerous options for their equipment investment. The line includes compact track loaders, skid steer loaders, mini excavators, compact wheel loaders and backhoe loaders, as well as certain models of Genie aerial work platform products. Prior to becoming a Terex distributor, Barda Equipment carried the ASV-line of compact track loaders since 1997. With the Terex acquisition of ASV, the company became one of the earliest Terex full-line compact construction equipment distributors in North America.
Barda Equipment serves customers in a variety of different markets and industries – from general construction to more specialized applications like forestry, landscaping, grounds maintenance and hobby farming. According to Owner Barry Fenton, Terex CTLs continue to be one of the company's most popular equipment models. "Our customers appreciate how powerful and easy to use the Terex CTLs are, and the Posi-Track undercarriage system really set this brand apart from the competition," said Fenton. "The high ground clearance and competitive pricing throughout the entire Terex compact equipment line really gives us an edge in many situations."
"I've worked with Penny, Barry and the entire Barda Equipment team for a number of years, and I believe they are truly one of the most dedicated distributors that Terex has in North America," finished Terex Sales Manager Gregg Warfel. "I congratulate them on receiving this prestigious award and look forward to seeing what they will achieve in the coming years."