AWP delivery drivers need more safety training, IPAF accident reporting database reveals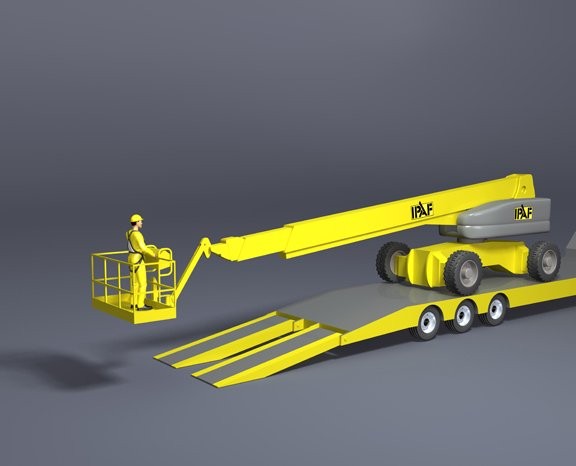 Target delivery drivers for training and safety initiatives on the safe and effective use of aerial work platforms (AWPs). Watch out for slips/trips/falls at the same level and pay attention to manual handling when working at height. These were some of the initial findings following the commitment by IPAF rental company members in the UK to report any known AWP accidents involving their staff at the IPAF accident database.
The findings were announced at the Vertikal Days exhibition in Haydock Park, where the IPAF stand featured demonstrations on the safe loading and unloading of AWPs.
A total of 303 AWP-related incidents were reported by IPAF UK rental company members involving their employees and employees of their customers where they have been made aware of incidents, from the time the project was voluntary in January 2012 until the end of April 2013.
Of these incidents, 46.2% (140) resulted in injury, 43.2% (131) resulted in damage, and 10.6% (32) were near misses.
Loading and unloading of AWPs is potentially one of the most dangerous activities, an area that IPAF is focusing on. About a third of the incidents involved drivers (34.3%, 104). Industry sources estimate that there are approximately one million movements of AWPs (delivery and collection) by road every year in the UK. Other incidents involved engineers (25.1%, 76), customers (22.4%, 68) and operators (18.2%, 55).
Closer analysis of the 140 incidents resulting in injury reveals certain patterns. The main causes of injuries were: slips/trips/falls at the same level (23.6%, 33), manual handling (16.4%, 23) and use of hand tools (15%, 21). Further down the list were: stranded in equipment (10%, 14), fall from height (7.1%, 10), walked/bumped into equipment (6.4%, 9) and injury while using the upper controls of a scissor lift while walking beside the machine, sometimes referred to as dog leading (6.4%, 9).
Almost 95 of a total of 125 IPAF UK member rental companies have registered to report AWP-related incidents at the IPAF database. Those who commit to report and sign off monthly get access to a dashboard that shows their company's incident figures against the national average, a major benefit for health and safety benchmarking.
Commenting on the findings, IPAF technical officer Chris Wraith said: "It is interesting to see that the initial data has produced no real surprises. The industry is aware of the hazards and risks rental company employees are exposed to, including dog leading, falls from the truck body, slips/trips etc. With this factual data, IPAF can do more to create greater awareness and support its members in reducing the frequency and severity of such incidents. Through focused safety campaigns, we can help drive behavioural change and improve safety throughout the rental industry."
"The findings are groundbreaking," said IPAF CEO Tim Whiteman. "Credit is due to IPAF's UK member rental companies for committing to report any known AWP accidents involving their staff, and to the combined efforts of the IPAF UK Country Council in championing this project. IPAF is looking to start similar initiatives in other countries."
To register and to report an accident involving an AWP (also known as mobile elevating work platform) or an MCWP (mast climbing work platform), go to www.ipaf.org/accident