Non-residential investment in Canada sees first overall decline in years
The industrial component decreased 5.0 percent to $886.7 million in March, with declines in eight provinces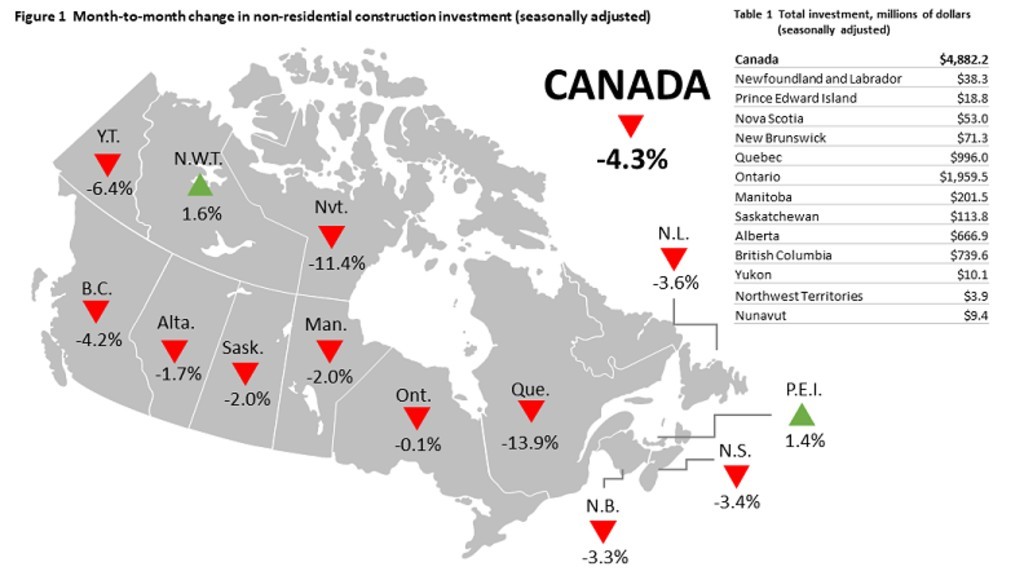 Total investment in building construction decreased 3.6% to $15.4 billion in March, with declines in both residential (-3.3% to $10.5 billion) and non-residential (-4.3% to $4.9 billion) investment.
Construction in March was negatively affected by COVID-19 restrictions, especially in Quebec which shut down all non-essential building construction on March 25. National declines coincided with a drop in construction hours worked in March, as reported by Statistics Canada's Survey of Employment, Payrolls and Hours. .
On a constant dollar basis, investment in building construction decreased by 4.1% to $12.5 billion.
Investment in non-residential construction
All three components of non-residential investment decreased in March, leading to the first overall decline (-4.3% to $4.9 billion) since November 2018. Prince Edward Island was the only province to report growth in non-residential investment for the month, up 1.4% to $18.8 million. The increase was driven, in part, by the expansion of BioVectra's manufacturing facility in Charlottetown.
The commercial component posted the largest declines in non-residential investment, decreasing 4.2% to $2.9 billion. Quebec (-14.1%) and British Columbia (-4.6%) reported the majority of the declines in March, while Ontario was the only province to post an increase, edging up 0.3% to $1.1 billion.
The institutional component fell 4.2% to $1.1 billion. Seven provinces reported declines for the month, with the largest drop in Quebec (-12.1% to $275.9 million).
The industrial component decreased 5.0% to $886.7 million in March, with declines in eight provinces.
Investment in residential construction
Quebec (-18.7% to $2.0 billion) and British Columbia (-2.9% to $1.9 billion) contributed to the majority of declines in residential construction investment in March, outweighing gains in six other provinces. Quebec reported its largest decrease since the beginning of the current series in 2010, down $462.9 million for the month.
The overall decline in residential investment in March was driven by the multi-unit dwellings component, which fell 6.9% to $5.2 billion. Six provinces posted declines, with the largest decrease in Quebec (-23.3% to $1.1 billion).
The single-unit dwelling component of residential investment rose slightly in March, up 0.6% to $5.3 billion. Ontario led in provincial gains, up 5.8% to $2.4 billion, bouncing back from a 6.0% drop from September 2019 to February 2020. Quebec (-13.0%), New Brunswick (-5.0%) and Manitoba (-0.5%) were the only provinces to post declines in single-unit construction investment for the month.
First quarter of 2020
In the first quarter, total investment in building construction increased 1.0% (+$445.8 million) compared with the fourth quarter of 2019. Ontario (+2.0%) led the provinces in investment growth for the quarter. A strong January and February led Quebec to the second-largest quarterly growth in investment (+3.4%), despite reporting a sharp decline in March. In contrast, Manitoba (-$90.7 million) and British Columbia (-$77.5 million) reported the most significant declines for the quarter.
Residential investment increased in the first quarter, up 0.8% to $32.0 billion, with increases in multi-unit dwellings (+1.3%) outpacing those in single-unit dwellings (+0.3%). Multi-unit construction investment has outpaced single-unit dwellings for 8 out of the last 10 quarters. Quebec and Ontario reported the largest gains in residential construction, while Manitoba posted a notable decline for the quarter.
Non-residential investment increased quarter over quarter, up 1.2% to $15.0 billion. Ontario and Quebec had the strongest growth, while British Columbia, Alberta and Saskatchewan reported the largest declines. Despite a slow March, all three components of non-residential investment increased in the first quarter of 2020. Commercial investment increased 1.8% to $8.9 billion, while institutional investment edged up 0.3% to $3.4 billion and industrial investment rose 0.5% to $2.7 billion.
Company info
Related Articles
Searching for the best-performing excavator? Your search ends here. We tested the Volvo EC350E and EC380E against a leading competitor in three different tests: trenching, truck loading and lifting capacity at reach. The results show a 20% difference in cost-per-ton, a 15% difference in tons-per-hour and a 12% difference in both operating costs and lifting capacity. See the results and put an end to your search for the best excavator.