Total value of Canadian building permits sees largest decline in over a decade
The decrease in April was the largest since a similar drop in October 2008 during the financial crisis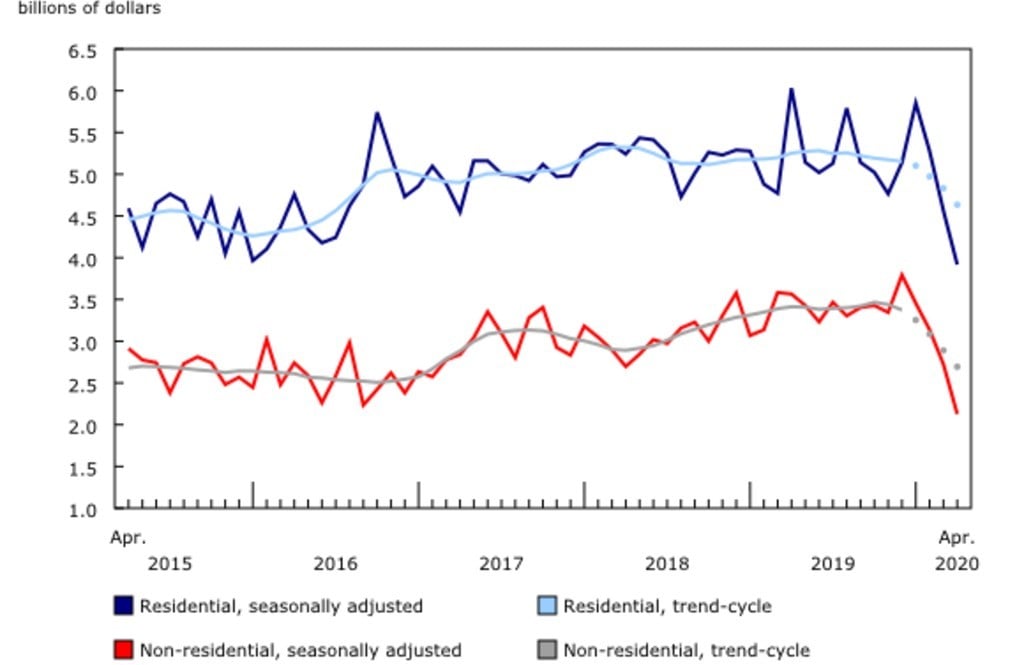 The total value of building permits issued by Canadian municipalities plummeted 17.1 percent to $6.0 billion in April. The decrease in April was the largest decline since a similar drop in October 2008 during the financial crisis. When combined with the March decline, the value of building permits has fallen by 28.1 percent from February levels.
Declines were reported in eight provinces, with the largest in Quebec (-34.1 percent) and Ontario (-20.0 percent). Although most municipalities were still issuing permits in April, Quebec's decision to shut down non-essential construction activity due to the COVID-19 pandemic led to it posting its largest month-over-month percentage decline on record.
The total value of residential permits was down in nine provinces in April, falling 14.2 percent to $3.9 billion nationally.
Multi-family dwellings was the only section to show an increase at the national level in April. Increased building intentions in Vancouver, Toronto and Ottawa led to gains in British Columbia (+66.8 percent) and Ontario (+13.9 percent), which more than offset declines in six provinces. The gains in British Columbia returned the value of multi-family permits to more normal levels, following large drops in the previous two months. The decreases in February and March were the result of a large number of permits being pulled forward into January as builders looked to avoid a scheduled fee hike in Metro Vancouver.
The value of commercial permits saw the largest decline in Quebec (-56.6 percent), setting another record month-over-month percentage decrease for the province.
Major projects in the form of schools and nursing homes helped drive gains for institutional permits in some parts of the country. However, growth reported in six provinces failed to outweigh sharp declines in Ontario (-46.2 percent) and Quebec (-28.2 percent), which pulled the national total down 10.5 percent to $533 million.
Company info