Cat hydraulic mining shovel features increased bucket payload, greater durability
The Cat 6060 includes updated features that advance machine performance, durability, serviceability and operator comfort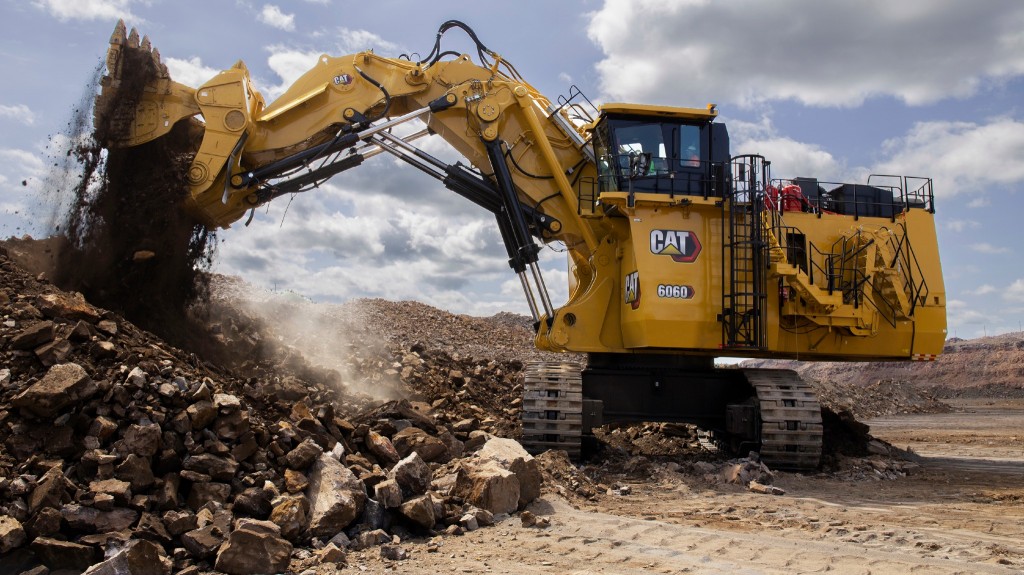 The next generation Cat 6060 hydraulic mining shovel features updated engines, optimized hydraulics, heavy duty structures and undercarriage, and Cat electronics that advance machine performance, durability, serviceability and operator comfort.
The 600-tonne class mining shovel has a bucket payload of about 61 tonnes (67 tons) per pass in both face shovel and backhoe configurations. The 6060 is an efficient 4-pass match with the Cat 793 mining truck and 5-pass match with the Cat 794 AC mining truck.
Twin Cat 3512E engines are optimized for high performance, fuel efficient operation and increased durability. For North America, the engines are equipped with a maintenance-free diesel oxidation catalyst emissions control system, do not use diesel exhaust fluid (DEF) and comply with U.S. EPA Tier 4 Final regulations. The updated engine design boosts reliability and extends time between overhauls by 10 percent. The efficient engine and optimized hydraulics enable 10 to 15 percent better fuel efficiency compared to the previous face shovel model, with 3 to 5 percent greater efficiency for the backhoe configuration. For reduced maintenance, engine oil and filter change intervals are doubled to 1,000 hours.
Structural, undercarriage and slew ring upgrades help maximize uptime and productivity and lower cost per ton. To boost longevity, the Cat undercarriage features heavy duty rollers, idlers and tracks, along with a revised track tensioning system. The superstructure frame, face shovel and backhoe attachment structures have been redesigned to reduce structural repair and extend service life via increased plate thicknesses and geometrical improvements. The slew ring design extends component life with a triple-race roller bearing and sealed internal gearing.
The first of several features within the available Operator Assist suite, Enhanced Motion Control is standard on the shovel. Enhanced Motion Control improves machine controllability and loading efficiency while reducing linkage and cylinder mechanical contact. The machine's five-circuit hydraulics design allows simultaneous control over two cylinder motions, two travel motions and swing to boost digging and loading efficiency.
Enhanced serviceability, technology
The next generation design helps improve service and maintenance efficiency by offering more room inside the service compartment and easy ground-level accessibility to the service station. Integration of Cat hoses in the design allows for local hose sourcing, while improved hose and component organization further reduces machine downtime.
Sensors located throughout the 6060 monitor operating data, record faults and give audible and visual notifications of issues to the operator. Standard for the first time on the 6060, Product Link Elite enables data communication for remote machine health monitoring.
The 6060 comes ready to accept Cat MineStar Solutions, a comprehensive suite of mining technologies geared to enhance mine safety, improve efficiency and reduce operating costs.
In addition to the next generation diesel-powered 6060, Caterpillar continues to offer the electrically powered 6060 AC FS (face shovel) for mines optimized for such machines.