Trimble introduces paving control platform for asphalt pavers
The Roadworks 2D Paving Control Platform advances machine control with integrated 2D aftermarket asphalt paver automatics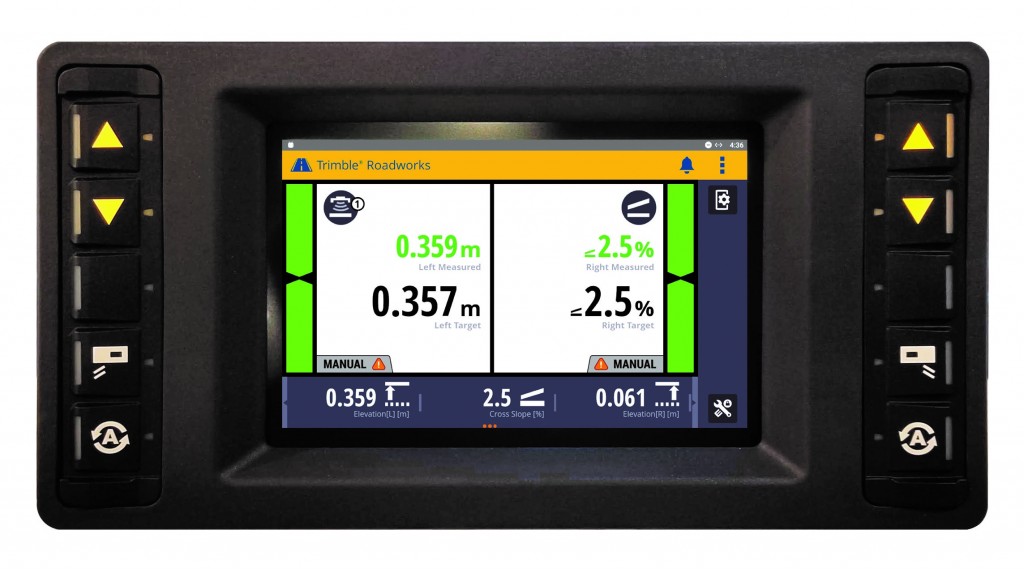 Trimble has released its Roadworks 2D Paving Control Platform for asphalt pavers, an automatic screed control system that can improve the accuracy and productivity in applications of asphalt paving. Trimble Roadworks enables paving contractors to minimize the waste of expensive asphalt material, achieve optimal rideability results as well as finish their projects on time and budget.
Trimble's paving control platform features intuitive, easy-to-learn software built on the Android operating system. The system gives operators of all skill levels the ability to work faster and more productively.
Trimble Roadworks can use a multitude of 2D references to pave with a fixed thickness, making it a lower-cost option for roads that have been graded or milled using 3D machine control. It can be used in production paving applications such as highways, state roads, airports and large commercial surfaces.
Utilizing the same interface as the Trimble Earthworks Grade Control Platform and many of the same sensors as the Trimble PCS400 2D Paving Control System, current Trimble technology users will need minimal training to get started with Trimble Roadworks.
The Trimble Roadworks paving control application runs on a 7-inch (18 centimeter) Trimble TD510 touchscreen display. Also featuring two external keypads, contractors can easily change sensor values and input data in the field.
The TD510 interface is optimized for productivity with colorful graphics, natural interactions and gestures and self-discovery features making the software intuitive and easy to learn. Using the Android operating system, operators can download other applications that provide additional useful tools inside the cab such as weather and communications apps.
Trimble Roadworks can be mounted on a variety of new and existing asphalt paving machines, regardless of manufacturer. The flexible system can be configured with a combination of sonic tracers, slope sensors, averaging beam and contact sensors, with the ability to quickly and easily change sensors based on the application. Trimble's system components are rugged and durable for tough construction conditions.
Related Articles
Searching for the best-performing excavator? Your search ends here. We tested the Volvo EC350E and EC380E against a leading competitor in three different tests: trenching, truck loading and lifting capacity at reach. The results show a 20% difference in cost-per-ton, a 15% difference in tons-per-hour and a 12% difference in both operating costs and lifting capacity. See the results and put an end to your search for the best excavator.