American Eagle releases electrically driven air compressor
The 30P-E reciprocating compressor is driven by an electric motor and controller in lieu of a traditional hydraulic system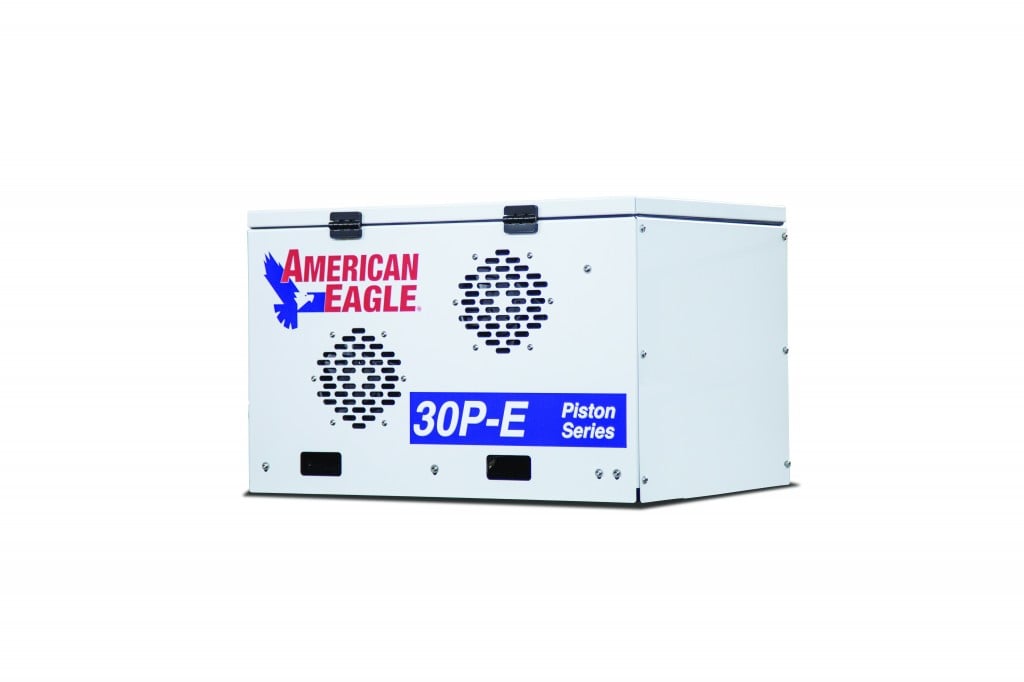 American Eagle has released the new 30P-E compressor, an electrically driven air compressor.
The 30P-E reciprocating compressor is driven by a 48V electric motor and controller in lieu of a traditional hydraulic system. This allows the compressor to be paired with work trucks that are built on an electric hybrid chassis platform. Whether the work truck is a van or a traditional service body, the compressor provides an air source for pneumatic needs.
The compressor's small footprint, along with its weight of 225 pounds, makes it an effective addition to a hybrid work truck where higher air consumption is needed. Even with its compact size, it produces a maximum air output of 30CFM and up to 150PSI of air pressure.
Consistent with all American Eagle Air Compressors, the 30P-E comes standard with: a heavy-duty crankshaft for smooth operation and long life; stainless steel reed valves for heat resistance and longevity; flip-top lid for easy service access; and canister air filters for easy replacement during preventive maintenance.
More from Light Equipment
A bottleneck of haulers waiting to be loaded is inefficient. Idle machines burn unnecessary fuel, increase maintenance costs and decrease resale values when you're ready to trade them in.
When you pair the new Volvo EC950F crawler excavator and A60H articulated hauler, you can load trucks faster. The EC950F can utilize a 10-yard bucket to fill a 60-ton capacity A60H in only four passes — reducing passes lowers fuel consumption and drastically speeds up cycle times to keep your haulers moving. See how the massive EC950F and A60H improve cycle times and more to boost your profitability.