Liebherr drilling rig drills deeper, keeps operators safer
The LB 45 features numerous safety enhancements and an increased drilling depth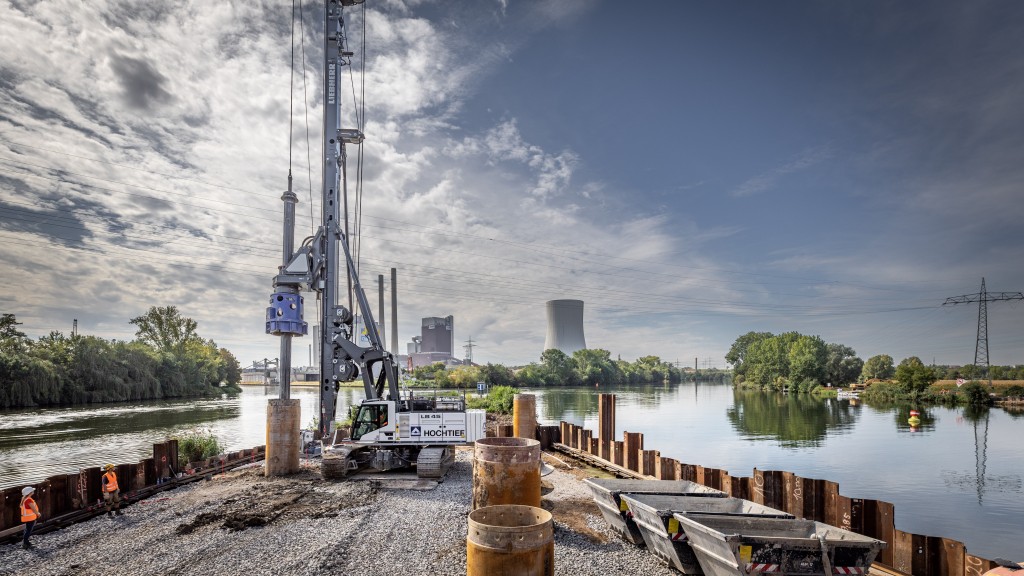 The LB 45 features a torque of 331,903 lbf-ft (450 kNm), an increase of approximately 10 percent in comparison to the performance of the LB 36. Both the counterweight and the leader are modularly constructed, which enables quick and easy assembly and flexible application.
Meanwhile, the leader top is designed for different drilling axes and is suitable for all applications. Through the enhancement of the drilling axes by 19.7 inch (500 mm), the LB 45 can be applied for drilling diameters up to a maximum of 10.9 ft (3.3 m).
At the same time, the maximum drilling depth for Kelly drilling with a 5-fold Kelly bar has been increased to 328 ft (100 m). The strong winches feature a maximum pull force of 92,594 lbs (42 t), which enables high performance even under difficult conditions.
Furthermore, noise emissions are considerably reduced thanks to the elastic mounting.
Features for increased safety and easier operation
The Ground Pressure Visualization of the LB 45 calculates the current ground pressure of the machine in real time and compares it with the specified safety limits of the relevant jobsite. The ground pressure is displayed in the operator's cab and the operator is consistently aware of whether the machine is situated in, or is approaching, a critical area. Dangerous work maneuvers can then be avoided.
Locking of the Kelly bar's telescopic sections is made significantly easier due to the Kelly Visualization system in the LB 45. Thanks to the real time display of the Kelly locking recesses of the Kelly bar on the cabin monitor, the operator is constantly informed of the actual distance to the next locking recess. Color indications inform when the bar can be locked.
Furthermore, false positioning of the Kelly bar during the shake-off process is indicated through a warning signal. During continuous flight auger drilling, the concreting process is automated thanks to the Drilling Assistant. The remote control simplifies the loading process for transportation as well as the assembly of the machine. All assistance systems contribute to time savings, higher availability of the machine and a significant increase in safety during operation.
The new operator's cab
The machine is equipped with a new cabin concept, which gives the LB 45 an elegant appearance and focuses on increased operator comfort. This is achieved through a modern air conditioning system with improved airflow, an optimized field of vision and reduced noise protection, as well as an ergonomic orthopedic operator's seat with integrated heating and cooling.
Further features for the operator are an optional cooler for snacks as well as a USB port for charging mobile phones.
Company info
Related products