Genie launches extra-large platform for boom lifts
The new Genie platform measures 13-ft long and is rated for two occupants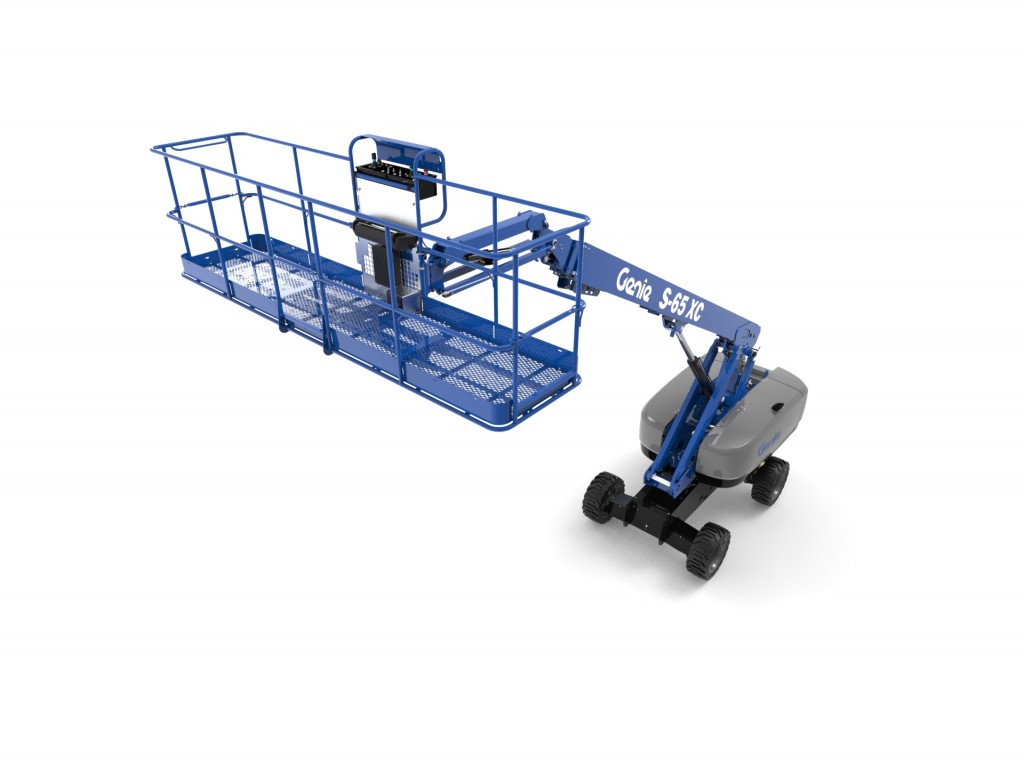 Designed for use on jobsites around the world, the new Genie Lift Tools 13-ft (4-m) platform affords less work time interruptions so boom lift operators can get more work done, more rapidly and more comfortably.
Built for use in conjunction with Genie S-65 Xtra Capacity boom lift, this new Genie platform measures 13-ft (4-m) long by 3-ft (0.91 m) wide, has a capacity of 600 lb (270 kg) and is rated for two occupants, offering operators the benefit of accessing a much larger working area quickly and easily. It can be installed on any new and current Genie S-65 XC units. This platform is currently certified for use in CE markets and will be ANSI certified by mid-2020.
The Genie Lift Tools 13-ft (4-m) platform is engineered with 14 lanyard anchor points, compared to eight points on the 8-ft (2.4 m) platform, to take full advantage of the larger work space. And for consistency within the Genie brand's product offerings, this new accessory utilizes the same digital load sense system as all Genie XC booms.
To increase transportability of a Genie S-65 XC boom equipped with this new extra-large platform, the Genie Lift Tools 13-ft (4-m) accessory is custom designed with an off-center transport lock. The off-center transport lock positions the swing at an offset in order to fit the platform onto a standard width trailer for shipping.
The new Genie Lift Tools 13-ft (4-m) platform is compatible for use with standard foam-filled tires. It is not for use with Genie high float (HF) or TraX models. In addition, this platform is not compatible with any bolt-on aftermarket accessory that adds weight to the platform, but it is compatible with standard boom features including the control box cover, power to the platform and the Genie Lift Guard Contact Alarm system.
Company info
Related products
More from Cranes & Lift
The all-new CASE TR340B compact track loader — operating at 90 horsepower with a 3,400-pound rated operating capacity — is the most powerful radial-lift CTL in the CASE lineup. Its all-new 8-inch LCD display improves on industry-leading CASE visibility with a new backup camera that is viewable in both forward and reverse operation. The display also showcases critical operating information and "trip" details. All-new electro-hydraulic controls, managed through the display, make it easier than ever for operators to dial CASE CTLs into specific application demands. All new cab controls and joysticks make the new TR340B easy to own and operate.
Industries such as construction, mining, energy, utilities and forestry, face many challenges when it comes to tracking assets and employees. Equipment often has to be transferred between locations, or monitored while it is dormant during off seasons. Lone workers may have to travel long distances or visit multiple sites during the course of their activities. And, all of this is further complicated today with shifting supply chains and economic realities putting further strain on the bottom line.