Ammann focuses on light compaction at CONEXPO-CON/AGG 2020
Several light tandem rollers from the new ARX line were also featured at the booth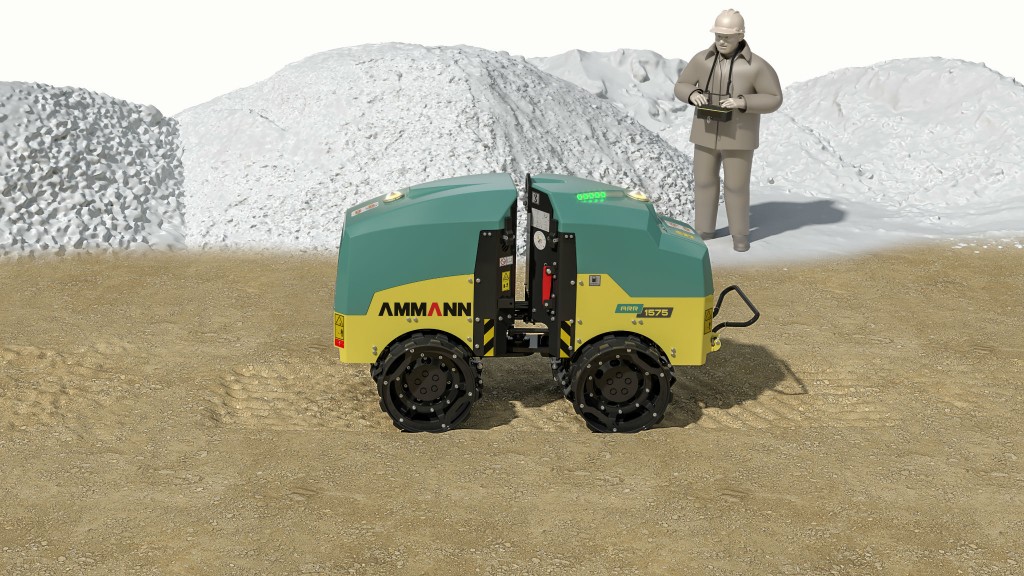 Several utility rollers from Ammann were featured at CONEXPO-CON/AGG 2020, including the Ammann ARR 1575 Trench Roller, which provides compaction output by maintaining constant ground contact through an oscillating articulation joint.
Also highlighted were several light tandem rollers from the new ARX line, which utilizes off-set drum configurations that enable work close to curbs and other obstructions.
The ARR 1575 Trench Roller
The ARR 1575 precisely directs vibratory forces to the target and employs a circular vibrator and two amplitude settings. A precise infrared remote control system maximizes safety.
ACEecon, Ammann's proprietary Intelligent Compaction system, is available on the machine. The system eliminates guesswork by measuring compaction progress in real time. The information is communicated to the operator via an LED indicator on top of the machine.
Without ACEecon, the operator must estimate the compaction level. If the operator overestimates compaction progress, he might depart prematurely and leave unfinished work behind. This can lead to quality control issues and costly rework.
Productivity and profits also can be lost if the operator underestimates the progress and continues to work after compaction has been achieved. This miscalculation leads to wasted labor and fuel, and it also puts unnecessary hours on the machine.
The ARR 1575 is also able to overcome the high moisture content in clays through its extreme compaction energy and the tamping effect of the padfoot drums. The roller performs effectively on less challenging soils, too.
ARX Light Tandem Rollers
The Ammann ARX 16, ARX 26-2 and ARX 45-2 T4f Light Tandem Rollers have drums that can quickly be adjusted from in-line to off-set configurations, helping operators reach compaction goals – even when working near obstructions.
Rollers that are off-set are able to work close to curbs and other obstructions. Operators only need to watch one drum, knowing the second will be a safe distance from the obstruction. The in-line setting, which enables equal distribution of compaction forces, is preferred on more open jobsites.
The adjustment between in-line and off-set configurations is done manually and is easy for operators to make. The articulating joint, which makes the in-line/off-set adjustment possible, is maintenance-free.
The rollers are powered by Kubota engines that meet Tier 4 Final emissions standards and are Stage V–compliant. The machines also feature a number of design enhancements, including an intuitive layout and a redesign of the front and rear of the machine for improved operator comfort and visibility.