Hyundai to offer Trimble onboard scales as option for wheel loaders
Weighing intelligence optimizes loadout, tracks productivity and prevents overloading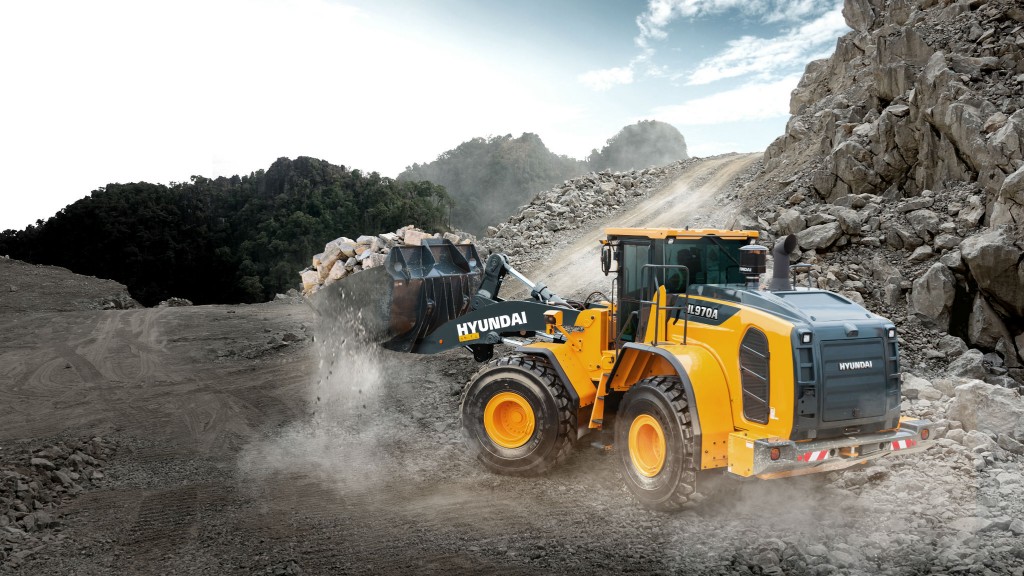 The LOADRITE L3180 SmartScale uses weighing intelligence and solid state sensors for more accurate, precise and faster loading. It also connects machines and devices for the collection and syncing of data via the built-in WiFi to InsightHQ reporting portal. InsightHQ consolidates live, operational information from Trimble LOADRITE devices on loaders, excavators and conveyors across the site, to provide near real-time productivity and performance reports for extraction, processing and load-out operations.
Reengineered from the ground up, Trimble's loader scale platform features smarter weighing, smarter data management and a smarter interface. Intelligence in the weighing software and new hardware gives operators of all skill levels the ability to load faster and more productively than ever before.
The LOADRITE L3180 also offers more precise weighing than any previous LOADRITE system in a wide range of conditions including adjusting for rough terrain, operator technique and machine movement using new weighing intelligence. The system also features digital CAN-bus sensors for noise immunity and ground slope compensation as standard.
The L3180 now offers in-cab key performance indicators (KPIs), including ton/hour, tons and truck count to enable operators to monitor performance and achieve daily targets. When using Trimble's cloud-based InsightHQ quarry reporting portal, personnel can gain access to site production and operator performance KPIs on desktop or mobile devices. Data is presented in dashboard or graphical formats, including a new loadout performance heatmap, powered by built-in GPS. The system caches data locally and then syncs it with InsightHQ.
More from Earthmoving
A bottleneck of haulers waiting to be loaded is inefficient. Idle machines burn unnecessary fuel, increase maintenance costs and decrease resale values when you're ready to trade them in.
When you pair the new Volvo EC950F crawler excavator and A60H articulated hauler, you can load trucks faster. The EC950F can utilize a 10-yard bucket to fill a 60-ton capacity A60H in only four passes — reducing passes lowers fuel consumption and drastically speeds up cycle times to keep your haulers moving. See how the massive EC950F and A60H improve cycle times and more to boost your profitability.