Morbark debuts two horizontal grinders at CONEXPO 2020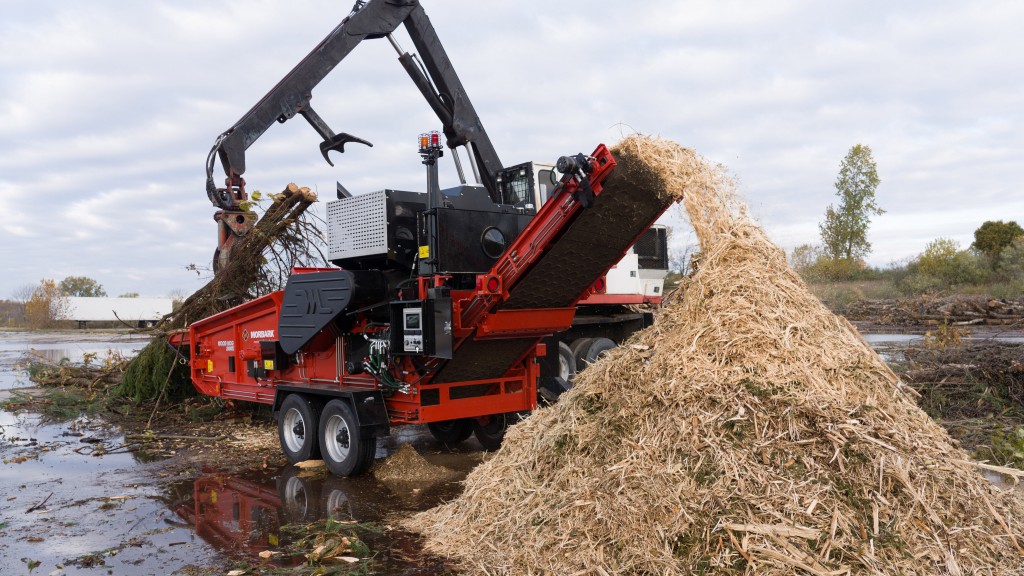 Both machines can be equipped with tracks (XT models; the 2400XT will be shown at CONEXPO), and the 3000X can be built as a fifth-wheel/dual-axle unit (3000X) or pintle hitch/tri-axle (3000XP, to be shown at CONEXPO).
Ideal for niche markets like municipal solid waste, pallet recycling, sawmills, nurseries and tree care debris, both grinders are perfect for processing yard waste, brush and other mixed woody feedstock into saleable product. Designed to be modular and available in multiple configurations for various applications, these grinders can take businesses to the next level.
These newest models in the X Series of next-generation horizontal grinders from Morbark follow the successful launches of the 3400X in March 2017 and 6400X in May 2018 and maintain Morbark's focus on versatility, transportability and operator-friendliness.
"Morbark continues to expand our efforts to better serve the needs of all our customers no matter where they live and work around the world," said Michael Stanton, Morbark Director of Industrial Products. "The 2400X and 3000X broaden our line of horizontal grinders for all global markets and further extend our reach into key niche markets both domestically and internationally."
One of the most important features of the 2400X and 3000X is their compact size. Their standard width (2400X: 7'6"/2.29 m, 3000X: 8'2"/2.49 m) make them within the legal transport width in any country. The models also share design features like the sloped infeed sides, which improve operator sight lines for more efficient loading of material, and easy-to-load grate systems.
The 2400X ranges in horsepower 188 to 203 (140.2 - 151.4 kW), while the 3000X has engine options from 350 - 577 HP (260 - 430 kW). Like all of Morbark Wood Hog models, both the 2400X and 3000X also will be available with electric power.
2400X Key Features
The infeed system consists of one 20" (50.8 cm) diameter top compression feed roll with internal drive and a 53" wide x 8'2" (134.6 cm x 2.49 m) smooth rubber belt or optional steel chain infeed conveyor. The 2400X has a 9' long x 52" wide (2.74 m x 132.08 cm) infeed floor, infeed flares and cleated belly belt and maintenance access doors. The manual folding infeed tray is adjustable to various positions and adds 3' (0.91 m) to the infeed length when open or closes to contain small material.
The large, proven design, 22" x 49.25" (55.88 cm x 125.1 cm) downturn hammermill system, plate and pin style, with 22 single-bolt inserts set in a V pattern, improves feeding characteristics, ease of maintenance and durability.
Routine maintenance and grate changes are easily conducted by a single operator due to the 93-gallon (352L) fuel tank, which pivots away from the machine to allow easy access, and the single, side-load grate system (AR450 steel grates are available in multiple sizes and patterns).
The 36" (91.44 cm) wide chevron discharge conveyor belt is available in a single section stationary 9'6" (2.9 m) height conveyor or folding 14'6" (4.42 m) height conveyor and can be equipped with optional magnetic head drum for ferrous metal removal.
3000X Key Features
The variable speed infeed system consists of one 34" (86.36 cm) diameter top compression feed roll with internal drive and a 12'4" long x 57.5" (3.76 m x 146 cm) wide live floor designed to accept both WD120 and slat chain.
The plate and pin style, up-turn hammermill system measures 32" x 58.5" (81.28 cm x 149 cm) and has 18 double-edged replaceable inserts and 18 rakers.
The discharge system consists of a hydraulically driven, horizontal 42" x 14'2" (106.68 cm x 4.3 m) aggregate belt conveyor discharging onto a 36" (91.44 cm) wide stacking conveyor with hydraulic fold for transport and can be equipped with optional magnetic head drum for ferrous metal removal.
Like the 2400X, the 3000X is designed so that a single operator can change the grates. The 3000X's top-load system with four grates includes a hydraulic hinged door for quick and easy access.
Both models are equipped with the Morbark Integrated Control System — or MICS. The ultimate diagnostics tool and control system, this allows the operator to automatically adjust feed rates and monitor pressures and feed wheel position to maximize production and engine efficiency. New smart device apps (IQANrun and IQANsync) allow you to connect to your machine using your phone or tablet's Bluetooth or allow you to connect your machine directly to Morbark, so Morbark personnel will be able to view and edit your machine's settings and program or send you updated programming.
See these machines and more at booth #S5573.