Zeus strikes: Case unveils world's first fully electric backhoe loader
Ready-to-order electric machine designed to match diesel-powered performance, ideal for utility and urban applications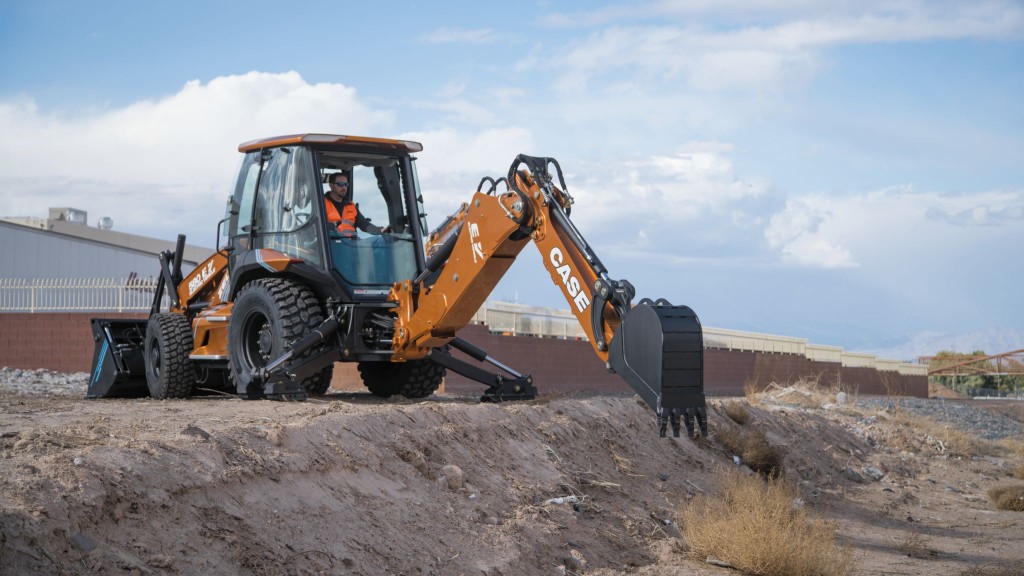 Case Construction Equipment has kicked off CONEXPO-CON/AGG 2020 with a world-first introduction: the 580 EV (electric vehicle) backhoe loader. This introduction isn't a prototype machine – the fully electric backhoe loader is ready to get to work.
Case has already sold two models in the U.S.; the company will produce additional models through 2020 and ramp up production to meet demand thereafter as CNH Industrial predicts that the future of lighter-duty construction equipment is battery powered. The first two models will be used for utilities applications on the east coast.

Battery-powered machine built to match diesel-powered performance
Case says that the 580 EV, formerly referred to as Project Zeus, offers breakout force to match diesel-powered backhoes while offering low operating costs and zero emissions. Case estimates that operations will realize cost savings to offset the premium purchase price within five years or sooner.
Case says that this model is ideal for utility and urban applications, government contractors, and offers fiscal and environmental sustainability.

"The backhoe loader is perfectly suited for electrification as the varied use cycles, from heavy to light work, provide an excellent opportunity to convert wasted diesel engine hours into zero consumption battery time – yet provide the operator with instantaneous torque response when needed," says Eric Zieser, director – global compact equipment product line, Case.
"At low idle a diesel engine has reduced torque and requires time for the engine to ramp up to meet the load demands. Electric motors, on the other hand, have instantaneous torque and peak torque available at every operating speed."
The 580 EV is powered by a 480-volt, 90-kilowatt-hour lithium-ion battery pack that can be charged by any 220-volt/three-phase connection. While applications will vary, each charge will support most common eight-hour workdays. The battery separately powers the drivetrain and hydraulic motors, resulting in hydraulic breakout forces equal to diesel-powered machines and improved performance during simultaneous loader and drivetrain operation.
Case developed the electrification with partners Green Machine Equipment, Inc. and Moog Inc., and with direct input from utilities and other businesses focused on converting significant portions of their fleets to fully electric backhoes. Case also partnered with Michelin to outfit the this backhoe with specialized Michelin CrossGrip tires.
While the new 580 EV is electrified, it retains many common features with conventionally powered Case backhoes. It retains the precision and efficiency of diesel-powered Case backhoes with features such as ProControl, which allows for extremely precise boom movement and placement, as well as Comfort Steer, which significantly improves steering while working in tight quarters or in truck loading operations.
The machine's cab is spacious with large windows that provide excellent sightlines to all sides of the machine. It also features the new and enhanced joystick controls found in the most recent generation of Case N Series backhoes, as well as in-cab amenities such as premium seat options and Bluetooth radio.
All of this is achieved with a machine that significantly improves the working environment for the operator and labourers alike, as it runs with zero emissions, and significantly lowers sound levels on the jobsite for improved communication between the operator and staff on the ground.
"The 580 EV performs like a Case backhoe – matching the power and performance expected from Case with the advantages of an electrified machine," says Zieser. "Operators will experience the same digging, lifting and craning performance achieved in a diesel-powered machine in a quieter, emissions-free work area. That's the ultimate goal of our sustainability efforts – improve the world around us, make equipment more sustainable, and to do so while finding new ways to improve productivity and the experience of the people who use the equipment."