Michelin adds new size to Tweel skid-steer tire lineup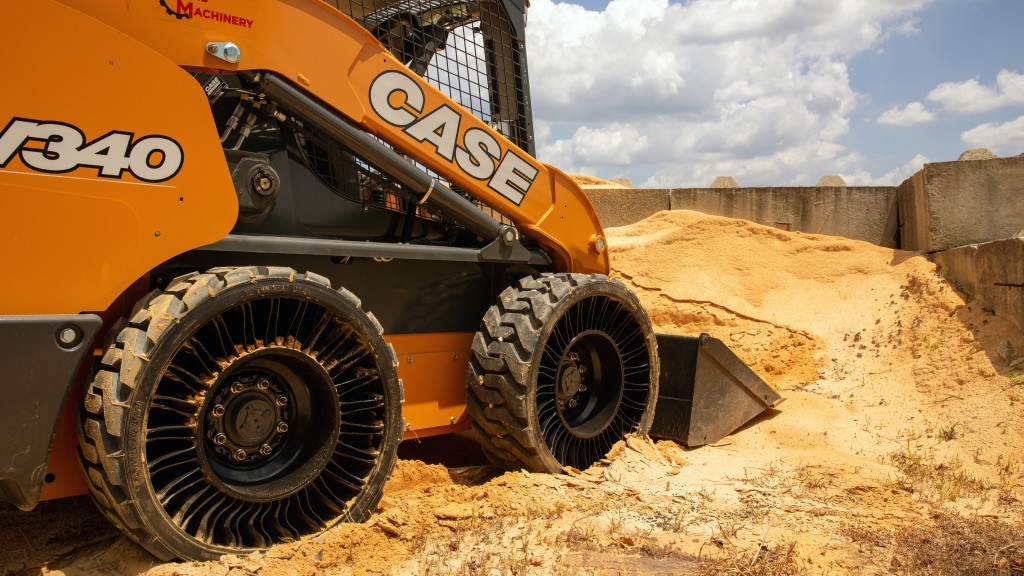 Michelin has debuted a new X TWEEL SSL 2 AT airless tire solution for skid steers. The new tire is a 10N16.5 size.
Designed for predominant off-road applications, the Michelin 10N16.5 X TWEEL SSL 2 AT is constructed with a 31/32-inch tread depth with 10/32-inch of undertread. This all-terrain version utilizes an embedded 8-bolt mechanically interlocked hub to increase durability. The outer core tread can be retreaded for an effective total cost of ownership. Michelin X Tweel SSL 2 AT is available in the United States and Canada.
The TWEEL SSL 2 is designed with:
Improved shear beam construction that maximizes core life.
New spoke formulation that provides up to 10 times greater spoke life.
Maximum load of 3,700 pounds.
The Michelin X TWEEL SSL 2 HST in the 10N16.5 size will be available in June. This model is designed predominantly for hard-surface applications. The HST is designed with 48/32-inch of tread depth to increase wear in high-scrub applications.
More from Equipment Maintenance
A bottleneck of haulers waiting to be loaded is inefficient. Idle machines burn unnecessary fuel, increase maintenance costs and decrease resale values when you're ready to trade them in.
When you pair the new Volvo EC950F crawler excavator and A60H articulated hauler, you can load trucks faster. The EC950F can utilize a 10-yard bucket to fill a 60-ton capacity A60H in only four passes — reducing passes lowers fuel consumption and drastically speeds up cycle times to keep your haulers moving. See how the massive EC950F and A60H improve cycle times and more to boost your profitability.