Prioritizing maintenance delivers peak performance
Understanding how to maintain equipment is vital to extending lifespan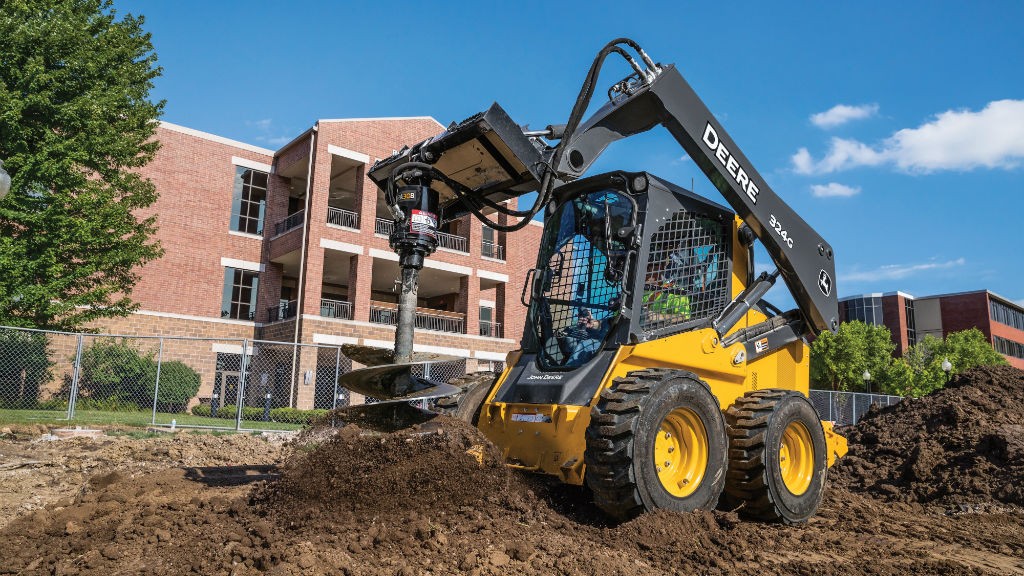 Skid-steer and compact track loaders are versatile machines on a jobsite. To keep compact equipment performing at peak levels and extend the lifespan of the equipment, it is critical that maintenance is prioritized. This information can always be found in the Operator's Manual, as well as through contact and support of your local dealer.
The three key components of maintenance to understand are fluid maintenance, mobility and regular undercarriage maintenance.
Fluid maintenance
When it comes to checking fluid levels on compact equipment, John Deere recommends changing oil in 500-hour intervals, and to use the specific fluid types listed in the Operator's Manual to ensure the machine is running at its best. Checking fluid levels can be a quick task, as our compact track loaders and skid steers were designed to have colour-coded fluid fills for easy identification, and easy access to the filters and fills so they can easily be checked on a regular basis. At John Deere, we offer compact equipment with the latest technology in fluids so owners can feel confident that their machine is ready to tackle any task and hydraulics are functioning properly.
Mobility maintenance
Compact equipment is known for its ease of use in tight spaces around jobsites. Depending on the operator's needs, understanding the differences between tire and track maintenance on skid steers and compact track loaders will ultimately improve the machine's productivity, help extend the machine's life, and save the operator any incurred costs through lack of maintaining tires or tracks. For working on jobsites that include soft ground conditions or steep terrain, compact track loaders are better suited.
If an operator chooses to use a compact track loader on hardscapes such as concrete or asphalt, it could wear or damage the tracks and cause the need for repairs. John Deere offers two types of treads: Zig Zag, which is ideal for operators that need to push or move material around, and Block Lugs, which are more durable and hold a hillside better.
If an operator needs increased mobility, and is working on hardscapes, the style of tires on a skid steer loader will make a difference on the job. Unlike tracks, tires have higher ground pressure so are more likely to sink in softer ground conditions thus limiting mobility. There are a few options of tire treads from John Deere, including a dirt tire option, a hard surface tire option, and a harsher application non-pneumatic tire. Each tread helps the machine move, but requires different levels of maintenance.
Dirt tires, and hard-surface tires, are pneumatic tires with air pressure, making it important for operators to check in on the tire pressure levels daily. On the contrary, a harsher application tire is a solid tire with no air that is solely rubber with a tread pattern for increased durability. If an operator is using a skid-steer loader with dirt tires, or hard-surface tires, and the pressure is too low, it will wear the treads out quicker, and cause challenges later down the line.
Undercarriage maintenance
Undercarriage maintenance is another key component to properly maintaining the machine's life and capabilities. While certain points of a machine can be checked on a weekly or monthly basis, we recommend checking undercarriages on compact track loaders and skid steers daily. Frequent undercarriage check-ins are essential to the upkeep of the machine overall. For example, compact track loader operators should check to make sure there is no mud or dirt that could harden within the machine in cooler climates, as well as clean out any dirt and debris that may be building up.
Additionally, operators should do a visual check of the track itself to ensure that it is tensioned properly and according to manufacturer specifications. Having tracks on a machine with too little tension can cause tracks to slip and become damaged; if tensioned too tight, the track can wear faster and impact overall machine performance.
Operators should also check that the hydraulic and fluid latches are locked on both skid steers and compact track loaders, especially when rotating out attachments on the machine. Failing to check could lead to damage of the machine or an attachment.
Gregg Zupancic is the product marketing manager for skid steers and compact track loaders at John Deere Construction & Forestry.