Felling Trailers to showcase Air Bi-Fold Ramps at CONEXPO-CON/AGG 2020
Ramp system will be featured on a tri-axle low profile flatbed tag trailer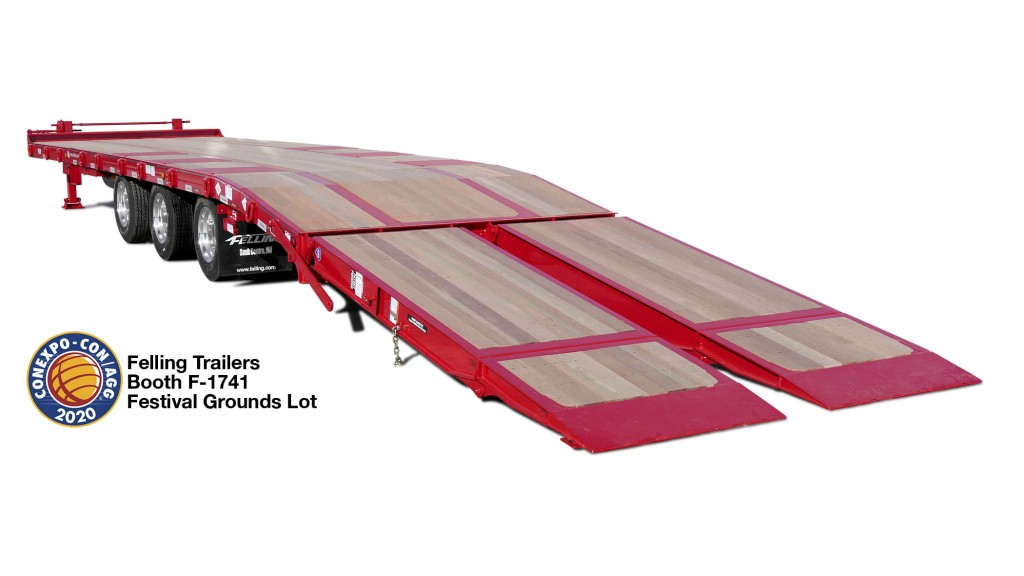 Felling Trailers will introduce its new Air Bi-fold Ramps at this year's CONEXPO-CON/AGG. The Air Bi-Fold Ramp system is featured on Felling's 25-ton FT-50-3 LP, a tri-axle low profile flatbed tag trailer.
A key feature of Felling's design is in the operation of the flip ramp. The flip ramp locks out fully when extending preventing scraping or marring of the ground, which is undesirable, especially if it's a new surface of any kind. Another key feature is Felling's controlled flow air ramp technology, which provides for soft ground contact of the ramp, keeping new surfaces free from being damaged.
The Air Bi-Fold Ramps are 45" wide by 11' (7.5' +3.5') wood inlaid. For close to a decade, Felling Trailers has offered air ramps with available lengths of 6' to 8'. The 11' Air Bi-Fold ramps were designed to accommodate the load angle necessary when loading cumbersome low clearance equipment such as paving equipment and directional drills. The Air Bi-Fold ramps' length provides the operator with a gentler, more gradual incline to provide ease in loading/unloading with its 9.5º load angle with the option of air ride suspension when the air is dropped.
Felling Trailers' Air-Ramp technology allows operators to use the tow vehicles' onboard air system to power the ramps, eliminating the maintenance of an onboard electric/hydraulic system. Furthermore, the patent-pending technology allows for minimal ground contact when deploying/retracting the ramps to reduce damage to new pavement when loading/unloading.