Link-Belt previews CONEXPO-CON/AGG 2020 lineup
Lineup includes the debut of an 80-ton telescopic crawler crane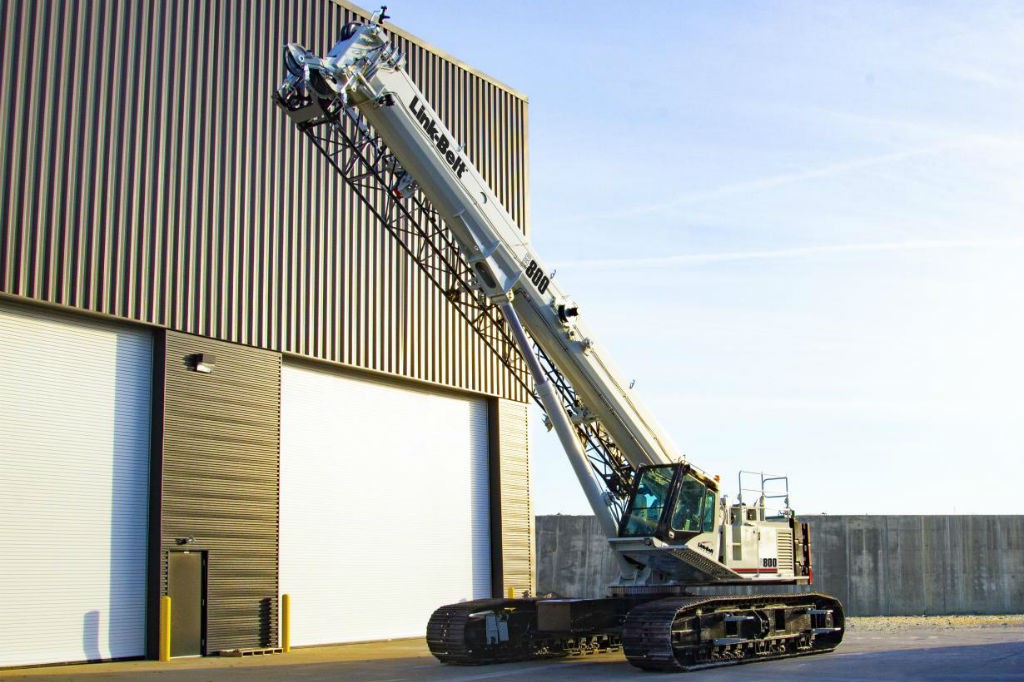 Link-Belt has a number of debuts planned for CONEXPO-CON/AGG 2020, including an all-new 80-ton telescopic crawler crane, a new approach to fly assembly, and several other features.
TCC-800 Announced for Introduction
An all-new 80-ton (75-mt) Link-Belt TCC-800 telescopic crawler crane will debut at . The new 80-ton telescopic crawler crane will begin field-testing in early spring 2020, with the first shipments scheduled in the fourth quarter of 2020. Its predecessor, the top selling telecrawler TCC-750, was initially debuted in 2008.
Link-Belt SmartFly to Debut at ConExpo
Development of Link-Belt SmartFly began with its introduction on the HTC-86110 telescopic truck crane in 2015. A collaboration between Link-Belt engineering and the voice of the customer helped develop a streamlined process for fly assembly that can be easily understood by operators while also minimizing work at height. To date, Link-Belt has broadened SmartFly technology across multiple product lines - from on-highway truck cranes to telescopic crawler cranes, rough terrain cranes, and all-terrain cranes.
Link-Belt Cranes at ConExpo
Among the units on display will be recent additions to Link-Belt's rough terrain lineup, the 100-ton (90-mt) 100RT and 120-ton (110-mt) 120RT, along with 110-ton (100-mt) HTC-86110 telescopic truck crane. Following extensive endurance, road, field-testing and the first shipment delivered in fourth quarter 2019, the 175-ton (150-mt) 175AT will make its full North American unveiling. Additionally, the 300-ton (273-mt) 348 Series 2 lattice crawler crane will be on display. Link-Belt's product line currently includes 31 cranes grouped as telescopic crawler, rough terrain, lattice crawler, hydraulic truck, and all-terrain cranes.
Related Articles
The new Volvo EC950F crawler excavator was made for large haulers. In fact, it can fill our 60-ton A60H haul truck in just four bucket passes with an average cycle time of just over a minute. With the perfect pair from Volvo, you can improve efficiency, burn less fuel and keep your haulers moving.
Watch these two powerful machines load four passes in just over a minute.