Rome wasn't built in a day – but these 3D-printed houses are
Cobod and Peri demo 3D construction printing in front of thousands at Bautec construction exhibition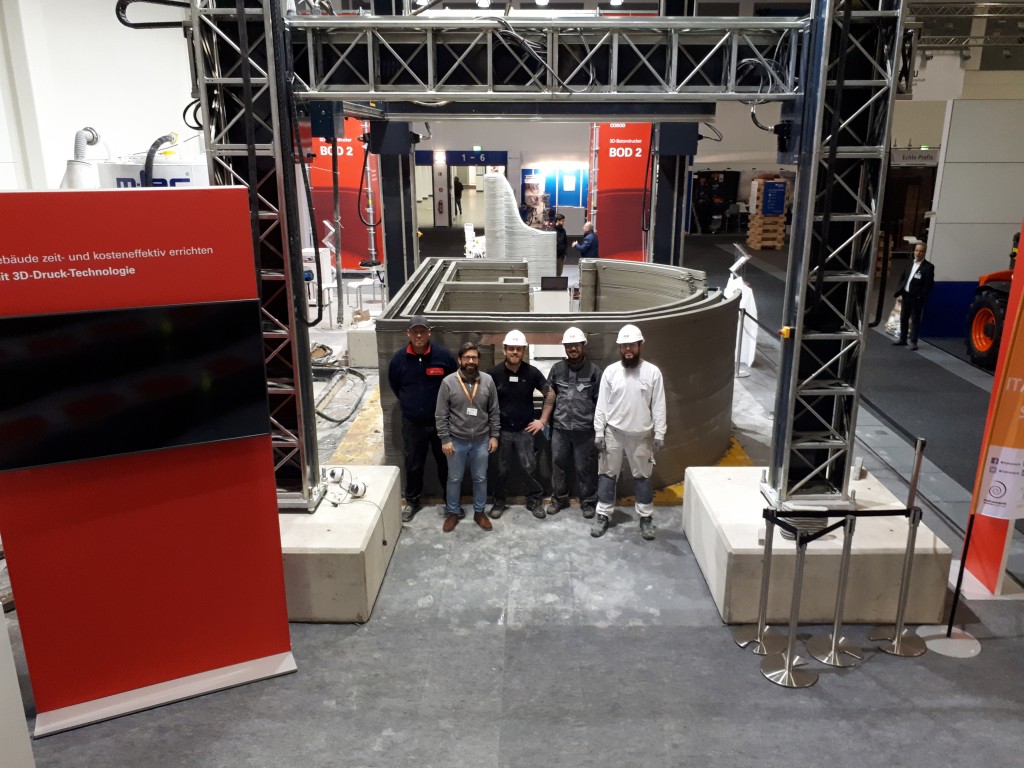 During the international Bautec construction exhibition in Berlin, Cobod and Peri not only showcased Cobod's BOD2 3D construction printer, but also conducted a live printing of a small house every day of the show.
Henrik Lund-Nielsen, CEO of Cobod explained: "It is so easy to video film a 3D construction printer in action and then edit out anything unplanned occurring during the printing to produce a nice looking video in the end. There are so many examples out there with heavily edited and manipulated content, far from what is happening with the same printer in real life printing. When you print live, it is not possible to hide anything. With this live printing we are documenting that our technology has the quality, robustness and stability to perform hour after hour, day after day. We plan to print the walls of a small house each day just during the opening hours of the exhibition, and everybody is invited to follow the process."
Cobod's BOD2 printer began shipping in January last year and so far Cobod has sold seven of them, making the BOD2 the most sold 3D construction printer in the world. The BOD2 has a maximum speed of 100 cm/second with a modular build and can thus be extended with modules in width, length and height of 2.5 meters. The BOD2 can have 6 modules in the width (15 metres) and 4 modules in the height (10 metres). The BOD2 printer brought to Bautec is a model 2-2-2, such that the printing area is roughly metres in the width, length and height.
Tilmann Auch, Cobod product development engineer, commented: "We would of course have liked to bring an even bigger printer, but printing here during the exhibition has meant some limitations. Consequently we are only printing a very small 1 bedroom house of approximately 4 metres by 4 metres. Also, when it comes to the speed, we have had to restrict ourselves. During Bautec we are only printing with 25 cm/second. This is due to the EU robotics directive, that requires a safety fence around the printer, if we were to print faster. We surely did not want to put a fence up, as it would too much block the visitors' possibility to see the printer in action, which is the very reason why we are here."
Since the launch of the BOD2 last year, Cobod has made improvements to the printer, some of which were shown for the first time publicly at Bautec. Improvements include smoother printing of the by changing the extrusion system. Cobod has also developed a new method for setting the printer up, involving premade concrete feet unto which the Z-axis are mounted, which reduces the setup time by 50 percent and enables the setting up of the printer in a new location in just four hours.