John Deere to display restored skid steer from 1970 at CONEXPO-CON/AGG 2020
The company is celebrating 50 years of manufacturing skid-steer loaders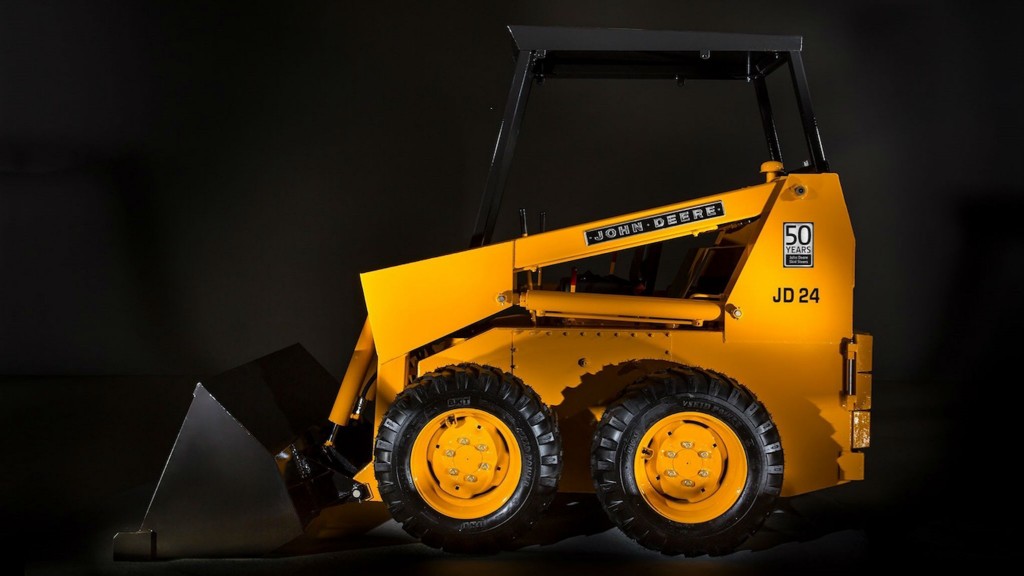 Introduced in 1970, the JD24 Loader provided operators with the power to get things done with a compact machine in various construction, landscaping and moving materials in mining applications.
The JD24 entered the market boasting 37 horsepower. Designed as a four-wheel-drive system, the loader included a multidisc transmission clutch on each wheel, providing complete machine control. With a sleek, low-profile design for improved visibility, and even weight distribution, operators could feel confident lifting material and maneuvering the machine around diverse terrains. Additionally, the machine frame could rotate 360 degrees, making it an optimal solution for working in tight or crammed spaces. The JD24 model featured a machine width of 65 inches (1,651 millimetres), weighed up to 4,750 pounds (2,154.6 kilograms), could travel up to 7 miles per hour and had an auxiliary hydraulics system that could produce up to 18 gallons per minute to power the first hydraulic attachments.
The John Deere skid steer family runs deep with various models and series debuting over the last 50 years, beginning with the JD24 in 1970, then a second Industrial Model 14 skid steer, and two agricultural skid-steer models 70/170 (1975), the 60/90/125 (1979), 75-Series (1987), 75-Series II (1994), 200 Series (1998), 200 Series II (2001), 300 Series skid steers and compact track loaders (2004), D-Series skid steers and compact track loaders (2009), E-Series skid steers and compact track loaders (2013), and the latest, G-Series skid steers and compact track loader models (2016/2018).
"Having the opportunity to refurbish a JD24 model is an extraordinary moment for the brand's history," said Brian Holst, heritage marketing manager at John Deere. "Showcasing the refurbished JD24 model at CONEXPO-CON/AGG shows our customers where our skid steer production began, and how far we have come in technology and productivity over the last 50 years."
In celebration of the 50th year of being in the skid-steer loader business, customers who purchase a skid-steer loader built from March 1 through December 31, 2020, will receive a special decal on the machine. Additionally, die-cast models of the 332G skid steer loader in gold chrome with a 50th anniversary mark will be available for purchase at John Deere factory stores and at the CONEXPO-CON/AGG merchandise store.
More from Shows & Events
The all-new CASE TR340B compact track loader — operating at 90 horsepower with a 3,400-pound rated operating capacity — is the most powerful radial-lift CTL in the CASE lineup. Its all-new 8-inch LCD display improves on industry-leading CASE visibility with a new backup camera that is viewable in both forward and reverse operation. The display also showcases critical operating information and "trip" details. All-new electro-hydraulic controls, managed through the display, make it easier than ever for operators to dial CASE CTLs into specific application demands. All new cab controls and joysticks make the new TR340B easy to own and operate.
Industries such as construction, mining, energy, utilities and forestry, face many challenges when it comes to tracking assets and employees. Equipment often has to be transferred between locations, or monitored while it is dormant during off seasons. Lone workers may have to travel long distances or visit multiple sites during the course of their activities. And, all of this is further complicated today with shifting supply chains and economic realities putting further strain on the bottom line.