Cab updates add operator comfort on John Deere knuckleboom loaders
Cabs can be equipped with features such as heated seats, Bluetooth, and storage coolers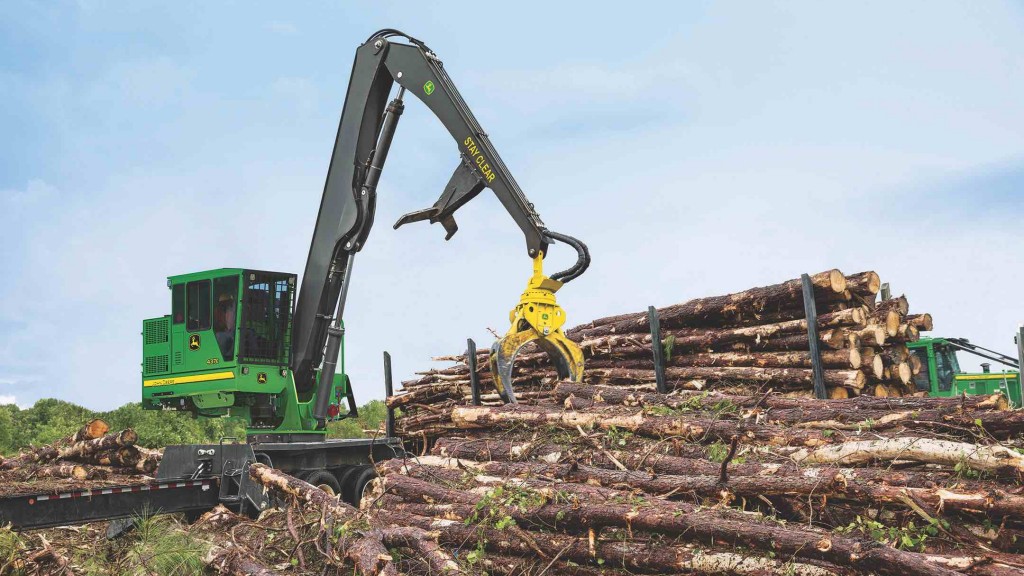 John Deere has updated its E-Series knuckleboom loaders with new features designed to boost operator comfort. Driven by customer feedback, the 337E and 437E models incorporate a redesigned operator station that is built to reduce noise and heat within the cab, while also including several options that increase comfort throughout the day. The new features, which build upon the fuel efficiency improvements introduced in 2019, provide customers with comfortable solutions for the loaders' operation.
One of the most notable changes on the updated E-Series machines is the removal of the rear and left back windows, reducing the heat load inside the cab and improving operator comfort. Additionally, the removal of the rear window helps to lower noise levels in the cab. Each cab can be equipped with several comfort-boosting options, such as a heated, ventilated seat; a premium radio package, including Bluetooth; a cell phone holder with power supply; or an in-cab storage cooler. Three lighting packages are available to help provide visibility in low-light conditions.
Company info
Related products
More from Forestry
A bottleneck of haulers waiting to be loaded is inefficient. Idle machines burn unnecessary fuel, increase maintenance costs and decrease resale values when you're ready to trade them in.
When you pair the new Volvo EC950F crawler excavator and A60H articulated hauler, you can load trucks faster. The EC950F can utilize a 10-yard bucket to fill a 60-ton capacity A60H in only four passes — reducing passes lowers fuel consumption and drastically speeds up cycle times to keep your haulers moving. See how the massive EC950F and A60H improve cycle times and more to boost your profitability.