Trolley assist added for Cat electric drive mining trucks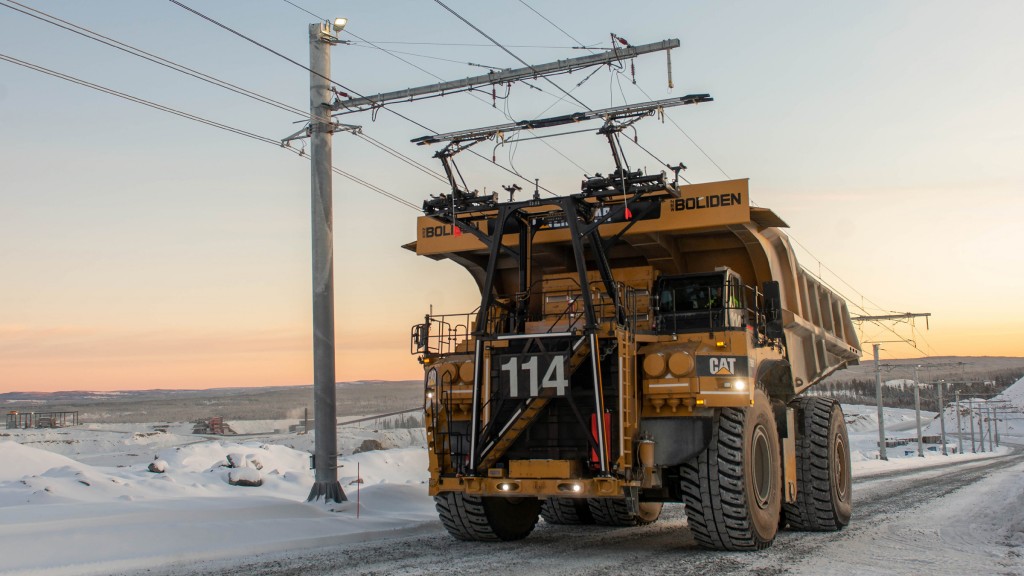 Cat has released a trolley assist system for electric drive mining trucks for mining operations seeking a means to reduce carbon emissions, lower fuel and engine costs, and boost speed-on-grade for greater productivity.
The Cat trolley assist retrofit kit is currently available for the 795F AC truck, and the trolley design is compatible with the three other Cat electric-drive mining trucks—794 AC, 796 AC and 798 AC.
The commercial introduction of Cat trolley assist comes at the conclusion of a nearly two-year pilot project conducted with four 795F AC trucks using 700 metres of electric trolley line at Boliden's Aitik mine in Sweden.
Trolley steps up
The trolley system significantly reduces diesel engine emissions at the mine via substitution of electricity during the most demanding part of the truck work cycle. Powering a 337-mt-payload 795F AC via trolley on a 10 percent grade as it climbs the ramp out of the pit saves up to 40 litres of diesel fuel per kilometre of trolley line. Fuel and engine costs are reduced by more than 90 percent while the truck is on trolley.
The trolley system also boosts productivity. Operating with trolley assist, speed-on-grade increases as much as 100 percent versus diesel-only mode. Using trolley, a loaded 795F can run at 28 kph on a 10 percent physical grade with solid haul road conditions.
The Cat trolley system is fully machine integrated, bringing the benefits of optimized performance and system serviceability to the 795F AC. Caterpillar's higher voltage truck and trolley system is designed to bring advantages through lower infrastructure capital costs and lower power distribution maintenance costs.
Other advantages come from the rugged Cat pantograph, designed to deliver superior uptime and reduced repair costs. A quick-drop feature helps protect the overhead trolley lines.
Company info
Related products
More from Mining
The all-new CASE TR340B compact track loader — operating at 90 horsepower with a 3,400-pound rated operating capacity — is the most powerful radial-lift CTL in the CASE lineup. Its all-new 8-inch LCD display improves on industry-leading CASE visibility with a new backup camera that is viewable in both forward and reverse operation. The display also showcases critical operating information and "trip" details. All-new electro-hydraulic controls, managed through the display, make it easier than ever for operators to dial CASE CTLs into specific application demands. All new cab controls and joysticks make the new TR340B easy to own and operate.
Industries such as construction, mining, energy, utilities and forestry, face many challenges when it comes to tracking assets and employees. Equipment often has to be transferred between locations, or monitored while it is dormant during off seasons. Lone workers may have to travel long distances or visit multiple sites during the course of their activities. And, all of this is further complicated today with shifting supply chains and economic realities putting further strain on the bottom line.