John Deere shows aggregates, roadbuilding, site development and underground at CONEXPO-CON/AGG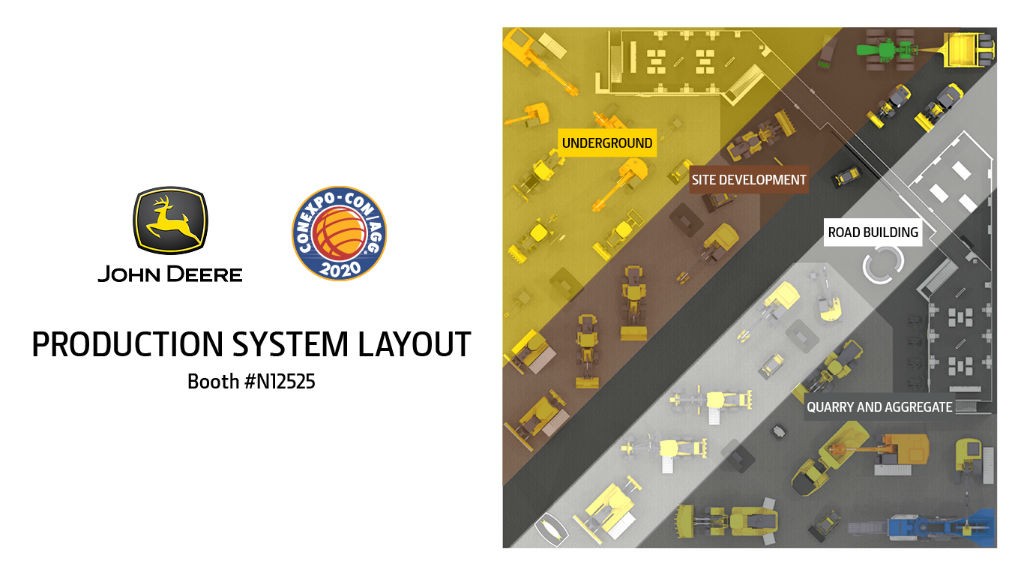 John Deere will lay out its CONEXPO-CON/AGG 2020 booth in segment groupings where attendees will be able to see the benefits of combining multiple machines, related technologies and solutions, and dealer support offerings across four specific production systems: Quarry & Aggregates; Roadbuilding; Site Development; and Underground.
Thirty-seven pieces of equipment will be displayed in the booth within the four applications segments. Highlights include:
Quarry & Aggregates products on display will include various wheel loaders and excavators, including the 944K Wheel Loader and 300G LC Excavator. Additionally, through the Wirtgen Group acquisition, the booth area will also feature a Kleemann MC011 PRO Cone Crusher.
Roadbuilding products will include the 950K PAT SmartGrade Dozer, 135G Excavator, and motor graders, such as the 872GP with SmartGrade fully integrated, mastless grade control.
Site Development will feature multiple crawler dozers, including the 850L, several wheel loaders, excavators and a scraper system.
The Underground segment will boast utility wheel loaders, backhoes, numerous excavators and multiple compact pieces of equipment with attachments.