​Liebherr to showcase four machines at Demolition Austin 2020
Two excavators, one LH M mobile handler and an L 556 XPower wheel loader with specialized guarding on display at NDA event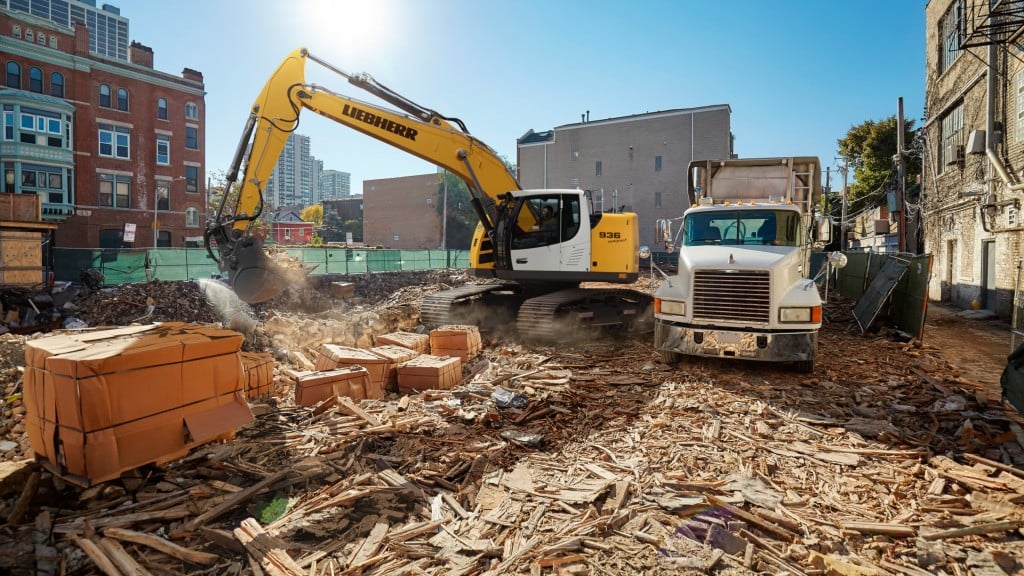 Liebherr USA, Co. Construction Equipment division will feature four machines at the National Demolition Association's (NDA) Demolition Austin 2020, set for February 22-25 in Austin, Texas. Liebherr will display two crawler excavators, a LH 22 M mobile material handler and an L 556XPower wheel loader.
This year, Liebherr is again sponsoring the Live DEMOlition event at the show, and will be located inside the event at the Austin Convention Center.

On Sunday, February 23, registered participants will have an opportunity to get "hands-on" and operate the R 946, the R 936 Compact excavator, and the LH 22 mobile material handler at the Live DEMOlition component of this year's event. This part of the show will take place offsite at Texas Disposal Systems. Attendees will have the chance to view the L 556 XPower wheel loader at the convention center starting February 23, at the LIeberr booth #315.

High performance no matter the job
Liebherr's LH 22 M Industry mobile material handler has a compact design, which makes it well suited for deployment on demolition sites. The latest engine and hydraulics technology, developed in-house by Liebherr, is built in on the LH 22 M Industry to deliver exceptional fuel efficiency outstanding material handling performance. Its reach of 36 ft. is further enhanced by a variety of optional attachments that complement the machine's power and performance in every application.
Powerful, innovative crawler excavators
According to Liebherr, the R 946 excavator is the perfect carrier for either second or third member demolition tools. It is easy to transition from second member to third member demolition tools hydraulically. At the push of a button, the summation of the bucket hydraulics and additional auxiliary hydraulics needed for a second member shear is done. The R 946 also features casting in all high stress areas to reduce the risk of failure in heavy demolition applications.
The R 936 Compact Litronic weighs 76,000 lbs, making it one of the biggest reduced tail swing excavators available in the market. It is also designed for working in small spaces. With a tight swing radius, this machine is ideal for urban and bridge demolition applications that require precision. This machine can be outfitted with demolition guarding that protects the machine super structure and cylinders.
The L 556 XPower Wheel Loader - fuel efficient, powerful and reliable
Liebherr will showcase its L 556 XPower Wheel Loader at exhibit hall booth #315 at Demolition Austin. Equipped with the innovative XPower driveline, this wheel loader delivers quick working cycles, high tipping loads and high machine uptime, which lead to increased handling capacity and higher productivity.
The XPower driveline with Liebherr-Power-Efficiency achieves up to a 30 percent reduction in fuel consumption when compared to conventional travel drivelines. At highest efficiency, this reduces operating costs and increases profitability. The XPower driveline brakes automatically and the service brake acts only as a support and is subject to minimal wear.
Wheel spin on the Liebherr L 556 wheel loader is prevented through continuous tractive effort control of the XPower driveline, combined with automatic self-locking differentials. Productivity is increased and tire wear reduced by up to 25 percent.
In addition, the L 556 XPower wheel loader on display at the indoor exhibit booth will feature Liebherr's full guarding package, which protects vital undercarriage areas of the machine, such as the tilt cylinder and windshield. The unit on display at the show is also equipped with solid tires, to provide a complete example of a package that is ready for any demolition environment.
The L 556 XPower has safe and easy engine accessibility for daily checks. Critical maintenance points on the loader can be reached quickly, providing faster turnarounds and higher uptimes. And with a width of 9 ft. 8 inches, length of 30 ft. and weight of 55,000 lbs, the machine's profile is designed for the necessity of road transport.