GOMACO's high-production truss-mounted screed features unique vibratory system
The screed is economical for projects with widths up to 104 feet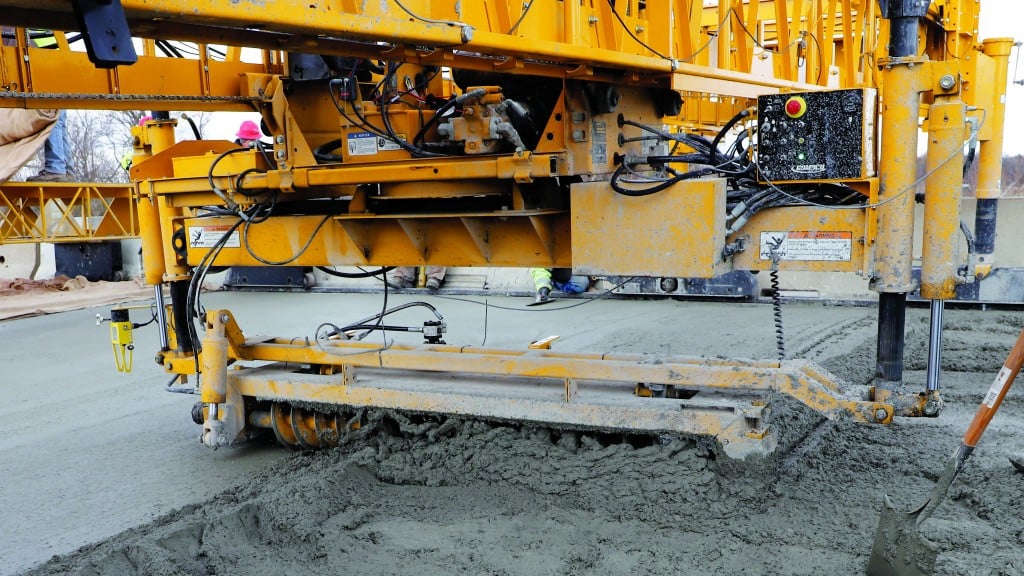 GOMACO has introduced a high-production truss-mounted screed for paving bridge decks, flat slabs and floors.
The new high-production screed can advance up to four feet (1.2 m) in a single pass, drastically reducing finishing time and providing savings on concrete delivery costs and total project labour. It features a 5.7-foot-long (1.7 m) leading auger with a high-production strike-off action that reduces the number of puddlers needed out front. A five-foot-long (1.5 m) finishing cylinder, directly behind the auger, compacts and finishes the concrete in a single pass. A six foot (1.8 m) trailing screed provides the final finish to the surface of the concrete with a unique GOMACO-designed vibratory system.
The high-production screed with a patent-pending design for tilt and skew is mounted to the GOMACO C-450 truss system. The new mount is instrumental for the optional 3D package to finish to a 3D design model. The new GOMACO screed system now allows contractors to economically finish city streets, concrete floors, bridge decks, tunnels and canals at widths up to 104 feet (31.7 m).
More from Roadbuilding
The all-new CASE TR340B compact track loader — operating at 90 horsepower with a 3,400-pound rated operating capacity — is the most powerful radial-lift CTL in the CASE lineup. Its all-new 8-inch LCD display improves on industry-leading CASE visibility with a new backup camera that is viewable in both forward and reverse operation. The display also showcases critical operating information and "trip" details. All-new electro-hydraulic controls, managed through the display, make it easier than ever for operators to dial CASE CTLs into specific application demands. All new cab controls and joysticks make the new TR340B easy to own and operate.
Industries such as construction, mining, energy, utilities and forestry, face many challenges when it comes to tracking assets and employees. Equipment often has to be transferred between locations, or monitored while it is dormant during off seasons. Lone workers may have to travel long distances or visit multiple sites during the course of their activities. And, all of this is further complicated today with shifting supply chains and economic realities putting further strain on the bottom line.