Hitachi to display range of excavators at CONEXPO/CON-AGG 2020
Hitachi will show variety of models from large to compact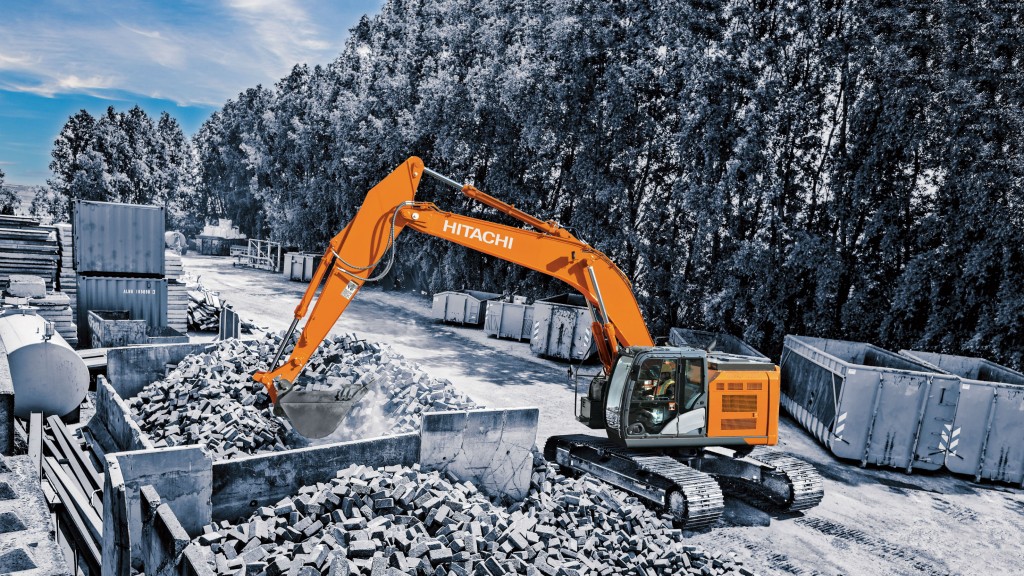 Hitachi will have a range of models on display at CONEXPO/CON-AGG 2020, including the ZX345USLC-6, ZX245USLC-6, ZX350LC-6, ZX470LC-6 and ZX60USB-5 excavators.

ZX345USLC-6
The new ZX345USLC-6 is the largest of Hitachi's reduced-tail-swing excavator line, which also includes the ZX245USLC-6, ZX135US-6, ZX85USB-5 and ZX75US-5. Whether it's road building or work in congested quarters, the ZX345USLC-6 packs all the power you need into its reduced-tail-swing design, helping this model maximize efficiency, reliability and durability. The ZX345USLC-6 is one of the only reduced-tail-swing models in the industry that features a full-size cab. Designed for a 35-metric-ton machine, the heavy-duty undercarriage provides greater stability, increased lift capacity and a lower center of gravity.
At the forefront is Hitachi's exclusive TRIAS II three-pump hydraulic system that provides multifunctioning performance and some of the fastest cycle times in the industry. The three-pump system enables operators to maximize productivity without sacrificing fuel economy because it provides even more flow. When demanded, the third pump supplies additional hydraulic oil to the swing circuit without stealing oil or speed from other functions.
ZX245USLC-6
The ZX245USLC-6 delivers all the efficiency, reliability and durability that customers expect from our larger excavators – in an easy-to-maneuver package. Equipped with a powerful EPA Final Tier 4 (FT4)/EU Stage IV Isuzu engine that features integrated, effective engine technologies, the ZX245USLC-6, along with all of Hitachi's Dash-6 Series excavators, does not require a diesel particulate filter.
Maintenance is minimized with the ZX245USLC-6. The excavator features grouped service points; single-side ground-level filter service; at-a-glance gauges; and convenient, standard upper structure handrails that provide easy engine access.
ZX350LC-6
With a variety of features that make it efficient, reliable and durable, the Hitachi ZX350LC-6 has an insatiable appetite for work. It offers generous swing torque, dig force and lift capacity. The spacious cab offers premium seat options, including an actively cooled and thermally heated leather seat, and easy-to-operate controls for smooth and responsive hydraulics. This reliable workhorse also comes standard with a pattern-control switch, battery disconnect switch and fuel shutoff. Additionally, the fuel-efficient EPA Final Tier 4 (FT4)/EU Stage IV Isuzu engine does not require a diesel particulate filter, saving service time and lowering operating costs.
Hitachi Solution Linkage Integrated Grade Guidance with Topcon, a factory-integrated grade reference system developed in cooperation with Topcon, is an option that is available on the ZX350LC-6. Solution Linkage works as a one-stop-shop to take the guesswork out of achieving the right grade, and it monitors in real-time so jobs can be completed quickly. Electronics should make the job easier, which is why full integration is so important. When selected, Solution Linkage is fully integrated into the machine's cab and structures, which helps shield key components such as wire harnesses and sensors from damage. That integration also provides operators with conveniently placed joysticks for effortless control. More new technology will be revealed during CONEXPO/CON-AGG.
ZX470LC-6
The ZX470LC-6's greater horsepower, combined with optimized hydraulics for bigger arm- and bucket-digging forces, allows for more work to get done in a day. Loaded with a fuel-efficient EPA Final Tier 4 (FT4)/EU Stage IV Isuzu engine, the excavator meets rigid emission standards and no diesel particulate filter is needed.
On the ZX470LC-6, a multi-language LCD monitor and rotary dial provide intuitive access to machine info and functions. Ergonomically correct short-throw pilot levers provide operators with smooth, precise control with less effort while pushbuttons in the right lever allow control of auxiliary hydraulic flow for attachments.
ZX60USB-5
As the largest of Hitachi's compact excavator line, the ZX60USB-5 bridges the gap between the ZX50U-5 compact and the ZX75US-5 mid-sized excavators. With its reduced-tail-swing design, this compact, yet powerful excavator is perfect for work in congested or confined areas.
The excavator features a spacious cab with wider, easier entry and better visibility; a fuel-efficient and reliable engine that meets emission standards; and maintenance that's easier than ever thanks to enhancements such as improved access to coolers. The ZX60USB-5 is available with a cab or canopy and is covered by Hitachi's two-year/2,000-hour standard full-machine warranty.