Top trends to watch for at CONEXPO-CON/AGG 2020
Machine control & telematics
Owners and operators have known the benefits of machine control on equipment for some time, and fleet managers have seen similar benefits from telematics on their trucks. That trend has begun to accelerate, with a broader variety of technologies being brought to the market – making it more accessible to contractors of all sizes.
Machine control options have spread to new types of machines as systems have advanced and developed; for example, in one case, easy to install and use grade control has been developed for compact equipment, taking advantage of smartphones to provide mobility from machine to machine where needed. Other highly intelligent systems are using machine learning to "teach" dozers the terrain they're working on, reducing time and operator input on future passes. More and more machine types are benefiting from machine control options.
New telematics approaches are also expanding the market, bringing with it the ability to expand efficiency and driver or operator education. As data collection improves, benefits begin to extend into opportunities like preventive maintenance. The end result is a more efficient and effective fleet.
Safety
Worker safety has long relied on employee and employer judgement and adherence to rules that could easily be bent with no or limited record to show for it. Technology is changing that and updates to regulations are enforcing the use of more safety-enhancing technologies on equipment. Two significant examples are new CSA/ANSI standards for MEWPs in both Canada and the U.S., fully effective as of 2020, and the Electronic Logging Device (ELD) mandate for commercial fleets that came into full effect in December 2019 in the U.S. and will be in full effect in Canada in 2021.
Telematics is also playing a key role in improving safety. As more companies include telematics on their equipment, there is opportunity for fleet managers to monitor both maintenance actions and the amount of time an operator has spent on the job, preventing fatigue-related incidents.
Simulation training has also become more sophisticated; for example, earthmoving simulators are incorporating more life-like soil conditions. Several start-ups and OEMs are offering immersive VR simulator experiences to teach skills to new operators. This is particularly notable in the lift industry, where operators can learn how to operate the machinery from the safety of the ground while getting the immersive sensory experience of being in the air.
Fleet management
Data is the future of the industry – look for almost everyone, from OEMs to service providers, to talk about the power of harnessing data. Fleet management tools to gather and process that data have experienced stratospheric rise in growth. In a white paper published in June 2019, C.J. Driscoll & Associates estimated the North American commercial telematics market has grown from approximately two million units in service to 6.4 million units in service over the last ten years. The market for fleet management devices has been influenced by the new ELD mandate in addition to safety, maintenance and fuel management benefits.
Whether purchasing or renting, business owners have more opportunities than ever to manage their assets based on data. The rise of eCommerce has changed how fleet owners acquire equipment and affords buyers more control and opportunity to purchase and sell their assets – look for education sessions on making the buy-or-rent decision and equipment life cycle cost analysis.
Recruiting & retention
From maintenance to equipment operation, we've been hearing across the industry that employers aren't finding enough skilled workers to replace a retiring workforce. Workforce development and retention will be the focus of an education track at CONEXPO, exploring how to diversify the workforce and attract, engage and retain new and young talent.
Connecting veterans with construction jobs is an opportunity facilitated by organizations both in the U.S. and Canada. Likewise diversifying the workforce by actively recruiting women into the construction industry is a key topic explored in several education sessions along with facilitating a positive work environment for a multi-generational workforce.
Developments within the construction industry have been heavily skewed toward the technology side for years now – look for OEMs and panel discussion on recruiting and engaging younger workers who are native to and comfortable with using new technologies.
Virtual & augmented reality
Imagine walking through a jobsite, seeing how the terrain should look, where the structures will be built, and all of the relevant details of the work to be done – even while it's a bare lot. Virtual and augmented reality have been expanding rapidly, aiding contractors during design and planning, in the construction phase, and elsewhere such as training.
Augmented reality takes advantage of mobile computing to allow users the chance to visualize the work they're doing on the screen of a tablet or telephone – or using specialized tools like virtual reality helmets or headsets – and note any changes to the plan, deficiencies or potential concerns. Many tech companies in the construction space have taken AR to heart in their development programs.
Virtual reality immerses the user deeper into the computerized scene and is being used to great effect in training programs. A VR simulation allows a trainee to take potentially hazardous actions with no risk to themselves or others during their education process. It's a less expensive and far less dangerous way to train a crane or excavator operator without putting other staff – and other equipment – in harm's way.
Recycling & waste reduction
When we think green in relation to heavy construction, it's often as a reference to emissions regulations driving changes to engines and exhaust treatment methods. There are many other ways in which contractors can consider the environment in their purchasing process and on the jobsite, however, and these are getting more attention as the industry evolves.
Paving is a big part of this sector, with recycled asphalt becoming more acceptable for major projects and organizations pushing to expand that. C&D waste recycling is expanding in popularity as well, and many companies are starting to purchase their own crushing and screening equipment to handle waste on-site for busy urban jobs – driving interest in smaller portable units.
There is also, of course, a push for more energy efficiency in construction equipment that crosses over many trends. Greater fuel savings are one way in which manufacturers are helping green up the industry, and the drive to explore electrification will take that even further.
Electric solutions
More equipment power options can provide more opportunity for contractors bidding for highly competitive jobs in regions with strict emissions and noise restrictions. As many cities stipulate the need for quieter and low or no emissions solutions, several OEMs have introduced production-ready, commercially available or prototype electric excavators and wheel loaders for the compact segment and hybrid machines for larger size classes – we expect these machines to be front and centre at CONEXPO.
Another area seeing a trend toward electric solutions is in crushing, with the introduction of plug-in hybrid drive machines that offer the option to plug the crusher into the mains where available, significantly reducing diesel consumption.
Walk-behind compaction equipment and hand-held concrete equipment have also seen a surge in battery power popularity, making the equipment more versatile for indoor jobs, confined spaces and urban applications.
Automation
Today, in mines from Canada to Australia, giant haul trucks crawl around open pits carrying tons of rock from shovel to mill without a human ever setting foot in the cab. Autonomous hauling is quite firmly here and proving itself as successful. The next target for manufacturers and tech companies will be smaller pieces of equipment - and the evolution of control options for construction machines may suggest this to be on the horizon.
Demonstrations of dozers and rollers running autonomously have been done by various manufacturers, and those programs continue to move forward. As mentioned previously, machine control systems have begun to incorporate artificial intelligence capable of learning as it works, a key step toward autonomous operations. Truck manufacturers are steadily learning and expanding their capabilities when it comes to self-driving vehicles. There's a revolution in machine operation coming, and that's sure to be part of CONEXPO.
This article originally appeared in the January 2020 issue of Heavy Equipment Guide. Check out the digital edition here.

Related Articles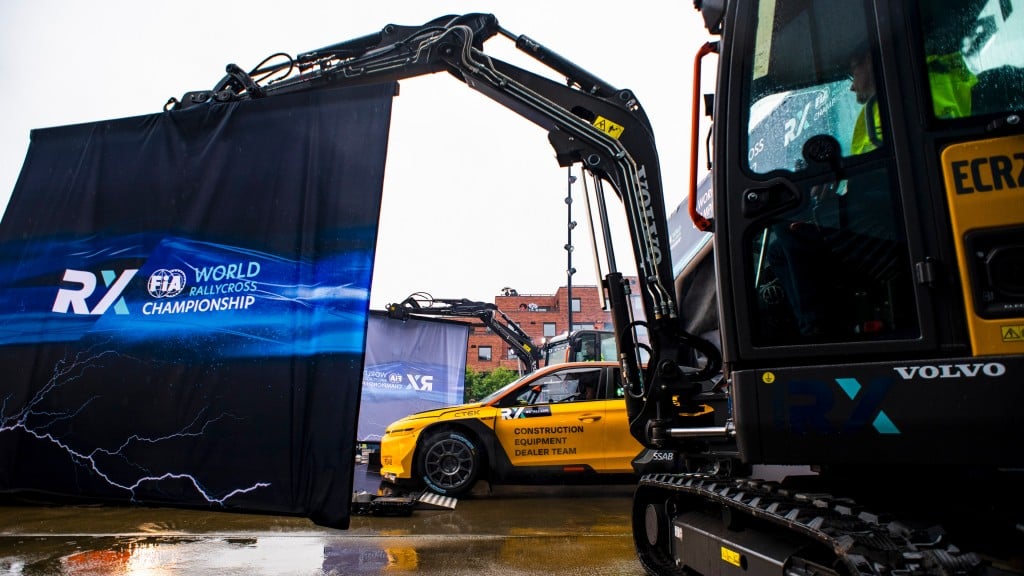 FIA World RX electric era takes off with Volvo CE as official track building partner