Liebherr to bring ADT to market in 2021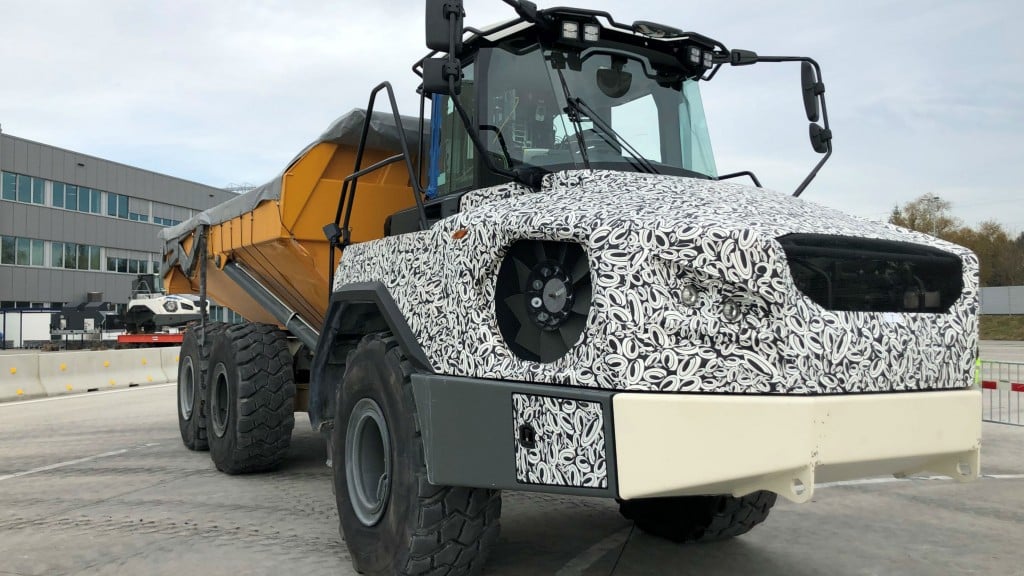 Liebherr recently provided Heavy Equipment Guide with an up-close look at the development of its new 30-ton articulated dump trucks at its development and demonstration centre in Kirchdorf, Germany. Liebherr has plans to put its new 30-ton articulated dump trucks (ADT) into its company's rental fleet starting mid-year and make the first unit – the TA 230 – available for sale to European end users in 2021. North American customers can expect to see it for the first time in 2021, when it will be available in dealer rental fleets. The company says it will expand its lineup to include both 40- and 45-ton models, which will be introduced at the 2022 Bauma show in Munich.
The Kirchdorf facility is the cradle of the Liebherr Group. Hans Liebherr founded the company there in 1949 based on his parents' construction company. With designers and tradesmen he developed the first mobile tower crane, the TK 10. On August 19, 1949, the German Patent Office issued the patent for this mobile tower crane. The TK 10 was an innovation, as it could be easily transported and assembled quickly at building sites. Today, the Liebherr facility in Kirchdorf develops and manufactures an extensive range of hydraulic excavators and material handling machines as well as articulated trucks and produces around 3,500 machines every year.
Liebherr has invested heavily in its R&D efforts across its many manufacturing facilities in the last several years. In 2018, the development and demonstration centre were added to the south side of the plant at the Kirchdorf facility. The 12.68-hectare site comprises a test track, a test hall and an administration centre. This development and demonstration centre is unique in Europe and is used for the development and testing of both construction and material handling machines.
Liebherr showcased its ongoing articulated dump truck development at a press conference and Werner Seifried, managing director of research and development at Liebherr Kirchdorf, highlighted several of the simulation and prototype tests the company has used to develop its ADT line. Data has become an incredible resource for many manufacturers, Liebherr carries out what it calls measuring campaigns as a starting point to its design build process. Test vehicles equipped with highly sensitive sensor technology and intelligent measurement technology provide a huge body of data from a wide variety of field test applications. In the course of this, the sensors used gather a huge range of information about pressures, temperatures, acceleration, forces and strains that an ADT encounters on a jobsite. The company used simulation models, virtual reality and avatars to aid its ADT development. Virtual reality, for example, was used to examine operator field of vision for such operations as tipping the body and steering the unit left and right. An avatar was used to simulate replacing a tire.
Data gained by the simulation models and other tests formed the basis of creating a prototype machine which is now undergoing its final tests. Knowing that ADTs can operate in extreme environments, Liebherr set about designing a test rough-road track to simulate a 15,000-hour machine life.
"As you can imagine, the loads which the test drivers experience in these applications are immense for the human body," said Seifried. Drivers can only work up to 30 minutes depending on the track and load before they have to take a several hour break. The human factor also meant that full test speeds could not be consistently maintained even within that 30-minute window. Because of this, Liebherr turned to a partially autonomous test unit, controlled by operators in a tower overlooking the test track. Liebherr calls this unit a "driving robot," and emphasizes that it is not fully autonomous. The track is separated from the rest of the test site and test vehicles are not equipped with environmental recognition or a collision warning system.
The test track uses several ground profiles in addition to a climbing hill: patched asphalt (target reference speed of about 25 mph), a light washboard with an amplitude level of around 2 inches (target reference speed of 10 mph), in-phase "Mengen" grooves with a depth of 16 inches (target reference speed of 7 mph), and an out-of-phase "Benningen" distortion with a depth of 16 inches (target reference speed of 5 mph). ADT prototypes with at least 100 hours on them are also being field tested by select customers.
"The top priority is producing the first prototype and field test vehicles to the highest possible standard in terms of its quality and functionality," Seifried said. Liebherr's ADT development milestones have been successfully completed. "There are no longer any obstacles to the successful start of series production and a long and successful product life," he added.
This new generation of articulated dump trucks gives the driver an excellent view to the front, sides and rear as well as to both sides of the articulated joint. The operating and maintenance concept of the new ADT has been completely revised and optimized in order to keep the operating and maintenance costs as low as possible. The weighing system is integrated as standard in the new Liebherr dumper. The comprehensive assist systems include the hill start assist, the stability assistant, adaptive cruise control, as well as a height limitation. The main application area of the new ADT will be the quarry industry, as well as large infrastructure projects.
This article originally appeared in the January 2020 issue of Heavy Equipment Guide. Check out the digital edition here.

Related Articles
Searching for the best-performing excavator? Your search ends here. We tested the Volvo EC350E and EC380E against a leading competitor in three different tests: trenching, truck loading and lifting capacity at reach. The results show a 20% difference in cost-per-ton, a 15% difference in tons-per-hour and a 12% difference in both operating costs and lifting capacity. See the results and put an end to your search for the best excavator.