Liebherr to show range of earthmoving and construction equipment at CONEXPO
The company will celebrate its 50th anniversary in the U.S.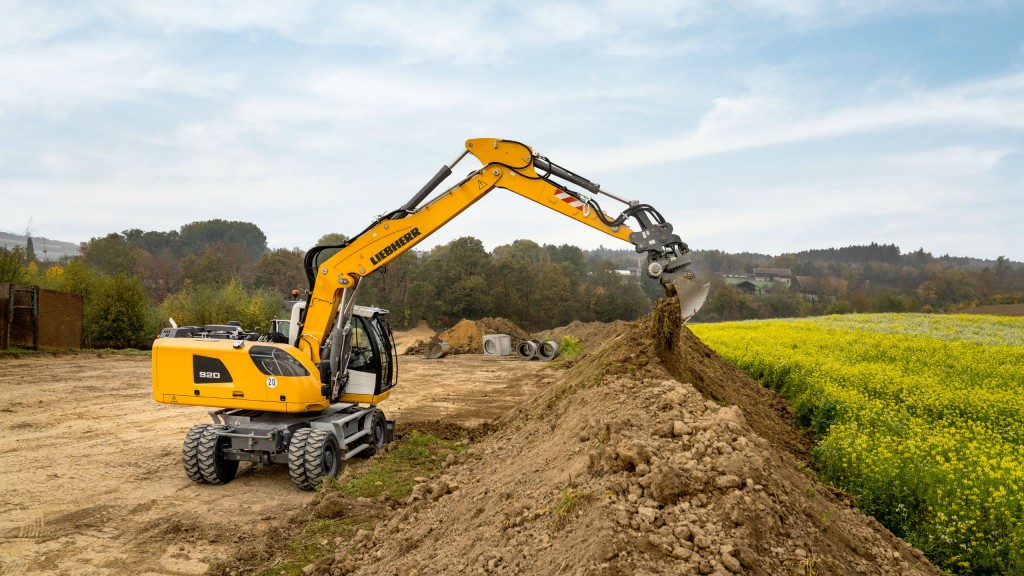 Liebherr will be showcasing an extensive selection of earthmoving and construction equipment at CONEXPO-CON/AGG 2020, featuring a range of components for mechanical, hydraulic and electric drive systems as well as hydraulic excavators, wheel loaders, crawler loaders and tractors, deep foundation machines, material handlers, tower cranes, mobile and crawler cranes, as well as a concrete pump.
In 2020 Liebherr celebrates its 50th anniversary in the U.S. and the company will be opening an expanded headquarters in Newport News, Virginia.

The new generation of Liebherr crawler excavators
The Generation 8 crawler excavator series is made up of seven models ranging from 48,500 to 99,200 pounds (22 to 45 t): R 922, R 924, R 926, R 930, R 934, R 938 and R 945. The R 926 and R 938 will be exhibited for the first time in America at the Liebherr booth.
Highlights include higher engine power, a heavier counterweight for higher bucket capacities, and minimal fuel consumption. A modified piece at the top of the boom is an innovative new feature. This leads to better performance and equipment forces with reduced operating weight. Another feature is the optimized load curve resulting in reduced fuel consumption.
Assistance systems for wheel loaders
Liebherr will present four wheel loaders at the show. This includes an L 566 XPower with power-splittravel drive. Liebherr installs this drive as standard on its large XPower wheel loaders. It combines short loading cycles with optimal hydrostatic drive with the mechanical drive, the benefits of which come into effect over long distances and up hills. The L 566 XPower is also equipped with numerous new assistance systems, which Liebherr is showing for the first time in North America. These include active personnel detection, adaptive working lighting, an integrated tire pressure monitoring system and the weighing system with Truck Payload Assist. The L 566 XPower also has the new joystick steering for wheel loaders.
The largest Liebherr wheel loader, the 71,870-pound (32.6 t) L 586 XPower, will also be at CONEXPO.
The latest Generation 8 crawler dozer
Liebherr is introducing its latest Generation 8 dozers to North America with the new PR736. The PR736 is powered by a newly developed Tier 4 Final Liebherr diesel engine belonging to the EVO series (160 kW / 217 hp). The machine's operating weight is up to 56,218 pounds (25.5 t). A variety of blade versions are offered (straight, semi-U and 6-way) with capacities from 5.36 to 7.27 cubic yards (4.10–5.56 cubic metres).
Two new cranes for North America
Liebherr says that the LTM1650-8.1 is designed to deliver maximum performance. The LTM 1650-8.1 is available with 177- and 263-foot (54- and 80-m) telescopic booms.
In designing the new 8-axle crane, Liebherr focused on maximum load capacities. The LTM 1650-8.1 travels with an axle load of 26,400 pounds (12 t) complete with its 177-foot (54 m) telescopic boom and the front supports.
Liebherr can offer the LTM1650-8.1 with a very wide range of transport weights and axle load versions to ensure cost-effective global mobility for axle loads both above and below 26,400 pounds (12 t).
Liebherr's new 880 US-tons (800 t) crawler crane, the LR 1800-1.0, is designed as a particularly powerful industrial crane for jobs with a luffing jib and derrick system, such as power plant construction and the petrochemicals industry. For the first time, the boom system features lattice sections with three system dimensions which can be telescoped into each other for transport.
Liebherr says that the new LR 1800-1.0 is currently the most powerful crawler crane on the market with a basic machine 9.7 feet (3 m) wide. It is particularly rigid as a result of its increased design height. A quick connection to raise the superstructure for transport is standard.
A new duty cycle crawler crane
The HS 8200 is the new Liebherr duty cycle crawler crane in the 200-tonne (440,925-pound) category. Thanks to the newly designed drive system, the efficiency is increased by 15 percent. Load capacities are also increased by up to 15 percent.

The new duty cycle crawler crane is the optimum machine for extraction work and has the capability of not only using a dragline bucket but also a grab. Like all products in this series, the HS 8200 is versatile. For deep foundation purposes, the machine can be applied for dynamic soil compaction, as well as fitted with a casing oscillator or fixed leader. When digging a shaft, the winches can even be used with the full 77,162-pound (35 t) line pull in the fourth layer. Thanks to various counterweight options, the duty cycle crawler crane also convinces in lifting operation.
A new fast-erecting crane
With a radius of 180 feet (55 m) and a maximum hook height of 215 feet (41.5 m), Liebherr says that the 125 K is currently the largest fast-erecting crane on the market. The new 125 K has been specially developed for civil engineering requirements such as road traffic bridges and commercial as well as industrial building construction. The maximum lifting capacity is 17,630 pounds.
New Flat-Top crane series
Liebherr will present the 340 EC-B of the new Flat-Top series. Three of the eight units are equipped with fibre rope which has a four times longer service life than steel rope and enables fibre cranes to work with a significantly higher load capacity. Further, Liebherr says that handling is noticeably easier compared to steel rope. In addition, all cranes are optimized for assembly and offer more comfort to the crane driver. The 340 EC-B has a maximum radius of 256 feet (78 m), a maximum lifting capacity of 26,450 pounds (12 t)and a maximum hock height of 301 feet (84.7 m).
Related Articles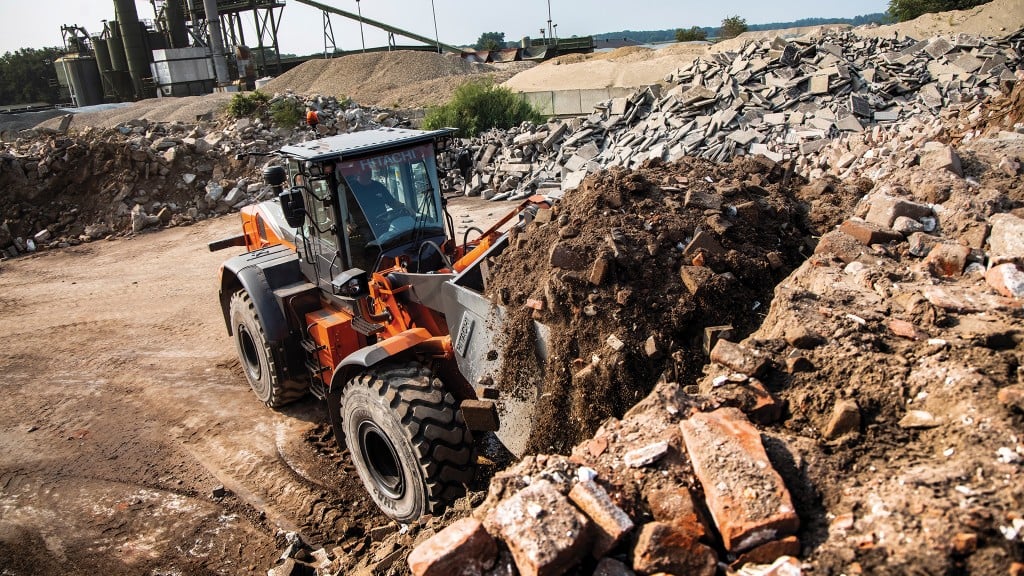 Four new Hitachi wheel loaders focus on cab and operator comfort