Priestly Demolition dismantles parking garage and reuses material on confined Toronto jobsite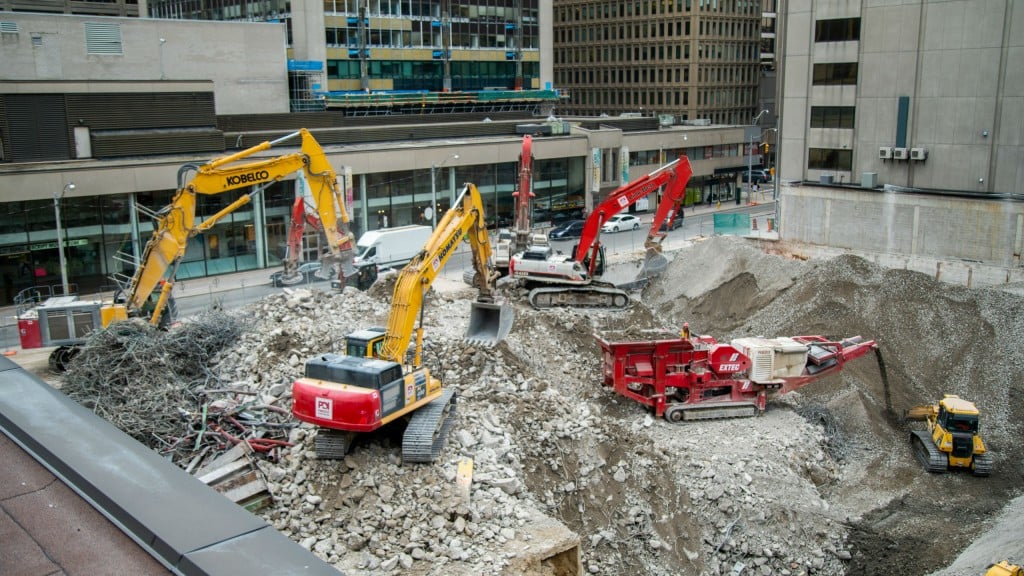 Priestly Demolition has a reputation for tearing things up in Toronto. The company has its own TV show, Salvage Kings, on the History Channel; it has also been responsible for the demolition of an iconic landmark – the interior of Maple Leaf Gardens. It is known for its logistically challenging jobs, including the 401/404 interchange bridge demolition, along with urban demolition on restrictive downtown jobsites, which the company has chronicled on its popular YouTube channel.
Priestly Demolition was founded by Vic Priestly in 1971, originally as Vic Priestly Contracting Limited. To this day the company remains family owned and operated, currently under the leadership of Ryan Priestly.

Crushing on Cumberland Street
Priestly Demolition was recently hired to tear down a multi-storey parking garage on Cumberland Street in Toronto's Yorkville neighbourhood. The Cumberland site was a confined downtown property and Priestly Demolition had to perform the removal without damaging close adjacent buildings. The job was completed in five months. For this project Priestly Demolition used a Kobelco SK1000 demolition excavator, Komatsu PC600 and PC490 excavators, and Link-Belt 240 and 8000 excavators in addition to a mobile crane, dozer, several compact loaders and an Extec (acquired by Sandvik in 2007) mobile concrete crusher and stacker.
When a structure is torn down, all of that material has to go somewhere. On-site crushing is the ideal solution to make disposal of that material the most efficient and cost-effective, whether it will be reused on site, or hauled away. For the Cumberland Street job, Priestly operated a jaw crusher on site and used the material as backfill.
The Cumberland Street parking garage consisted of 325,000 square feet of building space on a 90,000-square-foot jobsite; the 40,000 tons of concrete was crushed to four-inch-minus and used as backfill. The backfilled space created a certified platform for drill rigs to work on when drilling for new caissons.
On-site processing must satisfy the regulatory environment of the region. According to Brian Priestly, Vice President of Operations, equipment selection is important for reducing dust and noise in urban environments. "We try and use a lot of hydraulic crunchers or processors to diffuse the noise," he said. "Hammers are needed sometimes, but in the prep of the concrete and the processing of larger oversized concrete we'll use a processor to break it down as well, as it's a great tool to remove steel from the concrete, then recycle after the fact."
Priestly Demolition's demolition equipment was outfitted with primary processors to pre-crush the concrete. "We use the processors to pulverize the material to allow a more efficient crushing process. Sufficient water is required to ensure no risk of silica dust is present for workers or the public," said Priestly.
Demolished material is typically crushed to at least four-inch minus and some customers seek two-inch minus for subbase and compaction ability. "We can/will crush to a customer's specification," said Priestly. "Currently in Ontario there is a demand for recycled product. There is a surplus in crushed asphalt but concrete and/or stone is going out the door as quick as you can make it."
Priestly Demolition uses both jaw and impact crushers to process material on urban jobsites, and Priestly said that the company tries to purchase the same brand, same size and same equipment to ensure that they are able to easily stock and replace parts as needed.
When it isn't feasible to crush on site, the destination of the material depends on customer requirements. Priestly Demolition has the ability to take it to their yards to crush; they can remove and recycle the steel, then crush the rest to hopefully salable aggregate, said Priestly. "We try and determine all the crushing requirements at the tendering process with the customers."