Loader productivity: an in-depth report on mid-size wheel loaders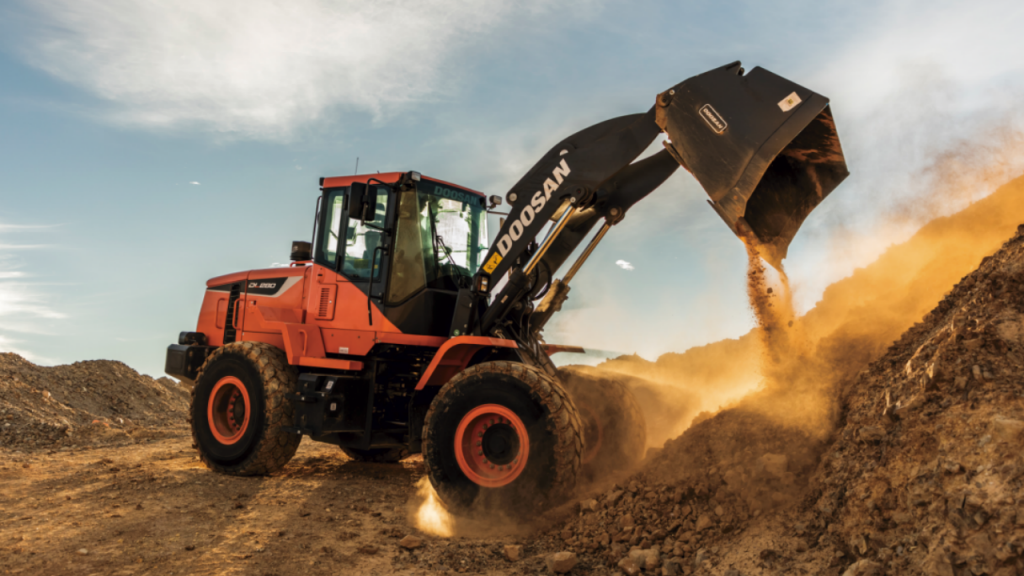 If there's one word that is on the mind of every supervisor on every construction jobsite, it is almost certainly "productivity." When workers and their tools are productive, they save time – and time, as they say, is money.
For mid-sized wheel loaders that are nearly ubiquitous on jobsites today, productivity comes in many ways. It comes from the speed at which these agile machines can move from task to task, the versatility they provide with a range of attachments and work tools, and the ease at which operators can dig, move and load dirt through their shifts. Manufacturers have taken a number of steps to expand on the productivity of their mid-sized machines, from expanded use of technology to new bucket designs.
Taking technology forward
When it comes to ways in which to make a machine more efficient, technology is often right at the top of the list, and with wheel loaders that's no different. These machines have seen everything from telematics to onboard weighing offered to buyers.
"As in all current construction equipment, the efficient use of technology is key to being productive and minimizing owning and operating costs," explained Andy Massey, product application specialist with Caterpillar. He pointed to the example of Cat's integrated payload monitoring, which can produce efficiency onto a jobsite through something as simple as loading trucks properly – no overloading or reloading saves time, as does the reduction of partial passes. "Remote monitoring via Vision Link brings a full suite of telematics, maintenance monitoring and live diagnostics to ensure uptime is maximized," he added.
The Vision Link system also offers features like productivity measurement that monitors machine utilization and helps cut idle time. Online advanced productivity programs to remotely monitor material movement around the site is another available feature.
Telematics also plays highly in Komatsu's approach to productivity, noted product marketing manager Adam Braun. "Customers are looking for the next level of technology advancements on their purchases. . . Komatsu offers our customers KOMTRAX as a standard feature on all our products," he said. "The customer can use KOMTRAX to see fuel consumption information as well as machine health and operational data such as utilization and idle time. KOMTRAX allows our customers to utilize data to make informed decisions to manage their fleet better."
Those features combine to lower costs while improving production by giving the operators onboard data that helps them optimize their performance.
Owners of Volvo wheel loaders can take advantage of ActiveCare Direct, a 24/7/365 active machine monitoring and fleet reporting service, said Chris Connolly, Volvo Construction Equipment product manager, wheel loaders.
"Whereas standard telematics systems send undiagnosed fault codes, our proprietary system provides a case alert with the probable cause, recommended solution and consequence of not taking action," Connolly said.
The HIMATE telematics system standard on Hyundai's HL900 series loaders enhances productivity with remote management and reporting capabilities, noted Chad Parker, senior product specialist / sales trainer, and a proprietary onboard weighing system adds more productivity benefits.
"The system is accurate to plus or minus one percent; it offers automatic and manual settings for monitoring individual and cumulative bucket load weights. System measurements are displayed on the multi-function screen in the cab, providing load-weight monitoring and on-the-fly adjustments when using a quick coupler feature to compensate for the weight of the attachment," Parker explained. The system uses rotary position sensor technology based on hydraulic system pressure measurements, he added.
New loaders from Liebherr benefit from an assistance system that reduces the burden on the operator, according to product manager Hubert Feneberger. "All the new assistance systems have been developed by Liebherr and are therefore fully integrated into the machine control; this applies, for example, to the new weighing system. It is a control scale that works automatically and provides the machine operator with valuable information on the loading operation."
Depending on the application, the ideal weight range is set automatically and weighing takes place during the regular loading cycle, allowing the operator to weigh without reaching a specific lifting height. All data and recommendations from the system's Truck Payload Assist are displayed in real time through a user-friendly device, and data can be evaluated through Liebherr's LIDAT system to analyze production processes.
Mechanical improvements are also part of the technological updates to many machines, including Hyundai's; Parker pointed to the company's locking front differentials and rear limited-slip axles, which allow operators to stay focused on their task in a variety of ground conditions while the machine provides positive tractive effort and limited tire slippage. Hyundai also has multiple performance modes to give operators an opportunity to maximize engine performance.
Some of Doosan's mid-sized loaders can be equipped with a hydrostatic drive rather than the traditional torque converter transmission, noted marketing manager Aaron Kleingartner. "A hydrostatic drive system offers several advantages over the torque converter system; advantages include improved fuel efficiency because of higher performance at lower RPMs, enhanced machine positional control, and reduce wear on the brakes as dynamic braking automatically slows the wheel loader," he explained.
For operators who switch back and forth among attachments frequently, John Deere's L-Series loaders have a system allowing them to program and save multiple settings, letting them change and go quickly, said Chris Kline, product marketing manager. "Also, the new L-Series loaders have two new exclusive programmable multi-function buttons," he noted. "These buttons allow the operator to program them to one of ten different options to best match their application and individual preference, which again makes the operator more productive."
Multiple uses for versatility
As mid-sized wheel loaders are often considered all-rounders on the jobsite, they need to handle multiple tasks, and there are a variety of ways in which they've been designed to do just that. For Liebherr, customers are given the option of two different lift arm designs, Feneberger noted.
"For their specific applications and challenges, customers can choose between Z-bar linkage for standard applications and parallel lift arms for industrial applications. Both lift arm variants offer rapid response characteristics and allow efficient working," he said. Z-bar linkage offers high torque in lower arm positions for breaking material out of a pile, while industrial applications often require higher lift and need the additional power for raising material to load trucks or containers.
Doosan's DL200-5 and DL200TC-5 allow for traction force to be adjusted easily by the operators to meet jobsite conditions, Kleingartner noted, cutting down on slipping wheels and increasing efficiency when digging, stockpiling and loading. Settings include Max, which offers the most traction, Traction Control, which gives the operator three levels of reduced traction forces, and S-Mode, which aids in slippery road conditions.
Attachments extend the versatility of wheel loaders, and numerous different ways to make attachment use easier have been used by manufacturers. Quick couplers make changing attachments faster while keeping the operator in the cab for better productivity. Hyundai's quick coupler accommodates multiple attachments, Parker noted.
"The coupler is precision designed for safe operation, good centreline visibility and optimum performance," he said. "Hyundai offers our own quick couplers, general purpose buckets for the HL900 series wheel loaders, while partnering with other attachment manufacturers for such items as grapple buckets, waste and refuse buckets, wood chip and mulch buckets, 4-in-1 buckets, high-tip rollout buckets, ejector buckets and side-dump buckets."
Volvo loaders use torque parallel linkage that delivers high breakout torque and excellent parallel movement through the lifting range, Connolly said. "To use hydraulically powered attachments, detent and adjustable flow are options on the L60H and come standard on the L70H and L90H 2.0 when the third function is ordered," he noted. "H-Series wheel loaders are compatible with a wide range of attachments including grapples sweepers, material handling arms and snowplows as well as custom-built attachments for specific needs."
The ability to swap attachments quickly without taking time to make ponderous adjustments is important, and John Deere's machines have taken that into account, Kline said.
"An operator can easily switch between attachments with the push of a button, and then just as easily recall the saved hydraulic settings for that attachment on the monitor in just seconds," he said. "Up to 10 different attachment settings can be saved at any one time, making the new L-Series loader extremely versatile and easy to operate."
Major components all designed and manufactured by Komatsu – known as Komatsu Harmony, according to Braun – mean the WA380-8 loader can be used in many different applications; it also "features a large-capacity torque converter with lock up in second through fourth gear that allows for quicker acceleration and faster top speeds that are beneficial in load and carry applications. Optional integrated third spool functionality also allows the WA380-8 to perform in applications that require attachments which require hydraulic power."
Keeping control
Easy and smooth control makes life more comfortable for the operator of a wheel loader, and brings with it efficiency benefits as well. Caterpillar has kept that in mind in its M Series designs, according to Massey, who notes that the company's breaking and implement control system calibrations have recently been redefined for even smoother operations.
"A smooth, efficient, easy-to-operate machine is a productive machine as the technology works with the operator to reduce fatigue," Massey said. Hydraulic cylinder snubbing on Cat's loaders cuts down on structural fatigue, while making it easier to retain material. "Cylinder snubbing has huge effects on the operator's body, and smoothing out the loader linkage operation leads to all day comfort and greater productivity."
Electro-servo hydraulics such as on some Volvo machines allow the operator to take advantage of return-to-dig and end-stroke dampening features that allow the operator to set detent functions along with bucket and boom positions from within the cab with easy to use switches, Connolly said. Three settings - active, normal and soft - allow the operator to fit the control system to their liking. Other control features include Rim Pull Control, which reduces wheel spin and slippage and thus saves fuel and tire wear. Smart Control ensures correct torque in all situations to help shorten cycle times and reduce fuel use, while Smooth Control helps operators maintain a steady throttle position on rough ground
John Deere has kept operator comfort in mind with a newly redesigned cab and updates to its control systems, using electrohydraulic controls rather than the previous pilot controls, Cline said. EH controls allow enhanced features such as programmable multi-function buttons, savable attachment settings, throttle lock, and proportional third-to-sixth-function hydraulics in a single joystick. They also provide the ability for continuous flow to attachments that require it. This is easily done from the monitor without having to make adjustments to the hydraulic system.
Some companies have made even more significant changes to their controls; Liebherr introduced optional joystick steering in 2019 that Febenerger says saves energy and reduces strain on operators.
"Short movements on the ergonomically shaped joystick replace cranking of the steering wheel. The left arm stays comfortably on the armrest and the travel direction can be changed with a switch on the control element," he said. "Operation of the new joystick steering is intuitive. . . the position of the joystick always corresponds to the respective articulation angle of the wheel loader."
Cab design has been targeted to comfort in the Liebherr machines, with ergonomics considered in the layout and structure of controls, displays and the seat.
Joystick steering is also available as an option on Hyundai models, and the company's console-mounted joystick controller moves with seat adjustments to make operation more comfortable, noted Parker. An easily adjusted 7-inch touchscreen display aids in easier viewing for the operator as well.
"All HL900 series wheel loader models include electrohydraulic precision control as standard, featuring an optional integrated third spool with a proportional rolling thumb switch for controlling attachments," he added. "The EH controls not only offer greater precision, but are more comfortable for the operator compared to traditional pilot controls."
Loader cabs today are state of the art, Kleingartner described, noting that Doosan's cabs feature ergonomics to ensure the operator can steer the machine and operate the joystick with ease.
"FNR switches are conveniently located on the joystick; the joystick also offers buttons for the wheel loader's lift arm and bucket control, as well as a horn," he added. "A multi-function display provides operators with machine real-time data as well as machine error codes. More than a dozen warning lights communicate errors to the operator. These are visible on the display. Indicator lights also provide the operator with information about the travel mode, power mode and auto idle, to name a few."
Komatsu has included some technological boosts to help improve controls in its machines, Braun noted.
"The WA380-8 control system utilizes a feature called SmartLoader Logic; this function provides total control of the engine, hydraulic system and transmission to optimize the fuel consumption while maintaining high production," he said. "Using a variety of sensors, torque is automatically adjusted to meet the performance needs of the wheel loader."
Product marketing manager Nathan Repp added that Komatsu has focused on standard features in the cab that improve operator comfort and confidence for long workdays. These include a heated air-suspension seat, a rearview camera with dedicated monitor, a multi-function mono lever with auxiliary hydraulics, proportional controls and auto-idle engine shutdown for operator convenience.
The scoop on buckets
While it may not be the sexiest part of the package, wheel loaders wouldn't be loaders without a bucket, and there are plenty of things to consider when picking what works for a particular situation.
Kleingartner outlined several types of buckets that Doosan offers to match the application a machine might find itself in. General purpose buckets, for example, are used for day-to-day material handling work and are designed for maximum filling and material retention. Light material buckets have a higher capacity, making them ideal for snow, mulch or other light materials; these are often available with a pin-on or hydraulic quick coupler mounting, he said. Finally, multi-purpose buckets allow for improved digging and bucket filling, with the ability to load, carry and dump granular materials, grab irregularly shaped objects, and doze, level or spread soil and fill. "Many manufacturers offer multi-purpose buckets with reinforced mounting plates for longer service life and reduced maintenance," Kleingartner added.
Parker at Hyundai said that the company's buckets are built of high-strength steel for maximum durability and performance.
"We recently introduced an improved bucket design with enhanced spill guards and Hardox steel curved side plates for greater loading efficiency and reduced material spillage," he said. Parker also noted that linkage system design also impacts bucket efficiency and that Hyundai constantly reviews the positioning and geometry of those designs.
At Caterpillar, a unique loading system has been developed, represented by its Performance Series buckets, Massey explained; the design balances the bucket shape with the loader's linkage design, operating weight and lift/tilt capabilities.
"The net result is optimum machine performance in production-oriented applications, whether truck loading, stockpiling, or load-and-carry," Massey said. "Performance Series, compared with conventional buckets, have a number of design elements that account for their superior loading characteristics."
Those elements include a wider throat opening for more space between the cutting edge and spill guard; a longer floor with more surface; curved side bars with more surface area on the sides to hold more material; a modified stroke plane to improve load retention; increased bucket rack-back, and a redesigned spill guard to boost capacity and protect components behind the bucket while enhancing sight lines to the loading area.
"The tangible results of these design elements include easier, faster loading, even by less-experienced operators; significantly increased fill factors on the order of 10 percent greater than conventional buckets, resulting in fewer passes per truck and more trucks loaded per day; excellent containment of material during transport; and enhanced sight lines to the pile and into the bucket," Massey added.
John Deere has also improved its bucket design, Cline noted; the company has introduced its Enhanced Performance buckets with standard curved side cutter spill guards for better material retention and minimized spillage. The company also updated its boom linkage design to provide additional bucket rollback.
In comparison, Volvo offers customers a custom-built attachment program, which can be used to optimize bucket design for efficiency in filling and material retention, Connolly said. "Also, our auto tilt in/out bucket positioner system allows operators to easily adjust the tilt angle to a predefined position and levels the bucket into digging position from both the dump and carry positions."
Related Articles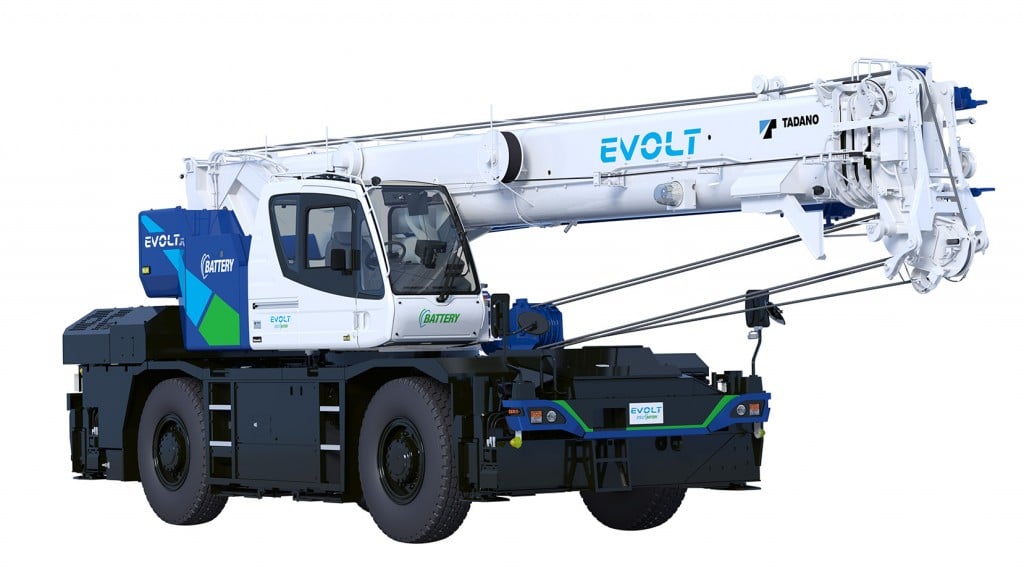 (VIDEO) Fully electrified rough-terrain crane from Tadano enters Japanese market