Volvo Haul Assist adds map feature to help monitor job site traffic
Haul Assist technology communicates real-time positions to other operators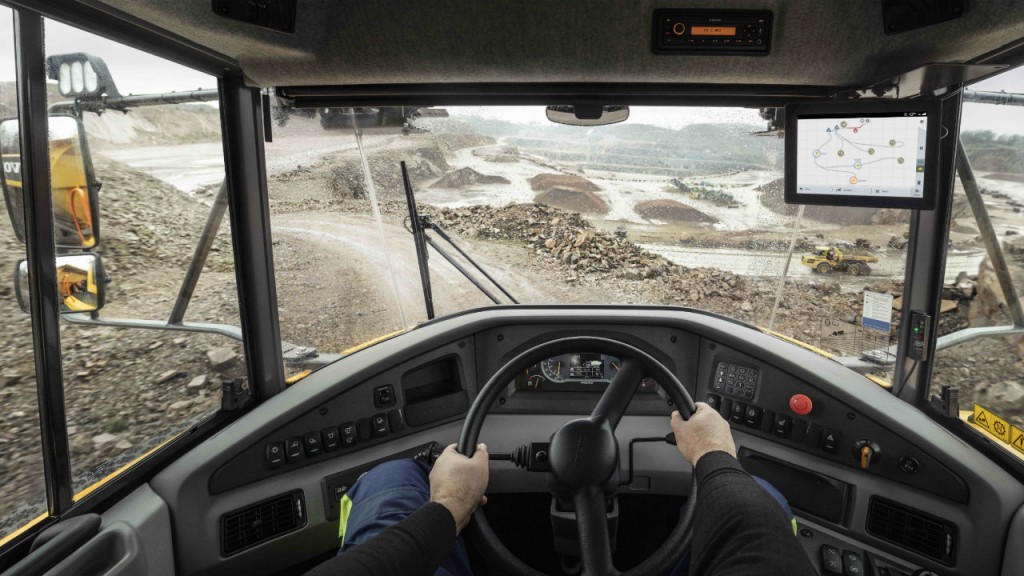 Volvo Construction Equipment is rolling out a new Map feature on the Haul Assist application at CONEXPO 2020 that will allow operators to monitor hauler traffic around a job site, communicate real-time positions to each other, and adjust their driving according to traffic conditions. This update improves productivity and safety thanks to better communication and monitoring between machines.
Operated via Volvo Co-Pilot — an in-cab interface with a 10-inch touch screen — Haul Assist Map uses GPS to identify the position of all haulers fitted with the technology. Being able to monitor traffic flow helps operators anticipate the optimum arrival time at load or dump areas, avoiding congestion and waiting and improving overall site efficiency. On sites with restricted visibility, it has the added benefit of allowing operators to see where other haulers are, helping reduce potentially dangerous situations.
The application also uses the hauler's built-in GPS function for positioning and combines it with a digital connection via Volvo Co-Pilot to communicate with other machines. The system can also record how fast the hauler is travelling and emit an alert to remind operators to maintain a safe working speed.
Additionally, the Map function can plot out haul routes to help operators navigate their way around the site and highlight when the hauler is approaching a single-lane section that is already occupied. The map can also highlight reference points or notable areas of the site.
Not only can load and dump zones be visualized on the map, but they can also trigger certain sub-functions such as On-Board Weighing information. On-Board Weighing, previously launched as a Haul Assist feature, shows operators real-time data on their loads, helping them eliminate under-loading and over-loading. The addition of Map enhances On-Board Weighing even further by adding the ability to include GPS coordinate data in its reports and measure material moved between various coordinates on a job site.
Volvo is also working on a future enhancement that will allow non-Volvo machines to use Haul Assist, including mapping, as long as the machines have GPS and SIM card connectivity.
Related Articles
Searching for the best-performing excavator? Your search ends here. We tested the Volvo EC350E and EC380E against a leading competitor in three different tests: trenching, truck loading and lifting capacity at reach. The results show a 20% difference in cost-per-ton, a 15% difference in tons-per-hour and a 12% difference in both operating costs and lifting capacity. See the results and put an end to your search for the best excavator.